CD Review :: Shota Shimizu - Naturally

Cover for both CD & CD + DVD's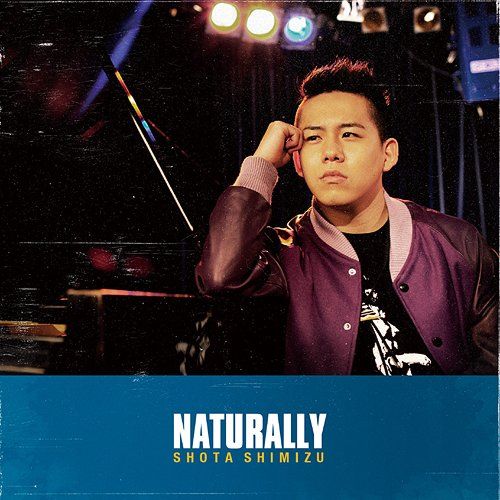 1) Get Back          
2) The Day 
3) Kimi Sae Ireba (As Long As You) Feat Kazumasa Oda  
4) Gamble           
5) love      
6) Overflow           
7) your song           
8) Fuyu ga Owaru Maeni (Before The End Of Winter) 
9) Picture Perfect        
10) Only me , Only you     
11) Tonight       
12) Mada Owaranai (It's Not Over Yet)


Naturally is Shota Shimizu's 4th album & it was released last week on 21st March .
4 singles are included in Shota's latest album release & this comes about a year since the release of his previous album COLOURS .
The concept of Naturally is "returning to one's roots" . Shota commented that "I wanted to investigate my abilities in a more natural way . I want people to listen , feel me & the music facing each other" .
2 album tracks kick things off Naturally with Get Back being a funky R&B no. which set the tone on what to roughly expect in the later course of the album .
Following Get Back , it's the 2nd album track The Day which serves as the lead promo track for Naturally .
There're other album tracks which I feel should get more recongisition than The Day but I suppose Shota has his reasons in choosing to give this song the spotlight in serving it as the main promo track for the album so I leave it as that .
Kimi Sae Ireba (As Long As You) is Shota's 12th single & this features the vocals of folk singer-songwriter Kazumasa Oda .
The collaboration was put into effect after Shota appeared on the TBS annual Christmas program Christmas no Yakusoku back in 2009 . Shota directly approached Kazumasa , whom he respects both as a singer & a person .
Shota commented that "It's a really simple song that I made while feeling the greatness of ordinary music . It's a very positive song . I pray that it will reach the hearts of many people ."
In the case of the next album track Gamble , it's a smooth R&B no. which's easy listening on the ears , something that Shota does best .
love is Shota's 9th single & it's the oldest single included in Naturally .
Another love song being added to Shota's discography . love is described as a song "that though the one you love is important , you hurt them & they hurt you too . Love is painful . But even still , wanting to be only together in love is incredibly precious" .
Overflow is quite interesting & something . 1 of 2 Jazz inspired no.s , Overflow allows Shota's vocals & falsetto to be displayed in this really slow driven tune . I haven't heard something like this that Shota ventured in but it's a music risk that most certainly paid off for him .
In the case of the next album track your song , it's a simple under-rated no. that's piano driven . It's basically 1 of those tracks that displays simplicity at its best & I guess this's what Shota is trying to achieve with regards to your song .
Fuyu ga Owaru Maeni (Before The End Of Winter) is Shota's 11th single .
Described to be a winter love song , Fuyu ga Owaru Maeni is a sparkly love no. which's perfect in conveying the feelings of a person who can't see their loved one .
The next 3 songs are album tracks prior to the conclusion of Naturally .
Picture Perfect is a fun standard R&B no. that I enjoy whereas for Only me , Only you , the 2nd of 2 Jazz influenced track , this happens to be 1 of my fave album tracks in Naturally .
Unlike Overflow , Only me , Only you takes on a more smoother Jazz music route & the presence of 0 falsetto coming from Shota can be felt here . Only me , Only you reminds me of 1 of those songs that I really can visualise Ken Hirai does for his Ken's Bar cover albums .
Tonight is the last album track & this's also another standout track with Tonight being the only full English no. available in Naturally .
I was no doubt surprised when I listened to Tonight & it's surprisingly to know that Shota's English dictation could be understood easily too . Song wise , Tonight is a pleasant sounding R&B no. which's perfect to listen to if you're planning to relax and/or chill out .
Mada Owaranai (It's Not Over Yet) is Shota's 10th single & it's the last single if not song included in the tracklist .
This has been described as a song to encourage people working toward their careers , dreams , love & any part of life .
With the release of 1 album & 4 singles , 2011 was the most prolific year in R&B singer Shota Shimizu's career . Now , Shota wraps up his those accomplishments with his 4th full-length album Naturally .
No question about it , COLOURS was a really good if not experimental album that Shota delivered which I really adore . Hence , I was skeptical if he was able to do an even better follow up after COLOURS & I'm definitely not disappointed with the release of Naturally .
I suppose while COLOURS showcased the various musical genres , Naturally presents a much more back to basics music route for Shota . It could be a good or bad thing but sometimes , less is more & I'm sure that's what Shota is trying to aim for in his latest release Naturally .
Shota has come a long way & the amount of maturity that he displayed in Naturally is evident , be it whether he's a singer or a songwriter .