CD Review :: Kuroki Meisa - ATTITUDE EP

CD Only Cover :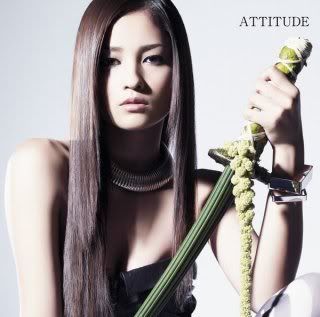 CD + DVD Cover :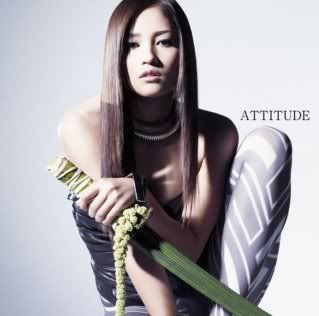 Tracklist :

1) ATTITUDE (Intro)
2) Are ya Ready ?
3) Kind Of Guy
4) #1
5) No Restriction (Interlude)
6) Late Show
7) Stand Up !
8) Before Dawn (Interlude)
9) Awakening


ATTITUDE is Kuroki Meisa's 2nd mini album . It was released on the 1st day of 2010 .
No singles are included in ATTITUDE . As such , you're not able to find her debut single SHOCK -Unmei- (-Fate-) in here .
Unlike her debut mini album hellcat , you're able to find 1 introduction piece & 2 interludes tunes in Kuroki's latest album offering & because I'm not good at describing introduction / interludes pieces , all I can say's that for all 3 you can find in ATTITUDE , they're surprisingly mellow & contrast the songs quite well .
Anyway , after ATTITUDE (Intro) , it immediately brings you to track #2 Are ya Ready ? which's the only album track that received a music video of its own & deservingly so .
Prior to this , you can hear Kuroki say Are ya Ready ? in ATTITUDE (Intro) before the introduction flows straight to the song .
I guess it's easy to see (or should I say hear) why Are ya Ready ? is the only track that got a music video as I think out of the 6 new songs in ATTITUDE , it's possibly the best album track .
It's still insanely addictive even up to now & there's just something about the song that I cannot get enough of at all .
Kind Of Guy is track #3 & this's 1 song that I took to instant liking immediately . I guess that's probably because before ATTITUDE was released , 2 instrumental pieces were played on her official site in which the 2nd one's for this no. & the 1st being Are ya Ready ?
No surprises , Kind Of Guy is really catchy & I just like the loud trumpets horns blaring on here alongside with sleek electro synth which's great .
#1 is the next song & in here it's a lot more synth driven & a bit more mellow as compared to the 1st 2 album tracks .
Also , Kuroki's vocals sounded a bit more distorted which's probably done on purpose .
After the 45 secs piano driven interlude No Restriction , Kuroki dives straight into track #6 Late Show which's 1 of my fave album tracks in ATTITUDE .
Late Show is a lot more poppier than the other album tracks which I really like & the grooves & beats are hot in here .
With a title like Stand Up ! , I was expecting something upbeat & rocking but I was surprised that it's quite a mellow out no. which I was a bit disappointed about it .
Also I can't help but realise that the melody for Stand Up ! sounds suspiciously familiar / the same with the previous album tracks too .
The final interlude Before Dawn takes things nicely to the final track in ATTITUDE which's Awakening .
I guess this's the closest you can call / consider Awakening as a ballad & this's the only song that's not heavily emphasised on synth / electro .
Instead , Awakening is a mid tempo piano driven no. which I think it's perfect to conclude things in ATTITUDE .
Compared to her debut album hellcat which was to me the surprising debut (mini) album of 2009 , ATTITUDE I say has spunk & well attitude .
1 of the problems I had with ATTITUDE that I mentioned earlier on was that the 6 album tracks , some of them tend to sound the same if not repetitive .
Also with the inclusion of an introduction & 2 interludes in a mini album , listeners might felt short changed in a way or 2 since hellcat had more tracks (8) & there weren't any interludes & introduction in Kuroki's debut .
Regardless of which , ATTITUDE is still a good listen & I do hope that she's able to put out a full length album if not a new single soon .