CD Review :: SPYAIR - 4

Cover for all 3 editions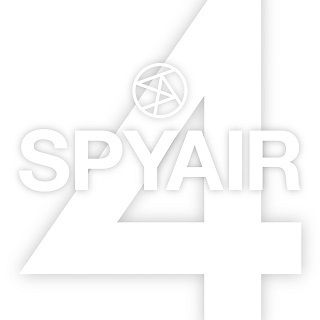 1) ROCKIN' OUT
2) Fire Starter
3) I'm・A・Believer
4) COME IN SUMMER
5) Far away
6) NO-ID Feat JASMINE
7) Dareka no Sei
8) EZ Going ♬
9) Someday , Somewhere
10) 4 LIFE
11) Imagination
12) Stand by me
4 is SPYAIR's 4th album & it was released last month on 18th Nov .
The group's last studio album release was 2013's MILLION . In their new album , 4 includes 4 singles & 8 new album tracks .
A video was made for JUST LIKE THIS 2015 (B-side of 16th single Fire Starter) which's included in the DVD tracklist of 4 but the song itself is not included in the CD .
The video footages of JUST LIKE THIS 2015 was recorded from August's JUST LIKE THIS 2015 concert that was held at FUJI-Q HIGHLAND on 8th Aug .
The 1st 3 songs are singles released prior to the release of 4 .
Kicking things off in 4 is ROCKIN' OUT which's SPYAIR's 15th single .
ROCKIN' OUT was produced by Oshima Kosuke & it's described as an aggressive Rock no. that signalled a new musical approach for the band .
The next song is Fire Starter which was released as the group's 16th single .
Fire Starter was picked to be used to promote NTV's drama THE LAST COP . A ferocious Rock number packed with energy , the lyrics of Fire Starter float on top of a big-boned wild sound & convey a piercing attitude that prevails even in this world full of conflict .
The most recent single release prior to the release of 4 is I'm・A・Believer which's SPYAIR's 17th single .
I'm・A・Believer was picked to be used as the opening theme song for the 2nd season of the anime Haikyuu . It was described as a positive tune that has the message 'Believe in yourself and clear the next path you should take .'
COME IN SUMMER is the 1st new album track . Surprisingly , SPYAIR has not released a Summer inspired single (yet) . As such , COME IN SUMMER definitely has potential to be a single song release .
Far away is another new album song that I enjoy . For this it's a ballad & vocalist IKE really stood out in this track .
Crossing the 1/2 way mark in 4 , it's NO-ID & this track is a collaboration with JASMINE .
NO-ID is SPYAIR's 2nd collaboration they've done , the 1st was with rapper SEAMO 3 years ago on ROCK THIS WAY .
When I saw the tracklist of 4 , I wouldn't deny that I was really excited when I saw NO-ID as I support JASMINE & let alone , this's the 1st duet SPYAIR has included in a studio album .
NO-ID is definitely a standout no. in 4 and it's a pleasant surprise that JASMINE's vocals compliment IKE's vocals very well . JASMINE actually sounds good in this aggressive Rock driven song .
And on a sidenote I wish JASMINE will return with something new soon but NO-ID is really an enjoyable no. that I like .
Dareka no Sei is the shortest track in 4 & it feels like where Fire Starter left off since there's some rapping going on in this track which probably came from guitarist UZ once more .
EZ Going ♬ is an adorable song . Title wise , it's creative and the song itself sounds like a sequel to Niji's B-side Are You Champion? Yeah!! I'm Champion !! which's not a bad thing as that B-side is still good up to now .
On the other hand , the next album track Someday , Somewhere is an empowering no. . There's just something about this song that I was really drawn onto the moment I 1st heard it . The addition of some auto tune was thrown in for good measure too .
4 LIFE is the 2nd last album track & this's an unusual no. as it's not sung by IKE . I'm not sure who sung it but it's an interesting no. and whoever sang it (I'm guessing it's UZ) , it's something unique .
Imagination is SPYAIR's 14th single & it was picked to be used as the opening theme song for the 1st season of the anime Haikyuu .
I'm not sure why Imagination is included in 4 as it was already included in the group's BEST album which was released last year . I supposed in order to keep up with the album's theme (4 = 4th album with 4 singles) , Imagination is slotted in to fulfil this requirement .
Stand by me is the final song that concludes 4 & this's a fitting number to wrap things up as it's a really under stated number . Just like Far away , both songs showcase IKE's vocals which he handled the two tracks effortlessly .
SPYAIR most certainly have a great year and before they kicked off their 1st Arena tour SPYAIR ARENA TOUR 2015 DYNAMITE ~Single Zenbu Yarimasu~ tomorrow at Nagoya's Nippon Gaishi Hall (which's sold out) , they wrap up their music journey with their latest album release 4 .
I've been waiting in anticipation for SPYAIR to release a new album since they didn't released 1 last year & 4 is definitely worth the wait .
What I realised for their past studio albums is that they mostly tend to base on quality over quantity . No exception for 4 which I enjoy tremendously and for them to include a collaboration duet with JASMINE , that made things even better .
The only drawback I don't like about 4 is the way the singles are included in the tracklist , especially since the 1st 3 songs are singles that they released prior to 4 , which made things quite awkward and strange as it would have been better if the singles were spread out more evenly alongside with the new album tracks .
But aside from that , the new material in the album is really solid and I enjoy most of what was found in 4 . SPYAIR has gone from strength to strength since they debuted in 2010 and for them to be able to do an Arena tour (even though there're only 2 dates) , it's a great sense of accomplishment for them .
And to kick off 2016 , they will release their new DVD JUST LIKE THIS 2015 DVD next month on 13th Jan 2016 but before 2015 concludes , go check out 4 which's highly recommended .