CD Review :: Anna Tsuchiya - NUDY SHOW !

CD Only Cover :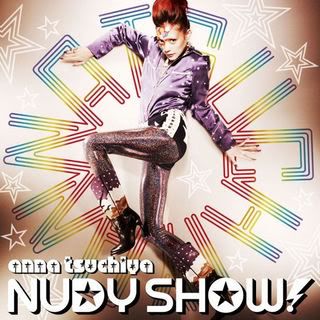 CD + DVD Cover :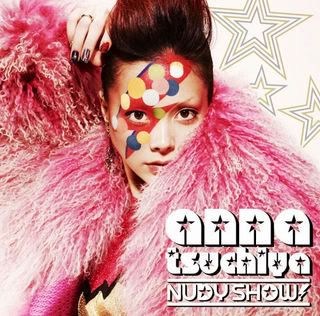 Tracklist :

1) overture
2) Cockroach
3) Crazy World Feat AI
4) Virgin Cat
5) GINGER Feat MONKEY MAJIK
6) u
7) Dirty Game
8) Style
9) masquerade
10) BUBBLE TRIP
11) Serenade
12) Shape of your love
13) cocoon ~NUDY SHOW ! version~
14) LUCY
15) RIDE ON !
16) BLOOD ON BLOOD
17) Kuroi Namida (Black Tears) ~deep sadness version~


NUDY SHOW ! is Anna Tsuchiya's 2nd album . This was released last Wed in Japan .
6 singles & a B-side are included in the album in which 2 of them have been given music arrangements treatments . Excluding overture , you get a generous list of 9 brand new songs .
After a short overture where you can hear Anna singing verses from Virgin Cat in the background , she jumps straight to track 2 Cockroach which's the 1st non single on the album . Now I was going ??? when I saw the title on the tracklist but thankfully it doesn't sound as silly as what I imagined & this's 1 pretty good rock song although it's a bit short as it clocks in under 3 mins .
After Cockroach , the next 2 songs are singles that Anna has put out prior to NUDY SHOW ! . Crazy World Feat AI's her 8th single & this's still 1 of my fave Anna singles & collaboration to have emerged this year & I still love this song a lot & the sound consistency from Cockroach to Crazy World is there .
Virgin Cat's Anna's 9th single & this was the reason why the album was pushed back slightly . Some people might find the song to be a joke especially since the title's not helping things either but personally I like it although I must admit you should not listen to it if you take yourself seriously .
For me the thing that draws me to Virgin Cat is how catchy it's & the music style of the song's quite different from her usual rock works as it dabs in pop/jazz in this area .
The 2nd collaboration on NUDY SHOW ! , Ginger features MONKEY MAJIK & the song was used in the Asahi Ginger Draft ad & this's the only non single to receive a video of its own .
I must say that this's another collaboration that I enjoyed coming from Anna as the music's a more simple guitar pop driven song but the only grouse's that I can't help but realise that MONKEY MAJIK's playing 2nd fiddle to Anna as I only manage to hear their voices in the chorus only but still this's good stuff .
I thought the song on the album will be extended by a few secs or so but apparently not & this's the shortest track on NUDY SHOW ! clocking in at 2:36 mins .
u is track 6 & the only B-side which make the cut on the album . Found in Anna's 7th single cocoon , this's 1 mean song in that it has punk inspired rock roots & I just like how Anna sounds in your face when she belts out u .
The next 3 songs are non singles aka new songs . Just like u , Dirty Game is also another angsty rock driven no. . The same thing goes for Style but the good thing's that both songs managed to sound different from each other despite treading in the same music style & they're real catchy sounding too .
masquerade is track 9 & the style of masquerade is a bit different from what Anna does usually as it takes on a more trance like feeling but it still managed to maintain its rock roots . Usually trance & rock doesn't go well together to me but masquerade sounds really good & I love it how the song gives a dancey feeling to it .
I guess it kinda make sense to slot BUBBLE TRIP after masquerade as both songs are almost in the same music genre with BUBBLE TRIP having a more pop like sound & of course BUBBLE TRIP's the 1st A-side single in Anna's 6th single BUBBLE TRIP / sweet sweet song & just like in strip me ?'s case where MY FATE didn't made the cut , she has excluded the 2nd A-side of her double A-side single which's quite a pity as I really like sweet sweet song .
But anyway at that time when Anna released BUBBLE TRIP , that was considered her 1st non rock song & for me I was glad that she decided to put out a no. like BUBBLE TRIP as I didn't like it if she continue to put out rock songs on a constant basis so it was nice of her to step outta the rock comfort zone with BUBBLE TRIP when this was released at that time .
The next 2 new songs are the ballads on NUDY SHOW ! Serenade's just amazing & for me I love how simple the song sounds & to me I feel it sounded like a less scarier version of ayumi hamasaki's Marionette with due respect to the music box like melody found in Serenade & I personally think Serenade's 1 of the best non singles on the album .
Whereas for Shape of your love , it's another ballad except in the midst of the tune , the song began to build up & subsequently lashed out at full swing . I love the lyrics of the song but I can't help but wonder if the song's dedicated to her now deceased ex husband which's something I probably will never know about .
Although both ballads can't match up to the brilliance of Forever which's found in strip me ? but still these 2 no.s are great considering that quite few ballads are found in NUDY SHOW !
Anna's 7th single cocoon is up next except it has been given a music arrangement treatment & it's titled as cocoon ~NUDY SHOW ! version~ . Basically the album version of cocoon is a more stripped down acoustic guitar no. unlike the single version where it's rock driven . This's 1 music arrangement that I really dig .
This follows with her 5th single LUCY . If you have her ANNA TSUCHIYA inspi' NANA (BLACK STONES) , naturally you will feel cheated in that why's it included in here once more .
Fortunately for me , I don't mind it at all as LUCY's 1 of my fave Anna singles & this song still never fails to let me down as even up to now , I still think it's a great energetic highly charged up rock no. tune coming from Anna .
The last 2 batch of new songs followed suit in which 1st in line's a song called RIDE ON ! . I feel this's the only weak link in the album because it took me quite a while to remember how it sounds like but thankfully the next track BLOOD ON BLOOD is a great catchy angsty rock no. & the opening of the song's just fantastic .
& what a great way to close NUDY SHOW ! with 1 of Anna's best ballads / 4th single Kuroi Namida & I think it's awesome that she included the ~deep sadness version~ of the song instead of the single version .
Both the original & ~deep sadness version~ of Kuroi Namida can be found in the Kuroi Namida single .
The reason why I'm happy that Anna included the ~deep sadness version~ of Kuroi Namida instead of the original simply because I feel the ~deep sadness version~ of the song totally pawns the original in every music aspect but then again I like both the original & the ~deep sadness version~ take to Kuroi Namida .
The ~deep sadness version~ of the song never fails to blow me away everytime I listened to it & I should add that Kuroi Namida's so far the only single that Anna released which she sung in full Japanese since most of her singles are either sang in full Eng or a mixture of both languages .
Wow what can I say ? NUDY SHOW ! totally suppressed the music quality & production of her debut album strip me ? & for me I'm happy to know that the non singles on Anna's 2nd album are not straight up rock no.s & that the album in general is not another strip me ? or ANNA TSUCHIYA inspi' NANA (BLACK STONES) as this time round Anna really stepped outta her music comfort zone & that she decided to be more bold & daring in experimenting outside of her rock roots which's great .
& I'm glad that I have been a fan of Anna's music since her debut solo single Change your life as I can really see the music growth & maturity that she has displayed since her 1st single til now .
This's 1 album that's highly recommended & it's going straight to my fave album releases of the year list .