Sunday, October 28, 2007
The Click Five - Empty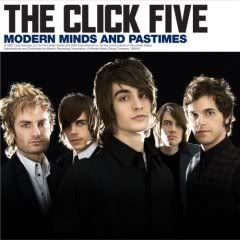 Recently in S'pore to open for the Black Eyed Peas & also performing at MOS as part of 987 Stripped , it's The Click Five & this time after the release of their biggest hit to date Jenny , they're back with single no.2 Empty taken from their 2nd album Modern Minds And Pastimes .

I managed to catch the guys in performance on Thurs at MOS & so glad I was there in the crowd as this's posssibly the best gig that I have attended in 2007 . So far I mean but anyway as I was saying , Empty's the band's 2nd single .

Initally I thought I'm Getting Over You will be chosen as the next single but it turns out to be Empty in which it's the only track on the album that the new frontman Kyle Patrick has a hand in co-writing in the song with keyboardist Ben Romans .

At 1st , I did not like Empty as it sounded too sappy for my liking but I must say after I saw the guys performed this song live on Thurs not once but twice , it changed my whole perception on the song & it's really a beautiful song .

Can see why it's a song that's special to Kyle & the lyrics are beautiful & meaningful as well & the way the song closed at the end is fanastic . I sure do love the upbeat guitar works at the end if you ask me .


Friday, October 26, 2007
Koda Kumi Feat TOHOSHINKI - LAST ANGEL

CD Only Cover :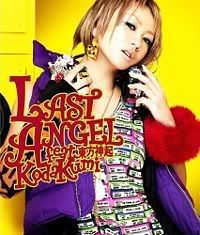 CD + DVD Cover :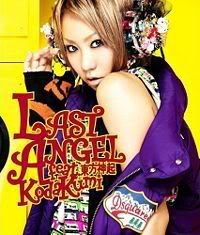 Set to be released in Japan on Nov 7th , Wed , it's Koda Kumi's 38th single LAST ANGEL featuring Korean band TOHOSHINKI .

LAST ANGEL's used as the image song to the Japanese release of the movie Resident Evil : Extinction & this's the 4th single that Koda has released this year after BUT / Aisho , FREAKY & Ai no Uta .

So how does LAST ANGEl stake up against the rest of the singles that she has released so far ? well I find it unfortunately bland at 1st listen & it's like a song which has no head nor tail which's unfortunate as I was expecting a good collaboration from Koda in which happened regarding her duet with EXILE on the remake of WON'T BE LONG .

Maybe I have to give LAST ANGEL a few more listens or so before deciding if it's a yeah or nah but I adore the B side Dear Family a lot & it's a mid tempo ballad .
Come to think about it , she should have released Dear Family as the A side & put LAST ANGEL as the B side since I personally felt that Dear Family's more stronger , single material wise .


Thursday, October 18, 2007
Yuna Ito - Urban Mermaid

CD Only Cover :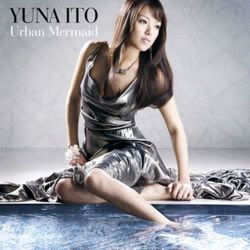 CD + DVD Cover :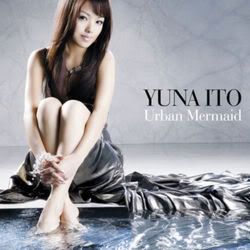 Set to be released on Oct 24th , Wed , it's the lovely Yuna Ito's 9th single Urban Mermaid .

It seems like Yuna's trying to break free from the ballads that she's well known for in the form of ENDLESS STORY , Truth & Precious . I used to think that she's not good at doing uptempo no.s but she proved me wrong when she released her previous single Mahaloha in which she collborated with Def Tech's Micro .

I really like Urban Mermaid when I 1st heard it & if I'm correct , Urban Mermaid will be used in a new LUX Hair Care TV ad that will be aired in Japan . Hopefully Urban Mermaid will be another hit for Yuna , she deserves it .


Wednesday, October 17, 2007
Mika Nakashima - Eien no Uta (Endless Song)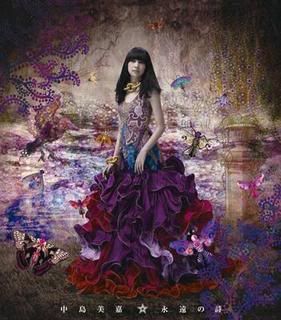 Released on 3rd Oct , Wed , this's Mika Nakashima's 24th single Eien no Uta (Endless Song) . Eien no Uta's being used as the theme song of the movie Southbound while the B side YOU'D BE SO NICE TO COME TO's featured in Katteni-Shiyagare's tribute album .

Well let me say that this's possibly 1 of Mika's best works in recent times & I'm not talking just the single . The B side's amazing as well & she seems to be continuing the trend of releasing great B side singles , just as in her previous single LIFE in which I love the B side of it which was IT'S TOO LATE .

In fact , I heard the B side YOU'D BE SO NICE TO COME TO way back in July so I was real stoked when Mika included this song in the single tracklisting of Eien no Uta . Great move I say !

When I 1st heard Eien no Uta , I loved it at 1st listen so it's saying something already & I really do hope that Eien no Uta will do well for her man & that it will give her hopefully her 2nd no 1 hit single as so far in her career , she only has 1 no.1 song in the form of GLAMOROUS SKY so it's about due time that she deserves another no.1 song . Love the single cover of Eien no Uta , it's gorgeous !
It's unfortunate that Eien no Uta only managed to debut at no.5 in which she was outsold by Bi'z but hopefully next time she will able to secure another no.1 hit song .


Wednesday, October 10, 2007
CD Review :: ayumi hamasaki - I am ...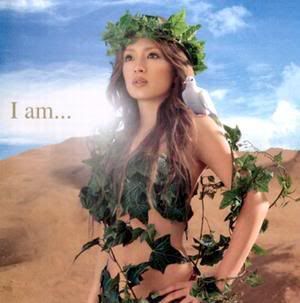 Tracklist :

1) I am ...
2) opening Run
3) Connected
4) UNITE !
5) evolution
6) Naturally
7) NEVER EVER
8) still alone
9) Daybreak
10) taskinlude
11) M
12) A Song is born
13) Dearest
14) no more words
15) Endless sorrow ~gone with the wind ver.~
16) flower garden (Hidden Track)
I am ... is the 4th album released by Ayumi Hamasaki on 1st Jan 2002 & I am ... is possibly the only album to date that Ayumi has written & composed entirely under her pen name CREA with the exception of taskinlude & the melody of Connected .

In case you don't know why the pen name CREA , it's the name of 1 of her 4 dogs & no I'm not kidding on this .

In addition , I am ... gave Ayumi her best 1st week sales to date at 1,751,360 . Unlike her previous albums which contained very autobiographical songs , I am ... focuses more on subjects such as love , faith , hope & freedom, but also reflect many important life lessons .

The songs featured on her first album for example were very personal , she was writing about her own sadness , self-doubt & loneliness, while in this record , her songs chronicle less darker subjects & are mostly addressed to the listeners .

During an interview with TIME Magazine , she explained that the lyrics of A Song is born is about peace . It was composed & arranged by Tetsuya Komuro . A Song is born was directly inspired by the the 9/11 terrorist attacks. She said that when she saw the attacks on TV , she was shocked & she couldn't accept the reality .

The style of the album is dominated by rock music , but remains diverse . She had already experimented a rock genre with songs such as SURREAL or End of the world on her 3rd album Duty , but this album features more pop-rock compositions . Aside from writing the lyrics to all the songs she composed most of I am ... .

Track 1's the title track of the album & it's a nice one . It was followed by a short interlude opening Run . Track 3's Connected which was composed & arranged by Ferry Corsten . It's a mid-tempo trance song & it later received its own music video for the release of CYBER TRANCE presents ayu-trance 2 . Connected peaked at #18 on Germany's MTV Dance Charts .

UNITE !'s a very upbeat no. & the melody kinda draw similarities with the next track evolution as both songs are very fast sounding & upbeat but they're both great . evolution was the 2nd song that she released + composed & it came very close to become a million selling single . It sold 955,250 . evolution's unique in the sense that it's a very fast song which uses a no. of instruments including guitars and other electric instruments .

evolution was used in a TV ad for a Kose Visee mascara featuring Ayumi herself . Next on the line's Naturally & just like evolution , Naturally was used in another Kose Visee ad , only this time , it promoted a lipstick .

NEVER EVER was the 3rd single that she released from I am... . Unlike the rest of her music videos , the clip for NEVER EVER was a short one & if you happen to come across the music video & single cover of NEVER EVER , you would have noticed something similar , image wise in that it kinda reminds you of the video of her 42nd single talkin' 2 myself .

After NEVER EVER , it was a track called still alone & strangely enough , that song didn't register with me when I 1st heard it . It's strange but whenever I listen to albums & etc , somehow , I always cannot remember a track or 2 which's weird .

It was followed by an interlude taskinlude , in fact it's the only interlude on I am ... if you don't count opening Run as 1 . After taskinlude , it's M & it's considered as 1 of Ayumi's greatest songs by fans & it's easy to see why .

M's the 1st single taken from I am ... & it was her 4th million selling single . this single sold 1,319,000 . This is the 1st song that she composed in addition to already writing the lyrics & is considered one of her signature songs.

M can be described as a winter pop/rock ballad using a variety of instruments including guitar , the triangle , strings , among others . The bridge of the song is entirely instrumental using electric guitars . Lyrically , M is about her talking to "Maria" (The Japanese name of The Virgin Mary) , or also possibly to Mary Magdalene hence the title M .

Ayumi came to S'pore in 2002 for the very 1st MTV Asia Awards & I remembered she performed at the event but at that time I didn't know she did M until I did my research & I managed to find out about this which's cool .

After M , it was A Song is born . The song was released as a single as part of avex trax's SongNation nonprofit project to raise funds for the attacks on the World Trade Center which took place on Sept 11th 2001 .

Track 13 & 14 are ballads back to back & both are simply awesome . Dearest & no more words are great & I think Dearest's 1 of Ayumi's best ballads that she has released to date .

Dearest was used as the 3rd ending theme for InuYasha while no more words was used as the ending theme for the 1st InuYasha movie .

The 2nd last track Endless sorrow ~gone with the wind ver.~ was rearranged & the last part of the lyrics were resung to better reflect Ayumi 's own emotions . Unlike the version of Endless sorrow that's found on her A BEST 2 -BLACK- greatest hits compilation , the version on I am ... is more mellow while the other version found on A BEST 2 -BLACK- has a more rock & upbeat sound to it .

Last but definitely not least , it's a hidden track called flower garden which I like . I remembered I 1st heard flower garden on 1 of her tours that she did & I came to know about this song .

On whole , I am ... is a really good record . It's not often you hear of artistes who produce a good follow up especially when it's hard to top up a good record album after album & I'm happy to say that Ayumi doesn't fall into this trap .

She always deliver something different in each album & she doesn't pigeonhole herself which's good & here's to more albums that she will released in the future .

Tuesday, October 09, 2007
CD Review :: ayumi hamasaki - RAINBOW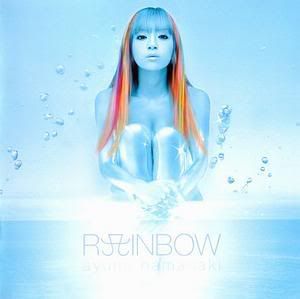 Tracklist :

1) everlasting dream
2) WE WISH
3) Real me
4) Free & Easy
5) Heartplace
6) Over
7) HANABI
8) taskinillusion
9) everywhere nowhere
10) July 1st
11) Dolls
12) neverending dream
13) Voyage
14) Close to you
15) independent +
RAINBOW's the 5th album released by Ayumi Hamasaki . This album featured more music producing from D.A.I (of Do As Infinity) and CREA (Ayumi's producer pen name) .

RAINBOW's very D.A.I influenced . If you have heard material by Do As Infinity before , you can tell straight away where the musical influences are coming from & honestly I'm glad that I gave RAINBOW a listen as Ayumi never fails to deliver solid & good music , album after album .

RAINBOW received a whole of hype when it was received 5 years ago because of the fact that a lot of the songs on the album were used in

TV advertisements

featuring Ayumi & she appeared in ads promoting products such as Panasonic's LUMIX camera & other Panasonic products , Kose Visee makeup products & etc . Such ads have used a lot of the songs that're found in RAINBOW + it's the 1st album in which she included English phases in some of her songs , a 1st for her as her previous albums , she excluded them .

The album was kicked off with a lush interlude of everlasting dream followed by WE WISH which was used in the Kose Visee ad in which Ayumi promoted their Curl Mascara . Can you believe it , even an interlude like everlasting dream was used to promote Panasonic's 77MD CD Stereo player , what strategy .

Real me followed suit in the D.A.I rein & it was used to promote Panasonic's D-Snap AV30 . Real me's the only non single track to have a music video made from RAINBOW . The video of Real me's very cool , you should check it out if you have the chance to .

After Real me , it was Free & Easy which was used to promote Panasonic's 57 MD CD Stereo player . I 1st heard Free & Easy on her A BEST 2 -BLACK- greatest hits compilation . The song's quite depressing & it's 1 of the few tracks on RAINBOW that has this moody vibe mode going on . Free & Easy didn't sat well with me initially but now I'm alright with the song . The video of Free & Easy's depressing as well , a video which I don't mind to skip & not to watch it .

Track 5's possibly my fave track on RAINBOW . Heartplace's fantastic . When I 1st heard it , it's like wow . The song blew me away & Ayumi composed the melody of it which's even something . Heartplace's the 2nd longest track on RAINBOW clocking in at 6:06 but it's no doubt my fave . Heartplace was used to promote Panasonic's LUMIX DMC-F1 & DMC FZ1 cameras & I honestly felt that Heartplace should at least gotten its own music video or better yet released as a single !

Next on the list's Over & an interlude called taskinillusion . Gotta like taskinillusion . After that it was HANABI (Fireworks) which was used in a TV ad to promote TU-KA Funstyle mobile phone .

everywhere nowhere's next on the list & for some weird reason/s , that song didn't really register in my head when I 1st listened to it but after I listened to it a few more times , it's not bad but i think everywhere nowhere's 1 of the weaker songs on RAINBOW . everywhere nowhere was used to promote Panasonic's Dock'in Style MD MJ55 .

Not sure why that's the case but I think it's possibly due to the fact that everywhere nowhere's the only song on RAINBOW that was not composed by D.A.I nor Ayumi . Then again I don't know .

After everywhere nowhere , it's July 1st , a track that can be found on Ayumi's 5th million selling single H & also on A BEST 2 -WHITE- greatest hits compilation . July 1st's really nice & I like it a lot . July 1st was used in a Kose Visee lipstick ad while Dolls can be found on her A BALLADS album in which I 1st heard the song from there .

Another interlude neverending dream follows suit & next's Voyage which's possibly 1 of the best Ayumi's ballads that she & D.A.I has co-composed , melody wise . Voyage's her most successful single to date as it managed to stay at the top spot for 3 weeks in which none of her other singles has managed to do so even up to this point in time & it's easy to see why . The melody of Voyage's just amazing & even though I have listened to this song over & over again , it never fails to blow me away .

Followed which's Close to you & Ayumi closed the album with the longest track on the record called independent + . The hidden track + begins where the song independent abruptly ends .

The song independent + which's available in RAINBOW clocks in at a staggering 9:35 while the version found on her A BEST 2 -WHITE- greatest hits compilation's a more modest 4:57 .

In general , I enjoyed RAINBOW a lot & thank goodness that I decided to give this album a shot . On whole it's very D.A.I influenced but it doesn't mean that you don't get top notch music from Ayumi in which she never fails to deliver the goods to her fans after being in the business for 9 years so kudos to her .

Monday, October 08, 2007
CD Review :: The Great Spy Experiment - Flower Show Riots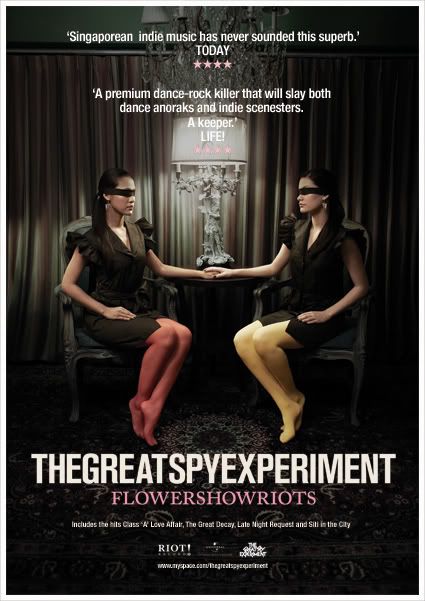 Tracklist :

1) Dance With Me
2) A Kind Of Love
3) Late Night Request
4) Class 'A' Love Affair 2007
5) Interlude
6) Flower Show Riots
7) The Great Decay
8) Flow
9) The Sunset Theme
10) Siti In The City
11) Miss Kensington/Outro
1 of the most anticipated local music releases to hit S'pore shores in recent times , it's 1 of S'pore's finest rock acts The Great Spy Experiment's much hyped release debut album Flower Show Riots .

Flower Show Riots has been collecting rave reviews from the media & it's easy to see why the media felt a big 'welcome to the flower show' . Below are some of what the press has gotta say about Flower Show Riots :

As far as I'm concerned, this is one of the most eagerly anticipated local releases ever. Trust me. Based on what I've heard and seen from their live shows, listeners will be in for a good ol' rocking treat. - www.trigger-ed.com

Flower Show Riots is a confident and assured debut and music fans everywhere should sample its varied delights. – Pop Culture Press

Flower Show Riots sounds really good and stands up easily to any modern rock LP you may care to point out on the Billboard Album Charts. Not a claim one can honestly make with reference to a Singapore band but I believe that there's no exaggeration to declare Flower Show Riots a minor tour de force. – www.powerofpop.com

Singaporean indie music has never sounded this superb. - TODAY

A dance-rock killer that will slay both dance anoraks and indie scenesters. A keeper. - Life!

Judging from all the acclaim that Flower Show Riots has gotten so far , no doubt you will definitely find a gem or 2 in Great Spy's debut album .

Great Spy consists of lead singer/guitarist Saiful , bassist Khal , keyboardist Magdelene , drummer Fandy & guitarist Song . If you haven't caught these guys in performance yet , you should . I have seen them performed a few times & they're fantastic & they always give a very energetic & kick ass performance . If you haven't got the chance to , shame on you !

Although on 1st listen Great Spy's music might remind you of The Killers & The Bravery 's , there's no doubt that Great Spy's music manages to retain that local flavor/spark in their material without sounding too American & not to mention too British sounding (which happened in The Killers's Hot Fuss album before frontman Brendon Flowers decided to ditch the whole fake British accent fax pas in their follow up album Sam's Town) .

The album kicked things off with the very catchy beats of Dance With Me & A Kind Of Love .

Track 3's the 2nd longest track on the album , something called Late Night Request . It might seem long clocking in at 6:38 but it's a nice one . It was followed by the song which 1st caught my attention of the band in the form of Class 'A' Love Affair 2007 .

Class 'A' Love Affair 2007's ace man although I still kinda prefer the original version that they uploaded on their MySpace so it took me a while to adjust & adapt to the new version of Class 'A' Love Affair 2007 but still I really like it .

The title track of the album is another fine piece of song & trust me , the song sounds even better when it's done live .

The current track that's airing on 987FM is The Great Decay . For some reason/s , that song doesn't leave much of an impact/impression when I 1st heard it & it's 1 of the weak links in the album but after I listened to The Great Decay a few more times , it's alright now but honestly I don't think it should be released as a radio single . I would prefer something more outstanding like Dance With Me or A Kind Of Love . Late Night Request will be good too but I don't think radio would be willing to play such a long track .

The pace was picked up after that with Flow . Woah , Flow's such an energetic track . When I was at the gym , I had to pace myself when I listened to Flow , it's that good . I think Flow's a shoo in to be released as the next single , especially when keyboardist Magdelene works her magic on the keys & synth's . Keys + synth's = love .

The Sunset Theme's the only track on the album that's a music piece . I enjoyed that very much . Next on the list's the crowd fave Siti In The City & they closed things off with the longest track available on Flower Show Riots , something called Miss Kensington/Outro .

If there's 1 thing I would like to voice out's that why oh why didn't Great Spy include the oh so gorgeous , fantastic & super damn catchy Captain Funkycurls on the tracklisting ? I was a bit sore when I didn't see that in the album but I suppose they probably have their own reason/s as to why Captain Funkycurls did not make the cut .

Still I'm so glad that I picked up a copy of Flower Show Riots . Great Spy's album has been released with much hype but is it worth every single hype of it ? Absolutely without any doubt & the album has not left my stereo ever since I picked it up at HMV .

Great Spy has come a long way & with this album , they look set to sore to even greater heights than before . Flower Show Riots deserves a spot on my Top10/20 albums of 2007 .

Go & get yourself a copy of Flower Show Riots , you'll be glad that you did !