CD Review :: SPYAIR - MILLION

Cover for all 3 editions of the album (CD , 2CDs & CD + DVD)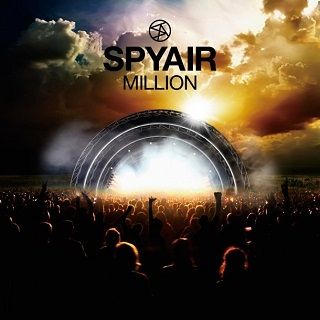 1) OVERLOAD
2) Turning Point
3) Genjou Destruction
4) Sakura Mitsutsuki
5) Winding Road
6) Are You Champion ? Yeah !! I'm Champion !!
7) STAND UP
8) Supersonic
9) Ameagari ni Saku Hana
10) Niji (Rainbow)
11) 16 And Life
MILLION is SPYAIR's 3rd album & it was released on 7th Aug .
The guys's latest album release comes in less than 11 months + since they released their previous album Just Do It . MILLION is also SPYAIR's 1st album release as a quartet , after DJ ENZEL☆ departed from the group last Dec in order to pursue his personal interests .
The album title MILLION stands for the band's goals & their wish for their "music to reach many people" .
MILLION includes 3 singles & 2 B-sides . However , their 9th single WENDY ~It's You~ is excluded in the main CD but the song is included in the 2nd disc , with regards to the CD + bonus disc limited edition of MILLION .
On the other hand , the music video for WENDY ~It's You~ is included in the DVD , with regards to the CD + DVD limited edition of the album .
OVERLOAD is the album's opening track & unlike the group's 1st 2 albums which were short opening tracks , OVERLOAD is a full album track in its own right .
This song was 1st released via iTunes on 24th July , a week before MILLION was released . A music video was actually made for the song but the video itself is not included in the DVD of MILLION .
Picked to be used in the ads of SUZUKI SWIFT , OVERLOAD most certainly brings in plenty of bite if not serious attitude . I can understand why the guys chose to open MILLION with OVERLOAD as it's such a great track to start things off .
SPYAIR's previous opening tracks in their 1st 2 albums were also equally good & for them to start MILLION with a full track as compared to an introduction song , it's a nice change of things .
Turning Point originally was found as the B-side track in SPYAIR's 10th single Sakura Mitsutsuki .
I like Turning Point when I 1st reviewed Sakura Mitsutsuki & for them to include the song in MILLION , I have no complaints as it's still a B-side I enjoyed a lot even up to now .
Genjyo Destruction is SPYAIR's 12th single & this single was released a month prior to MILLION .
The group's best charting single to date , Genjyo Destruction was picked to be used as the theme song for the anime movie Gekijouban Gintama Kanketsu-hen Yorozuya yo Eien nare .
With the release of Genjyo Destruction , it marks the 3rd time for the band to provide the theme song for Gintama . SPYAIR's 4th single Samurai Heart (Some Like It Hot !!) was used as the ending theme no. in 2011 . This year in Jan , their 10th single Sakura Mitsutsuki was used as the opening theme for its TV anime series .
Leader/bassist MOMIKEN commented , "This is our 3rd time to sing for Gintama . And it's for the movie ! It's the final one too ! We have no choice but to take this great opportunity ! We are working on it while giving it our all . Everyone , please look forward for the theme song as well ! "
Sakura Mitsutsuki is SPYAIR's 10th single & this's their 1st release as a quartet .
The song was picked to be used as the opening theme no. for the anime Gintama at the beginning of this year . Sakura Mitsutsuki utilised the theme cherry blossoms , moon , promise & centers around the guitars sound-wise .
Sakura Mitsutsuki was released on the same day as the group's 2nd DVD SPYAIR LIVE at Nippon Budokan 2012 & it was their 2nd single to be used to promote Gintama , the 1st being their 4th single Samurai Heart (Some Like It Hot !!) .
Winding Road is the 2nd album track & this's actually an old song as it was something taken from their indie days , way before SPYAIR went the major label route .
I actually personally like Winding Road a lot as it's essentially a slice of history from the guys's past . This mid tempo ballad is very old school & after listening to Winding Road , I might consider to give their older/indie works a try .
Are You Champion ? Yeah !! I'm Champion !! serves as the B-side in SPYAIR's 11th single Niji & it's the 2nd B-side that made the tracklist in MILLION .
I'm really pleased that Are You Champion ? Yeah !! I'm Champion !! is included in MILLION as at that time when I reviewed Niji , I commented that Are You Champion ? Yeah !! I'm Champion !! is 1 of their coolest if not most interesting B-sides they've came up with , be it for song or title .
As such , I have no complaints that Are You Champion ? Yeah !! I'm Champion !! made the cut in MILLION as nobody should miss out hearing this fun energetic no. .
The next 3 songs are brand new album tracks in MILLION .
STAND UP is a rather typical standard rock no. with lots of hard drum beats thrown in for good measure .
On the other hand , Supersonic is 1 of the guys's most interesting songs as it features lead singer IKE singing & rapping at the same time , something that was never done before until now .
To be honest , IKE surprisingly sounded quite natural when he rapped & it makes the experience in listening to Supersonic even more entertaining if not fun .
The 2nd last album track , Ameagari ni Saku Hana is an uplifting uptempo rock no. which presents a very different vibe from what STAND UP & Supersonic offered .
Niji is SPYAIR's 11th single & it was picked to be used as the theme song for Shota Matsuda's TBS drama Undercover Agent Tokage .
This song is the last single to be included in MILLION .
To accompany Undercover Agent Tokage , the producers wanted a powerful sound , which made SPYAIR a perfect choice . Niji is described as an uplifting , inspiration rock ballad that reflects the courage of one who continues through adversity .
Niji encourages one to persevere & walk forth even when one is troubled . As such , the song was written specifically for Undercover Agent Tokage .
SPYAIR posted their own comments with regards to Niji , "Our world is filled with trash and treasure . The value of things becomes vague & you become unaware of these limits . The protagonist of the drama , Tokage probably knows of this feeling . This is what we thought when we finished writing the lyrics . The vocals are certain to overcome a frozen heart with a sound that reflects a vast view of the world & universal beat . We have put all of our energy into making this song . Whether it's one person , or many , we want people to hear this !"
16 And Life is the final album track & last song in the album tracklist . It's a very under-stated mid tempo song that concludes things quite nicely .
The only grouse about this song was that when I 1st heard it , I was surprised that it ended very abruptly which caught me off guard as I thought 16 And Life would have been longer but that wasn't the case . Only after a few more listens , I got used to the way 16 And Life sounded after that .
After stepping on the sacred stage of the Nippon Budokan last year , SPYAIR is back with their 3rd major label album MILLION .
In recent times , SPYAIR has become my 2nd most fave JRock band & MILLION speaks volume in that despite being a member short , they're still able to release solid rocking music & MILLION is evident of that .
Let alone , they definitely have come a long way since their indie days & MILLION is now officially their best charting release , with it debuting at #2 on the 1st week of release that suppressed the peak position of their previous album Just Do It (which only peaked at #20) .
MILLION on whole is actually really enjoyable to listen & with it being 40 mins long , it can be considered short by an album's standard but most importantly is the quality & not so much on the quantity .
If there're something I didn't like about MILLION , it probably be the strange fact that I actually like the album tracks and B-sides somewhat more than the singles & I definitely was disappointed that WENDY ~It's You~ was excluded from the tracklist .
I suppose the guys want to make MILLION their 1st proper release as a quartet as WENDY ~It's You~ was their last single that included DJ ENZEL☆ .
That said , what I hope for SPYAIR in the near future was for them to release their material a bit more slower as the singles included in MILLION , they were all released really quickly & somewhere down the line , the quality got compromised which's quite evident when I listened to their older singles & comparing them against their latest/recent ones .
But all in all , MILLION is still a really good follow up after Just Do It with special mention that goes to the B-sides & album tracks which're highly recommended .