CD Review :: Koda Kumi - DNA

CD
CD + DVD
CD + Blu-ray
1) Introduction ~My music is designed from my DNA~
2) HUSH
3) Dangerous
4) WATCH OUT!! ~DNA~
5) ScREaM
6) CHANCES ALL
7) Aenaku Naru Kurai Nara
8) HAIRCUT
9) Guess Who Is Back
10) HOT HOT
11) Kokoro Kara i love u
12) Work That
13) Pin Drop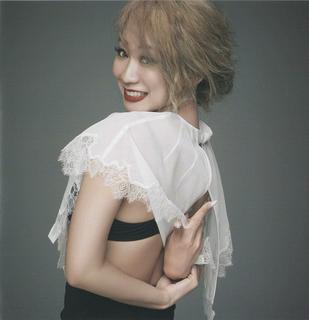 DNA is Koda Kumi's 16th album & it was released on 22nd Aug .
This's Koda's 2nd album release of 2018 & she released her 15th album AND in Feb .
Only 1 limited edition single is included in DNA while 3 album tracks received videos even though originally it was supposed to be 2 .
After a futuristic sounding Introduction ~My music is designed from my DNA~ album opening intro , DNA wasted no time with the only limited edition single included in the album ie. HUSH .
HUSH was released as Koda's 61st single . Back when I reviewed/wrote about AND , I lamented that it was a pity for HUSH not to be included in AND but now I understand why Koda decided to include HUSH in DNA instead as the song fits her latest album more than her previous .
Out of the 3 limited edition singles Koda put out , I still feel that HUSH is the best out of the lot & it's still true up to now .
Dangerous is the 1st DNA album track & it was used to promote the Black Clover anime handphone game .
Seeing that Koda has used Dangerous as the opening track for her current ongoing KODA KUMI LIVE TOUR 2018 ~DNA~ & this year's a-nation setlist(s) , I'm not surprised as it's a fun song to kick things off . It's a pity that she didn't make a video for it as I feel it deserves to .
WATCH OUT!! ~DNA~ is 1st of 3 DNA album tracks that had a video made .
This's my least favourite track in DNA as when I 1st heard WATCH OUT!! ~DNA~ , I didn't had a good impression on the song . The video somewhat changed my opinion on it slightly but I still think it's merely just noise & in this case , WATCH OUT!! ~DNA~ frankly should not have a video made .
The next album track ScREaM is quite interesting & it's cool that Koda played a lot with puns in the song as she sing I Scream & Ice Cream co-currently at the same time as both terms sound the same when you pronounce it .
CHANCES ALL is the 2nd of 3 DNA album tracks that had a video made & this song wasn't supposed to have a video made initially .
Luckily eventually , Koda decided to make a video for CHANCES ALL & I'm glad she did as this positive empowering song deserves it even though I wish the video would have elevated the song a bit more .
Aenaku Naru Kurai Nara is the 1st of 2 album ballads in DNA . I didn't quite liked this song at 1st but as time goes by , the song has grown on me .
HAIRCUT is the 3rd DNA album track that has a video made . Alongside with WATCH OUT!! ~DNA~ + CHANCES ALL , the plot in all 3 videos are interlinked with each other .
Back when Koda released AND in Feb , a short version of HAIRCUT was also released . At that time my impression on HAIRCUT was quite poor as I thought it sounds like a poor man cousin of Cupcake .
Luckily the video for HAIRCUT changed my perception on the song significantly as it's 1 of the best videos Koda has made in a really long time . I'm still not 100% sold on HAIRCUT but the video itself is more than enough to compensate things .
Guess Who Is Back is the next album track & it was used as the opening theme song for the Black Clover anime .
The only Rock driven song in DNA , Guess Who Is Back is full of angsty attitude in a good way . I know some do not like Koda to sing Rock songs but I personally like it .
HOT HOT is 1 of the shortest album tracks in DNA but it's also 1 of Koda's sexiest songs to date . This's also another favourite song of mine in the album as it's sultry sounding without coming across as desperate .
Just like Dangerous , I would have loved to see HOT HOT had a video made as I'm sure it would have been amazing .
Kokoro Kara i love u is the 2nd album ballad in DNA . Unlike Aenaku Naru Kurai Nara , I like Kokoro Kara i love u as it has a really nice melody that's strings driven .
The last 2 songs to conclude DNA are both upbeat & pretty good memorable tracks . Work That is a fun uptempo no. while concluding DNA is Pin Drop which's described as a performance song & it's a show stopper + fitting no. to wrap things up in the album .
Before the start of KODA KUMI LIVE TOUR 2018 ~DNA~ , Koda Kumi releases her 2nd album of 2018 , DNA . Combining Koda Kumi's present and future into its DNA , the "genreless" album spans from ballads to dance songs .
I like Koda's previous album AND but I felt it was too short so before I listen to DNA , I wasn't sure what to expect .
However on 1st listen , I surprisingly enjoy DNA a lot more than I thought & I didn't get the same feeling for AND . Besides WATCH OUT!! ~DNA~ , Aenaku Naru Kurai Nara & HAIRCUT which my impression on them weren't so good , the rest of the new songs in DNA really impressed me considerably .
Last March when Koda released W FACE ~inside~ & W FACE ~outside~ , I felt the idea wasn't 100% well executed as I don't like all the songs in both albums even though I like the concept that Koda undertook .
But this year for Koda to release yet another 2 more albums in the form of AND + DNA , I thought the material in both albums were a lot more better & stronger as I found myself skipping less songs which I encounter that problem with W FACE ~inside~ & W FACE ~outside~ unfortunately .
That said , I admire Koda's work drive ethnic as for her to release 4 albums within the last 2 years , it's not an easy thing to do . I'm not sure if she can/will do it again next year but if she's up for it once more , I wouldn't hesitate to support her without a doubt .
2020 is Koda's 20th anniversary in the business & hopefully as the day of her debut anniversary drew nearer , she would put out a few things or more to make it worthwhile .
For now , DNA is highly worth checking out & it's an overall fun , sleek & sexy album that Koda Kumi put out that she poured her heart & soul into creating it .