CD Review :: The Veronicas - The Secret Life Of The Veronicas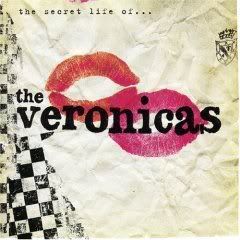 Tracklist :

1) 4ever
2) Everything I'm Not
3) When It All Falls Apart
4) Revolution
5) Secret
6) Mouth Shut
7) Leave Me Alone
8) Speechless
9) Heavily Broken
10) I Could Get Used To This
11) Nobody Wins
12) Mother Mother
By right , I have downloaded & have Aust pop rock band The Veronicas's debut album The Secret Life Of The Veronicas for a long time but it's only today that I bought their disc cos I don't feel good downloading their songs so I thought it's for the best that I buy the original .
If you know or don't know about this really cool & good band & possibly 1 of the best newcomers to emerge this year , then let me give you the skinny . The Veronicas consist of twin ladies Lisa Marie and Jessica Louise Origliasso & how to differentiate the both of them you might be asking ?
Well it's quite simple actually , Lisa has dyed brown highlights on her hair while Jessica has raven black hair so next time if you watch their videos on youtube & all , shouldn't be difficult in identifying these 2 lovely ladies & that's right Lisa used to go out with Ryan Cabrera whom used to go out with Ashlee Simpson & whom I used to have a crazy big crush on .
I still like Ryan , only now I don't used to go gaga over him that much anymore.
Anyway , The Veronicas's music is fanastic . If you like Avril Lavigne , Marion Raven or basically angsty pop rock music with a touch of ballads thrown in the mix , then you will bound to love The Veronicas , if not even better.
I 1st know about their music when Hema introduced me to their debut single 4ever & yes I know most listeners & people who watch MTV will assume that When It All Falls Apart's their 1st single but sorry to say that it's NOT !
When It All Falls Apart's by right their 3rd single , after the release of 4ever & Everything I'm Not & subsequently they released Revolution & as of now , single no 5 is out & it's possibly the last single off their album which's Leave Me Alone.
I love all the songs in their CD . If you want angsty songs , blast 4ever , Everything I'm Not , When It All Falls Apart , Mouth Shut & possibly 2 of the stronger angsty songs in their CD in the form of Leave Me Alone & Heavily Broken . Some portions of Heavily Broken were used in the S'pore Idol ads.
If you're a bit sick of When It All Falls Apart , I highly recommend the other angsty tracks like Leave Me Alone & Heavily Broken . Leave Me Alone pratically says it all.
If you want ballads , you get that in Speechless , Secret , I Could Get Used To This . I love I Could Get To This , the lyrics are so nice . Secret's groovy ! The last 2 tracks Mother Mother & the bonus track A Teardrop Missing The Ground are very cool too.
In fact , earlier was the 1st time I heard A Teardrop Missing The Ground & it's very refreshing & raw & enjoyed listening to it. I wished Mother Mother could be a bit longer as it sounded a bit unfinished to me.
Then again , I can't wait to hear more new material from the lovely girls of The Veronicas as I really do think that they have the potential to go far & global . With producers such as Max Martin helping them out & also they themselves songwriters , there's no excuse why they can't go far & they're planning to tour somemore next year .
With S'pore be on the cards of their tour ? only time will tell.