CD Review :: Ashlee Simpson - Bittersweet World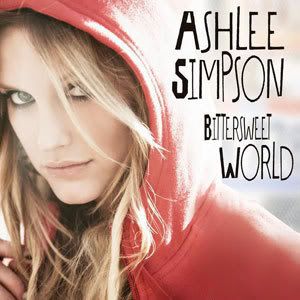 Tracklist :

1) Outta My Head (Ay Ya Ya)
2) Boys
3) Rule Breaker
4) No Time For Tears
5) Little Miss Obsessive Feat Plain White T's Tom Higgenson
6) Ragdoll
7) Bittersweet World
8) What I`ve Become
9) Hot Stuff Feat Izza Kizza
10) Murder
11) Never Dream Alone


Bittersweet World is Ashlee Simpson's 3rd album . This new release's Ashlee's 1st album since 2005's I Am Me .

So far , 2 singles have been released from Bittersweet World prior to the release of the album . Unlike the way the Japanese music market works , the US market works differently in that artistes tend to release singles before & after an album's released in a bid way to drum up more sales .

Whereas for the Japanese market , artistes usually have the tendency to release singles before an album's released & you seldom hear cases where singles are put out after an album has been dropped . There have been exceptions but that's usually not the case .

I actually have been a long fan of this girl since she debuted on the scene with 2004's Autobiography & compared to her older (in)famous sister Jessica Simpson , I actually prefer Ashlee's material much much more than Jessica & I have Ashlee's 1st 2 albums so it's only natural for me to be thrilled to find out that she's back with new material in the form of Bittersweet World .

If you know how her 1st 2 albums sounds like , Bittersweet World is totally different & makes quite a dramatic shift from the trademark pop/rock sound that she was famous for in the beginning .

I guess longtime fans of Ashlee were shocked when she dropped the 1st single from the record , Outta My Head (Ay Ya Ya) as the style of the song was a 360 degree turn for Ashlee as it's in the hip pop genre .

Needless to say , Outta My Head (Ay Ya Ya) tanked quite badly & I suspect it's the shift in musical direction which possibly alienated many of her fans . What a shame as the song's real catchy & it's something unique coming from Ashlee .

If Outta My Head (Ay Ya Ya) doesn't sit well with you , then probably longtime fans will like the 1st official single from the album / 2nd single from the album even more in the form of Little Miss Obsessive which features vocals from Plain White T's Tom Higgenson .

Little Miss Obsessive still manages to maintain her trademark pop/rock sound & this's 1 of my current fave songs at the moment . I like the way that Ashlee & Tom's vocals compliment each other quite well .

If you still long for Ashlee's pop/rock songs , you still get a couple of them like No Time For Tears & What I've Become which has a more edgier hard rock sound to it which I adore .

Otherwise , the rest of the tracks are mainly in the hip pop , electropop , punk pop genres . I personally think that all the tracks are well defined & are unique from each other & that they don't sound samey & the same which's a good thing .

Stand out tracks include Boys , Rule Breaker , Ragdoll & Hot Stuff in which Hot Stuff has a music hook which sounds strangely similar to Justin Timberlake's SexyBack .

Murder which feats vocals from Izza Kizza is my 2nd fave song on the album . I like the melody of the song which's really catchy & you can thank music maestro Timbaland for that .

The title track of the album's not bad but for some reason , it's not as strong as I thought it will be . It's only until I gave it a few more listens & I find it to be a decent one now .

The song that did not sit with me is Never Dream Alone which's ironically the last song on the album . While I do like the melody of the song which's basically a stripped down piano & cello tune , I find Ashlee's vocals a bit flat in Never Dream Alone . Not to mention I find that Never Dream Alone doesn't really have a head or tail to it .

Overall , I can say musically , Ashlee Simpson has grown since her 1st 2 offerings . If people are going to think that Bittersweet World is going to sound the same as her earlier works , they will be sorely disappointed .

About 75% - 80% of the album contains non pop/rock tunes & instead they're replaced with a fresh , funky blended sound of hip pop , electropop , punk pop .
With producers such as Timbaland , King Logan , Jerome Harmon , N*E*R*D's Chad Hugo & etc manning the production & sound to Bittersweet World , you definitely can't go wrong with this album especially when you have Timbaland & Chad Hugo onboard .

Bittersweet World is a fun record & you can definitely tell that Ashlee wants nothing but to just let loose in this latest offering .

Bottomline is , the album's not meant to be taken seriously & don't really expect a masterpiece offering coming from Ashlee . However if you listen to it with an open mind , you will bound to be surprised with Bittersweet World .