Tuesday, January 27, 2009
CD Review :: Koda Kumi - TRICK

CD Only Cover :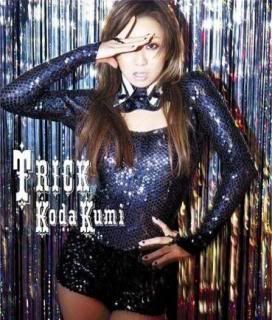 CD + 2 DVDs Cover :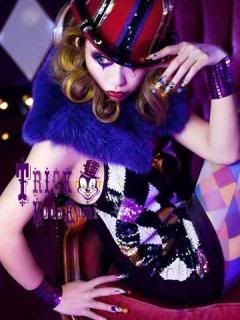 Tracklist :

1) INTRODUCTION FOR TRICK
2) TABOO
3) show girl
4) Your Love
5) stay with me
6) This is not a love song
7) Driving
8) Bling Bling Bling Feat AK-69
9) That Ain't Cool Feat Fergie
10) Hurry Up !
11) Moon Crying
12) JUST THE WAY YOU ARE
13) Joyful
14) Ai no Kotoba (Words Of Love)
15) Venus (First Press CD + 2 DVDs Track)
TRICK is Koda Kumi's 7th studio album . It's scheduled to be released tomorrow in 2 different formats & this new album release of Koda comes in shy of almost a year since the release of her last studio album Kingdom .

3 singles make the cut in TRICK in which 2 songs are found in Koda's 40th single MOON . The 2 songs which made the cut in TRICK are also the ones which received their own music videos in MOON unlike the other 2/3 songs in the single .

Not to forget , 2 album tracks on TRICK received their own music videos respectively .

INTRODUCTION FOR TRICK is the only short song/introduction in TRICK & this's 1 seriously smoking R&B song which perfectly set the tone for what you roughly should expect when you begin to listen the album .

This new interlude of Koda is so much better in all musical aspects as compared to Introduction For Kingdom which unfortunately I found it to be really dull . I do hope to see a full version for INTRODUCTION FOR TRICK that hopefully will materialise in her future next album .

TABOO is Koda's 41st single release & it's also her 5th #1 single . It's great to see TABOO being slotted in as track 2 in TRICK right after INTRODUCTION FOR TRICK as the sound transition's there .

Also I feel TABOO's 1 of the best Koda singles that she has released in her music career so far & also it's no doubt 1 of the most catchiest singles that was released last year in Japan which's awesome .

When the song was 1st released , it was & is still seriously addictive . So much so that I had the song on repeat mode for the whole week after the single's release date .

show girl is the 1st album track & it's also the 1st song on TRICK to receive its own music video & it's easy to see why it deserves so .

I just like the whole package of show girl . From the sound , the lyrics , the video , to the beat , it's just perfect . Some people have said that show girl sounds a bit like Run For Your Life but personally I can't tell or should I say hear the similarities at all so I leave it as it's but show girl's definitely 1 of the album highlights in TRICK .

Your Love is the 1st ballad track in TRICK , album wise . I reviewed this song a while back ago separately from the masses & here I'm to talk about the song again .

I like this song , I really do . I feel that it sounded a bit like TABOO's B-side Always & you can't deny that it's a sweet song .

stay with me is Koda's 42nd single & her 6th #1 single , making it the 1st time in her career to have 2 #1 singles back to back & also to be included in an album too .

Her official site described the song as a 'winter love ballad' & naturally past winter inspired ballads like Ai no Uta , Yume no Uta / Futari de ... , you will come to your mind if you're a fan of hers .

I like her ballads & even though stay with me wasn't grabbing on 1st listen , the song began to warm up to me as each listen goes by . That also goes for her past winter inspired ballads like Ai no Uta .

After 2 ballads back to back , This is not a love song comes into the pic . With a weird song title like that , I wasn't expecting that much when I 1st listened to it . I was very surprised on 1st listen because in this no. , she delivered a song that place a great emphasis on the R&B and synth factor .

This is not a love song does get a bit creepy as the background vocals feature her laughing & etc but I suppose that's how she wanted the song to sound as such .

Driving is track #7 & it's also another song that I reviewed a while back ago alongside with show girl . This's 1 of my fave album tracks on TRICK as it's a catchy piece of no. that's heavy on the synth factor & it sounds better as each listen goes by .

It's not as heavily synthesised like This is not a love song but still both tracks are equally good in their own right . It's a pity that Driving didn't get a music video of its own as I feel it's 1 of the more prominent & strong album tracks found in TRICK .

Bling Bling Bling feat AK-69 is the 1st song on TRICK to feature guest vocals & I said a while back ago when I reviewed this song separately in that it sounded way too similar to Fergie's London Bridge & I still think it does .

It does get a bit repetitive in due time but I can pardon Koda on that as between Bling Bling Bling & London Bridge , I will choose the former .

& speaking of Fergie , in comes That Ain't Cool which's track #2 on Koda's 40th single MOON . It's frankly no secret that this's my least fave track on MOON & it doesn't help that the video was just weird on all levels & it should have been credited as Fergie feat Koda Kumi instead of the opposite as I tend to hear more of Fergie's vocals rather than Koda on this no. .

However in terms of sound consistency there , it's still there for both songs . At least I understand why both songs are put together side by side with each other .

Hurry Up ! is track #10 & my 1st impression of the song when I heard it was that it's probably something that Anna Tsuchiya might come up with as with regards to her 3rd album NUDY SHOW ! which has a more diverse sound but in anycase , Koda's able to execute with style in this really dancey R&B piece of tune .

Moon Crying is track #1 in Koda's 40th single & it's probably 1 of the more depressing ballads that she has delivered in recent times . Most of the live performances that she did when performing this song , she always tend to shed a few tears here & there . If not she will be holding back her tears which proved otherwise .

My point's , the song's something that will definitely tug your heart in more ways than other when you hear Moon Crying for sure .

JUST THE WAY YOU ARE is the 2nd album track to receive its own music video & compared to Moon Crying , the mood is strikingly different as JUST THE WAY YOU ARE is a really cheery piece of work .

I really like the finger clapping & violin going on in JUST THE WAY YOU ARE for that matter .

Joyful follows after JUST THE WAY YOU ARE & it's also another cheery no. that somehow is Christmas inspired due to the music that's going on in the song .

It's a less hyper version of Wonderland & it does bear similarities to her other happy go lucky tunes like Birthday Eve , WIND except in this case , Joyful sounds more mature as compared to its other 2 songs counterparts .

Ai no Kotoba (Words Of Love) is the last ballad on TRICK & this's 1 really powerful ballad that Koda delivered . It doesn't match up the greatness of Yume no Uta but this's some serious good stuff .

I guess out of all the ballads that make the cut in TRICK , Ai no Kotoba has to be my fave outta the bunch .

Only available in as a first press CD + 2 DVDs track is a full Eng version of Venus . It's actually a cover of Shocking Blue's & Koda's version of the song was 1st heard in a Gillette advertisement which she endorsed a while back ago .

Unfortunately as my worst fears were confirmed , the song's just blah . I never heard the original done by Shocking Blue but I just cannot make out as to what Koda's singing in Venus , ok a little bit here & there but still this's bad .

Somehow now , the full Eng version of Twinkle ! that she did in Black Cherry doesn't seem to sound bad at this point in time . I guess the only saving grace for Venus is the music which I like as it's very heavy on the synth factor .

Too bad the lyrics & the music of Venus somewhat weren't able to gel together real well which's a pity & no surprises this's the weak link in TRICK , album track wise .

Having said that if there were to be a full version of Introduction To Kingdom which I hope that wouldn't happen , I gladly pick the Eng version of Venus over than the former .

It's unfortunate that she choose to cover a full Eng song done by Shocking Blue cos I figure it probably will sound way better if she were to cover Venus by Tackey & Tsubasa because personally , I would LOVE to hear her own rendition of the 2 T's best selling single to date . I think that will be something really awesome .

After the somewhat disappointment that's of Kingdom , I'm really glad to see Koda stepping up her game musically & then some in her latest album offering TRICK .

This time round to me , the album tracks are really solid & they managed to sound on par if not more superior than its singles counterparts . You definitely can tell the musical growth & sound transition are there in TRICK if you compared that to Kingdom .

Also TRICK managed to cover quite a few range of music genres that she didn't venture before , such as electropop , dance & synth & somehow she managed to pull such tracks pretty well in the form of Driving , This is not a love song & Hurry Up !

Koda Kumi has dug into her bag of tricks & this time round , she has managed to carve out a solid album in its own right .

A great album to start off 2009 & in the words of magician Monsieur Pierr (just download
Utaban
& you know what I'm talking about) , Tres bien indeed .