CD Review :: YUI - HOLIDAYS IN THE SUN

CD Only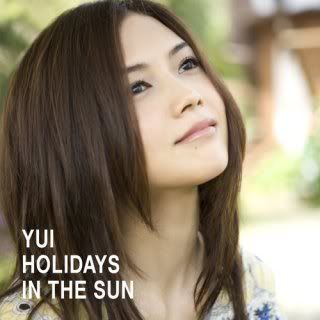 CD + DVD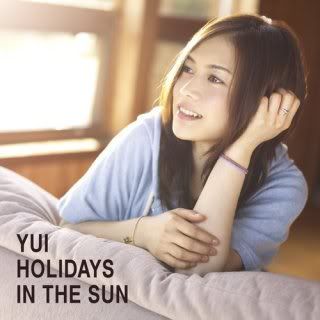 1) to Mother
2) again
3) Parade
4) es.car
5) Shake My Heart
6) GLORIA
7) I do it
8) Please Stay With Me
9) Summer Song
10) Cinnamon
11) Driving Happy Life
12) It's all too much
13) Kiss me


HOLIDAYS IN THE SUN is YUI's 4th album . It was released last Wed on 14th July & this's YUI's 1st album release in 2 years 3 months since 2008's I LOVED YESTERDAY .
Her new album showcases a newfound maturity of YUI , even though her signature guitar-based sound and soothing vocals also have returned .
Spend your summer with the gentle acoustic sounds of YUI in HOLIDAYS IN THE SUN which debuted at #1 with 1st week sales of 184,952 .
4 singles which're all #1's hits on Oricon are included in HOLIDAYS IN THE SUN & Never say die which's the 2nd A-side of her 14th single It's all too much / Never say die has been excluded from the tracklist .
to Mother is YUI's 16th single & this's incidentally the last/latest single release of YUI prior to the announcement release of HOLIDAYS IN THE SUN .
I'm not sure if it's a good idea to kick the album off with to Mother but anyway this showcases a different side of YUI in that the song's a piano driven no. & not guitar driven since usually her choice of music instrument is the guitar .
again is YUI's 13th/comeback single after she embarked on a 5-6 months hiatus after releasing SUMMER SONG .
The song served as the first opening theme for the anime Fullmetal Alchemist: Brotherhood & this's also so far the only single of hers which managed to sell more than 100,000 copies in the 1st week .
even though again has been released for quite sometime , I still love the song as it showcases what YUI does best - angsty , power charged & mean in your face edgy rock with plenty of attitude & spunk thrown in for good measures .
The next 3 songs are album tracks .
Parade is the 1st up in line & in here , YUI showcased a soft subtle acoustic side attached to Parade which's really nice .
I like the laidback feeling which Parade presents too which's great .
es.car is the next album track . Unlike Parade , es.car is quite a fast paced mid tempo guitar driven song .
Just like Parade , the melody for es.car is a bit unusual . It's not a straightforward mid tempo no. but YUI thrown in subtle percussion in for good measures too .
Shake My Heart is very cool in the sense that it's a mid tempo song , except that in this case , YUI incorporated subtle gospel like influences in the no. which you can hear the echoes of people singing in the background .
Also I think it's cool that there's the usage of trumpets & frankly , I will not be surprised if this song will be 1 of those no.s that YUI will probably sing to get the crowd grooving around to .
The next 2 songs are singles that YUI had released .
GLORIA is YUI's 15th single . It's also her 1st single release for the year too .
This's still a very catchy no. . I do admit that I was a bit annoyed with how GLORIA sounded like as I was not used to the way it's but I'm fine with it now & also I like the fast paced of the guitar riffs too going on in GLORIA .
I do it is the 4th album track & in here it's a cover of girl trio Stereopony's 3rd single .
While YUI did not had a hand in writing I do it , she composed the song after visiting them in the recording studio .
Since I do not listen to Stereopony , I treat this as a new song & I have to say that it's a nice one . If the rest of the album tracks weren't your cup of tea , then I do it should do fine since it's classic YUI in that it's a standard pop/rock song that's offered in her discography .
Please Stay With Me is the next album track . This's the only album song which got a music video .
The song has been selected to be used as an insert no. for ARASHI's Matsumoto Jun new drama Natsu no Koi wa Nijiiro ni Kagayaku & I suppose you can consider Please Stay With Me as the main promotional album track for HOLIDAYS IN THE SUN .
I reviewed Please Stay With Me separately as a song on my blog before & up to now , it's not something that I'm bored of yet .
I probably can see (hear) why Please Stay With Me has been used quite aggressively to promote HOLIDAYS IN THE SUN because it's more or less in familiar YUI music terrority ground .
Summer Song is YUI's 12th single & this's the oldest single that's included in the album since it was released close to 2 years back , before YUI went on hiatus .
Despite this , I'm still glad that Summer Song made the cut on HOLIDAYS IN THE SUN as it's really solid . Also since now it's summer in Japan , what better way to listen to Summer Song eh ?
Cinnamon is track #10 . Honestly , I do not find anything special about Cinnamon in that I feel it's a typical mid tempo guitar driven album track that YUI includes .
It almost borderline on the filler side too as it took me quite a while to remember how the song sounds like too .
Driving Happy Life is quite cool . I really like the melody on 1st listen & for a second there , I thought it might be a combination of YUI's precious songs Driving & It's happy line too in which I'm not sure why .
But anyway , Driving Happy Life is nice & frankly if I drive , I can see myself listening to this while driving on the highway .
It's all too much is the 1st A-side of YUI's 14th single It's all too much / Never say die .
This's also the last single included in the album .
It's all too much was used as the theme song for the movie KAIJI while Never say die was used as the insert no. but like what I said in the beginning , Never say die is excluded from HOLIDAYS IN THE SUN .
Just like again , It's all too much is a mean gritty no. with a lot of really kicking guitar riffs thrown in that I adore .
I kind of wish that YUI include Never say die but I noticed that she doesn't tend to include the 2nd A-sides of her double A-side single releases , as evident in her last album I LOVED YESTERDAY where she excluded Understand from the tracklist but the song was eventually made available in her 1st B-side compilation album MY SHORT STORIES .
Kiss me is the final album track & this brings closure to HOLIDAYS IN THE SUN in the sense that it's another mid tempo guitar driven no. .
In here , I feel that YUI sounded quite dreamy in Kiss me . I'm not sure if that's a good or bad thing but I don't have problems with the song as it wraps up HOLIDAYS IN THE SUN quite nicely .
After close to 2 years 3 months since I LOVED YESTERDAY was released , YUI returns back with her latest album offering HOLIDAYS IN THE SUN .
So the question's , is it worth the wait ? well you'll be the judge in the sense that this time round , the album tracks are a lot more different if not more experimental coming from YUI .
People might find it daunting that the album tracks in HOLIDAYS IN THE SUN stray quite a lot from her singles which're mostly mainstream fare but to me , I don't see anything wrong with it in the sense that I feel YUI returned back to the scene with more mature sounding material which she showcases in the album tracks .
The album does lose a bit of a steam prior to the ending as I find some album tracks that were not memorable on 1st listen but they have grown on me quite significantly since then .
Overall , I feel HOLIDAYS IN THE SUN is a music step up or 2 from I LOVED YESTERDAY & if you like an artiste who dares to experiment out of the box , be it whether the final product is good or bad then HOLIDAYS IN THE SUN might just be the album for you to try , to get your fix of acoustic songs which're accompanied by standard pop/rock no.s .