CD Review :: Kuriyama Chiaki - CIRCUS Deluxe Edition

Cover for both CD & CD + DVD's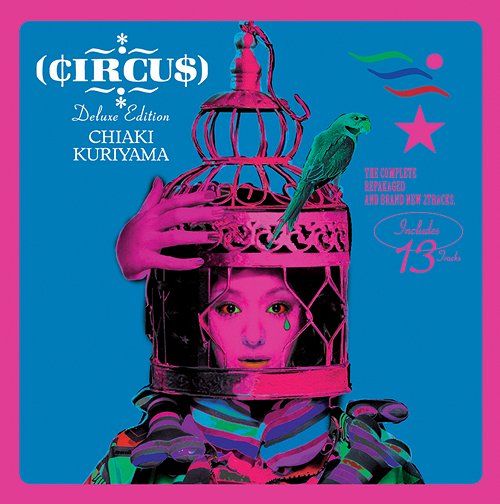 1) Roulette de Kuchizuke wo (A Kiss At Roulette)
2) Tsukiyo no Shouzou (Portrait Of The Moonlit Night)
3) Kuchi ni Shita (Love In The Mouth) LOVE
4) Seishun no Mabataki (Blink Of Youth)
5) Oishii Kisetsu (The Creamy Season)
6) Cold Finger Girl
7) Mirai no Hikari (Future Light)
8) Ketteiteki Sanpunkan (The Decisive 3min.)
9) Shinkai (Deep Sea)
10) Kanousei Girl (A Girl With Potential)
11) Gokoku Houjou (Harvest Rock) ROCK
12) Ladies & Gentlemen
13) New Moon Day

CIRCUS Deluxe Edition is a re-release edition of model / actress Kuriyama Chiaki's debut album CIRCUS which was released a few days ago on 11th Jan .
The original release date for CIRCUS was last year on 16th March & CIRCUS Deluxe Edition includes Kuriyama's 2nd - 5th singles & a B-side .
Just like in CIRCUS & CIRCUS Deluxe Edition , Kuriyama's debut single Ryuusei no Namida (Meteor's Tears) is excluded from the CD tracklist but the video of the song's included in the DVD tracklist .
There's not much significance between CIRCUS & CIRCUS Deluxe Edition aside from the inclusion of the entire single of Kuriyama's 5th single Tsukiyo no Shouzou & the video in the DVD .
Each track on the album was produced by a famous rock band or artist , with 2 of them being foreign acts : Chris Cester & Mark Wilson of the Australian band Jet & Stephan Jenkins of Third Eye Blind .
Roulette de Kuchizuke wo (A Kiss At Roulette) is the 1st track to kick start CIRCUS (Deluxe Edition) & this song pretty much is the basis on what to expect for the other tracks in Kuriyama's debut album ie. a mean gritty aggressive rock no. that's full of attitude & plenty of kicks .
I was quite impressed when I 1st heard Roulette de Kuchizuke wo because prior to this , I had no idea how does Kuriyama sounds like but after hearing this track , I became more interested on what she has to offer in CIRCUS which follows the next track .
Tsukiyo no Shouzou (Portrait Of The Moonlit Night) is Kuriyama's 5th single & this was used as the theme song for the TV drama Himitsu Chohouin Erika starring Kuriyama herself .
Shiina Ringo is responsible for this cool stylish rock tune & she was also in charge of Kuriyama's 4th single Oishii Kisetsu / Ketteiteki Sanpunkan too .
Tsukiyo no Shouzou sure is interesting & in the hands of a veteran such as Shiina Ringo , Kuriyama is in good hands , especially since this's the 2nd time Shinna works in producing this slick no. for Kuriyama .
Kuchi ni Shita (Love In The Mouth) LOVE is the shortest track in CIRCUS (Deluxe Edition) , clocking in at 2:40 mins . In here , the usage of synth is much more heavily emphasised & Kuriyama sounds prety dreamy in here .
I'm not sure if it's due to the way Kuchi ni Shita LOVE sounds like but it's interesting to say the least .
Seishun no Mabataki (Blink Of Youth) is the B-side track of Tsukiyo no Shouzou & I really like this no. as it compliments the A-side really well .
When I 1st heard Seishun no Mabataki , I like just how vulnerable if not raw sounding this goes & it's fuss free sounding as well .
The next 2 songs on the album are singles prior to the release of CIRCUS (Deluxe Edition) .
Oishii Kisetsu (The Creamy Season) is the 1st A-side of Kuriyama's 4th single Oishii Kisetsu / Ketteiteki Sanpunkan & just like Tsukiyo no Shouzou , this's also produced by Shiina Ringo .
I feel that Oishii Kisetsu has a very childlike innocence attached to it . Besides being a rather cool sounding rock track , Kuriyama was still able to carry this track off with gusto .
Cold Finger Girl is Kuriyama's 3rd single & this was used as an opening theme song for the anime Level E .
This single is 1 of my fave Kuriyama tracks because I find the whole song really cool & unique . It's not a typical straightforward rock no. but combining with aggressive guitar riffs & an interesting melody , it gives rise to Cold Finger Girl .
Mirai no Hikari (Future Light) is the next album track & I only find this a-ok for my liking .
Then again , I feel that Mirai no Hikari is quite a standard rock no. . Comparing to the other songs found in CIRCUS (Deluxe Edition) , there's definitely better songs available for me to like & appericate .
Ketteiteki Sanpunkan (The Decisive 3min.) is the 2nd A-side of Kuriyama's 4th single Oishii Kisetsu / Ketteiteki Sanpunkan .
As the song title suggests , Ketteiteki Sanpunkan clocks exactly 3 mins on the dot duration wise but aside from this , it compliments the pleasant sounding Oishii Kisetsu well , with Ketteiteki Sanpunkan being a mean gritty track , with Kuriyama's vocals that can be heard in the background .
Shinkai (Deep Sea) follows after Ketteiteki Sanpunkan & to me , I consider Shinkai as 1 of my fave tracks in CIRCUS (Deluxe Edition) simply because it's such a beautiful soft tempo ballad .
There's not really a lot of slow sounding tracks in the album but Shinkai most certainly sounds extremely chilled out if not lush sounding . The fact that it's pretty much piano driven gives this song a total class of its own .
Kanousei Girl (A Girl With Potential) is Kuriyama's 2nd single & this was used as an opening theme song for the anime Yorinuki Gintama-san .
Alongside with Cold Finger Girl , Kanousei Girl is also another awesome track that I enjoy coming from Kuriyama & Kanousei Girl screams out nothing but fun fun fun .
Also , a special mention has to go to COMPLEX's Hotei Tomoyasu for doing such a great job in composing Kanousei Girl & downright at the end of the day , I adore Kanousei Girl in giving out so much postive energy .
Gokoku Houjou (Harvest Rock) ROCK is the longest track found in CIRCUS (Deluxe Edition) , clocking in at 5:59 mins .
This's quite an unusual if not a bit random no. because in Gokoku Houjou ROCK , Kuriyama's vocals sounds a lot more deeper than usual . Let alone this has a very space dreamy feeling .
I'm not sure if this's a good or bad thing but I guess it's 1 of those tracks that falls in the off beat direction , depending on whether this's interpret in a good or bad way .
With a cool title such as Ladies & Gentlemen , it can be certain that this song has the word fun being stamped all over .
Likewise , the same thing goes for the last track in the album which's New Moon Day which presents this very energetic & straightforward rock vibes that makes me want to sing & hum along .
I suspect these 2 traits more or less form the basis of a catchy memorable track which's evident in New Moon Day .
Kuriyama Chiaki brings her own brand of fun , edgy & energetic songs in a rock music carnival offering in the form of CIRCUS Deluxe Edition & overall I find this album to be pretty solid .
I was actually skeptical to try her music even though she isn't the 1st model/actress that I've listen/support with regards to in their music careers & I didn't even know how she sounds like prior to this .
But after giving CIRCUS Deluxe Edition a listen , I definitely can detect traces of another model/actress that does the same style of music just like Kuriyama ie. Anna Tsuchiya .
It's easy to dismiss a model/actress in carving out a music career but considering that Kuriyama has some pretty big names in backing her up if not producing her music , I say she's in good hands .
Given a little bit more time , I guess Kuriyama's able to go far in this tough fickle industry but for now , I'm going to be enjoying this re-released edition of her debut album CIRCUS .
CIRCUS takes on a fun musicial ride from the start to the end & this album might be a good 1 in starting off 2012 on the right musicial note .