CD Review :: Muse - Blackholes And Relevations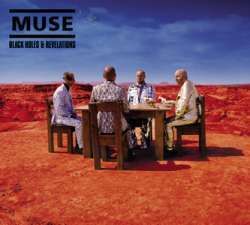 Tracklist :

1) Take A Bow
2) Starlight
3) Supermassive Black Hole
4) Map Of The Problematique
5) Soldier's Poem
6) Invincible
7) Assassin
8) Exo-Politics
9) City Of Delusion
10) Hoodoo
11) Knights Of Cydonia
12) Glorious (Bonus Track)
Just performed yesterday at Fort Canning Park to a sell out crowd of over 6,000 fans is UK band Muse . In fact all tickets were sold out to the extent that LAMC Productions extended the sale of 500 extra tickets costing S$112 each a day before Muse's gig took place & it was the 1st time that Muse performed live in S'pore .
I only heard about Muse last year cos of the release of the 1st single from their 4th album Blackholes And Relevations which was Supermassive Black Hole & they were MTV Asia Moto Artist for last year too in which the month I can't remember .
When I 1st heard that song , I dismissed it cos it sounded strange & I thought they're a new band . Imagine my surprise when I dug up somemore info about them & they have been around since '94 ! See that goes to show how terribly ignorant I'm .
Muse consists of Matthew Bellamy (vocals, guitar, keyboards, piano), Dominic Howard (drums, percussion) and Chris Wolstenholme (bass guitar, keyboards, backing vocals). As of the release of Blackholes And Relevations , Morgan Nicholls assists the band during live performances, providing additional keyboards, samples and backing vocals.
My opinions about Muse's music soon changed after I heard their follow up which's the gorgeous Starlight . It was only til I heard their next single Knights Of Cydonia on their MySpace which practically sealed the deal for me in which led me to grab a copy of Blackholes And Relevations . Even my good friend highly recommended their album in which he said that it's great although I read a fair bit of mixed reviews about Muse's latest release .
I have been spinning the album non stop since Mon & I love it . The guitar riffs of the songs on the album are very kick ass & punchy . It's not your usual straight mix of rock . Rather it's a mixture of rock/funk & other music genres thrown together in your face . Some people might not appreciate this kinda rojak mix but I personally like it !
The album kicks off with a great track Take A Bow followed by the gorgeous Starlight & then the 1st single Supermassive Black Hole in which after I listened to it a few more times , I really like it right now .
& track no4 will be the new single that Muse's scheduled to release real soon which's Map Of The Problematique . It's a strange title yes but I guarantee that this track's nothing short of being fantastic & it was followed by an interlude Soldier's Poem . I wish that was a song instead of an interlude .
After Soldier's Poem , it was the ballad Invincible which's a great track & it's 1 of the few songs on the CD that allows frontman Matt to show his vocal chops & the next track in the line is another of my fave which's the kick ass Assassin . Love the guitar riffs on it , it screams out anger . Well to me that's
Exo-Politics is nice too , as well as City Of Delusion . The opening of Hoodoo sounds like something straight from a western cowboy theme movie & yes when I 1st heard it , I thought it's really cheesy but at least when the song progressed further , it sounds awesome .
& what better way to close the album than the fantastic 3rd single Knights Of Cydonia ! When I 1st heard that on MySpace , it blown me away big time & that made me decide to get a copy of their CD on Monday .
Who would have thought that I will be listening & liking to Muse's music now where in the beginning I said that I will not be caught dead listening to them . Ha I'm eating my own words right outta myself !
It's quite embarrassing that I only got to know of Muse only recently but I suppose it's better than nothing . Even though I missed their debut gig in S'pore yesterday , but it's ok . Maybe I should start listening to their older material now if that's the case to get to know them better but yes I love Blackholes And Relevations .
They're great live & you should watch Starlight being done live at last year's MTV Europe Music Awards or just buy their DVDs . Rather buy Hullabaloo which's highly recommended by my friend !