CD Review :: Kis-My-Ft2 - I SCREAM

2 CDs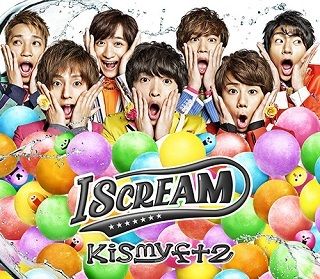 CD + DVD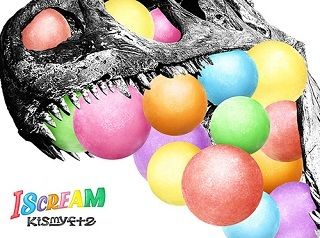 2 CDs + 2 DVDs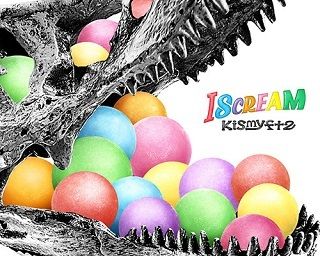 1) "5th" Overture
2) YES ! I SCREAM
3) Summer Breeze
4) Gravity
5) PSYCHO
6) & say (Kitayama Hiromitsu & Fujigaya Taisuke)
7) Flamingo
8) Yuuzora
9) Saigo mo Yappari Kimi
10) AAO
11) Mega☆Live
12) MU-CHU-DE Koishiteru
13) NOVEL -Album ver.-
14) Re:
15) I Scream Night
16) WANTED (2 CDs Edition Track)
Solo songs (only available as the 2nd CD in 2 CDs + 2 DVDs edition)
1) Ima Naniwo Sou no (Kitayama Hiromitsu)
2) Get Ready (Senga Kento)
3) Wotakudattatte It's Alright ! (Miyata Toshiya)
4) Watta Bento (Yokoo Wataru)
5) You're Liar ♡ (Fujigaya Taisuke)
6) ALIVE (Tamamori Yuta)
7) Josshi Matsumura no SCREAM (Nikaido Takashi)
I SCREAM is Kis-My-Ft2's 5th album & it was released last month on 22nd June .
Released less than a year since previous album KIS-MY-WORLD , I SCREAM include 15 songs , inclusive of a bonus track WANTED that's only included in the 2 CDs edition .
1 album track YES ! I SCREAM has a video made while Re: has a production documentary accompanied by the group members' lyrics .
3 singles AAO , Saigo mo Yappari Kimi & Gravity + 2 B-sides NOVEL (from AAO) & MU-CHU-DE Koishiteru (from Gravity) are included in I SCREAM .
The 2nd disc in the 2 CDs edition has a Kis-My-Ft2 non-stop medley mix Kis-My-Ft2 NON-STOP MIX -Vol.1- featuring 30 tracks that looks back at their Johnny Juniors & singles days & the track duration is almost 21 mins long .
The 2nd CD in the 2 CDs + 2 DVDs edition includes 7 solo songs from each of the members in the group . No videos were made for Kitayama's & Fujigaya's solos , however their duo song FIRE !!! (track #9 in 3rd album Kis-My-Journey) has a video made .
The album kick things off with "5th" Overture which has a futuristic meets circus melody . It's an interesting mix mash of sounds which sets the tone on what to expect in I SCREAM later on .
YES ! I SCREAM is the main album promo track and this's the biggest video that the group has made to date which features a Kis-My-Ft2 parade to go along with the catchy tune of the song which's bursting with a lot of colours & with 100 people joining in the parade .
Compared with KIS-MY-WORLD's Brand New World , YES ! I SCREAM is on a different music league as it has a fun carnival like theme . There's no way in not feeling happy upon hearing this song which gives off plenty of positive happy vibes .
Summer Breeze is the 2nd album track and it has an upbeat Summer theme that has a catchy melody which's backed up with whistling sounds thrown in for good measure .
Gravity is Kis-My-Ft2's 16th single & this was used as the theme song to NTV's late-night drama MARS: Tada , Kimi wo Aishiteru. which's a live-action drama adaptation of Souryo Fuyumi's popular manga MARS. . Member Fujigaya Taisuke and actor Kubota Masataka were cast as the leads in MARS: Tada, Kimi wo Aishiteru. , song is described as an uptempo dance tune with a sense of speed .
Out of the 3 singles included in I SCREAM , Gravity is my favourite as something about this single song never gets old no matter how many times I listened to it & to quote the title , it still has a strong gravitational pull .
PSYCHO is the 3rd album track and aside from YES ! I SCREAM , this's 1 of my favourite album track as it's a crazy sounding song in a good way . It's basically an Oriental song that's full on overdrive & it would have been interesting if a video was made .
& say is the only non group track in the main / 1st CD and for this , it's handled by group leader Kitayama Hiromitsu & Fujigaya .
Kitayama & Fujigaya's previous duo song Akashi in KIS-MY-WORLD was a ballad but in & say , they brought back the aggressive factor .
PSYCHO is an Oriental sounding song full speed ahead while for & say , it's a rather strange Bollywood influence no. . I wasn't used to it in the 1st place but it's actually sounds not bad .
Flamingo is the 4th group album track & this's a nice mid tempo song with a finger snapping beat . And this's followed by the 1st group album ballad Yuuzora which's a heartwarming no. .
The next 2 songs are singles that were released prior to I SCREAM .
Saigo mo Yappari Kimi is Kis-My-Ft2's 15th single & it was used as the theme song for the movie Raintree no Kuni starring member Tamamori Yuta .
Described as a ballad number , Saigo mo Yappari Kimi was written by Tsunku♂ . Regarding the song , Tsunku♂ commented , "I am very happy that it turned out to be a heartwarming song that is full of the members' passion , innocence & amorousness ." Kitayama also stated , "We want you to be completely absorbed in Tsunku♂'s worldview & our song ."
Tamamori also commented , "I'm happy that I can be a part of both works as well from the music side , through the theme songs ."
AAO is Kis-My-Ft2's 14th single & it was used as the theme song for NTV's drama Seishun Tantei Haruya starring Tamamori .
Written & composed by Naoto Inti Raymi , AAO is a fun upbeat no. that reflects the talented cheery side of the group & kudos to the talented Naoto Inti Raymi for creating it .
Mega☆Live is the 6th group album track & a bit similar to YES ! I SCREAM , it's a fun fast paced number although in a way it's nothing special to a certain extent .
MU-CHU-DE Koishiteru was originally included as the 1st B-side from their 16th single Gravity . This song was used to promote Ginza Calla which Fujigaya stars in the ads . A recording movie video was made & included in the single .
To me while I feel MU-CHU-DE Koishiteru is ok , I would rather see Crystal Sky make the cut in the album as I like it a lot more but since MU-CHU-DE Koishiteru is chosen instead , I have to accept it .
NOVEL is the 1st B-side in their 14th single AAO & it was used in the ads of Kowa's Hokkairo Nukunuku Touban .
In I SCREAM , it has an album version with a different melody as compared to the version that was included in AAO .
Similarly , I would have preferred Let it BURN ! get included in I SCREAM instead of NOVEL but I must admit that NOVEL -Album ver.- is actually not bad .
Re: is the 2nd group album ballad & I enjoy this a lot as everyone harmonises really well even though for some odd reason , Re: sounds a bit like NEWS's Aikotoba to me .
I Scream Night is the last song in the CD + DVD & 2 CDs + 2 DVDs versions of the album and this's a standout no. which's fitting in concluding I SCREAM with a bang as it has a strong memorable EDM driven melody .
WANTED is only included in the 2 CDs edition of I SCREAM as a bonus track . To me , there's nothing special regarding this song especially when you compare it with other stronger sounding tracks in the album , this unfortunately falls short so there's no problem in skipping it .
For the solo songs , I will just do a short review on it but out of the 7 , I actually like Tamamori's a lot with it being an EDM song & I like the concept of the video accompanying ALIVE .
Also I feel it's a bit of a shame that videos were not made for Kitayama & Fujigaya's solos as they're actually quite good . I was surprised they chose to make a video on FIRE !!! instead but that's still a great duo song .
While for Senga's solo , Get Ready surprises me & the personal input that went into making the video for his solo was commendable .
As for the other 3 solos , I'm not really a big fan of them . Miyata's solo is dedicated to otakus like himself while for Yokoo , it's actually the 1st time I heard how he sounds like & frankly his vocals is quite weak/limited even though the video for Watta Bento is fun as it has a cooking theme .
And for Nikaido's solo , I was weird out by his the most and the video for Josshi Matsumura no SCREAM didn't helped matters & to put it nicely in the best way possible , I think it was made to accommodate even more fanservice to the group's fans .
Fans have plenty reason to scream because Kis-My-Ft2 marks their 5th anniversary with their latest 5th album I SCREAM .
Kis-My-Ft2 certainly spared no expenses & went all out with I SCREAM as their latest album has been amp out to the max .
Compared with their past albums , I SCREAM has the most amount of group input to date seeing that in the main disc , all except 1 song are group tracks unlike their previous records where it was not the case .
Also surprisingly , it took them this long to finally include solo songs for all members as previously , only Kitayama , Fujigaya & Tamamori have them but not the other 4 members / Busaiku until now .
Overall , I SCREAM is a really fun album and most of the new material is solid .
The minor downsides of I SCREAM is that I don't quite like that the 2nd 1/2 of the album is quite slow paced . Let alone this time round , I don't agree that MU-CHU-DE Koishiteru & NOVEL deserve to make the cut in I SCREAM as Kis-My-Ft2 have other/better B-sides in AAO , Saigo mo Yappari Kimi & Gravity .
Aside from that , I SCREAM is an enjoyable record & it's daunting to know that since Kis-My-Ft2 debuted 5 years ago , they've been releasing an album every year & as each album release goes by , they kept keeping me entice more & more , something that I rarely get from any Johnnys group as it's notoriously known that albums that Johnnys release are normally quite hard to listen/get into but somehow Kis-My-Ft2 is able to buckle that 'curse' & beat it .
And they definitely show no signs of slowing down as next month , they will release 17th single Sha la la☆Summer Time on 24th Aug & for that I can't wait but for now , I make do with their latest album I SCREAM which have me screaming for more new music from Kis-My-Ft2 .