CD Review :: Hey ! Say ! JUMP - DEAR.

CD
2 CDs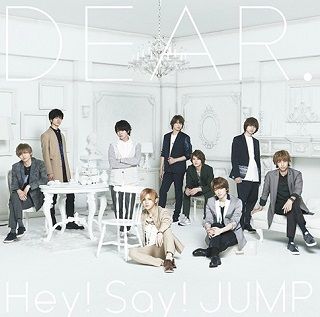 CD + DVD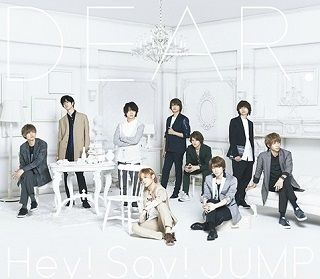 1) Invitation
2) Masquerade
3) RUN de Boo !
4) Dream Master
5) B.A.B.Y.
6) Kimi Attraction
7) Special Love
8) Dear.
9) Eternal
10) SUPERMAN
11) order
12) Tasty U
13) Slow Motion
14) Ai no Syubidova
15) KISS Diary
16) Brand New World
17) From. (CD Only Track)
2nd disc (only in the 2 CDs edition)
18) Konya Anata wo Kudokimasu (Inoo Kei & Yaotome Hikaru)
19) Mr.Flawless (Nakajima Yuto , Takaki Yuya & Yabu Kota)
20) Boku to Kei to (Chinen Yuri & Okamoto Keito)
21) My Girl (Yamada Ryosuke & Arioka Daiki)
DEAR. is Hey ! Say ! JUMP's 5th album & it was released last month on 27th July .
The group's previous studio album release was last June's JUMPing CAR .
Only 1 single Kimi Attraction is included in DEAR . Their 16th single MajiSUNSHINE is excluded from the tracklist .
DEAR. was released 1 day before the group's new tour Hey ! Say ! JUMP LIVE TOUR 2016 DEAR. started & the album includes a secret track (only available in the CD only edition of DEAR.) . The last album that included 1 was in their debut album JUMP NO.1 .
The new album kick things off with slightly under a minute introduction number titled Invitation which flows well into the next song Masquerade which's the only new album track to get a video .
It's easy to understand why Masquerade deserves to get a video made as it's a full on outright upbeat song that has plenty of attitude & for once , it's a very grown up track which sets the tone on what to expect in the later course of DEAR. .
Funnily enough when I 1st heard Masquerade , it reminds me a lot of Kimi Attraction's Shall We ? to a certain extent as both songs sounded almost quite similar except that Shall We ? has a rather strong Halloween inspired melody while for Masquerade , it sounds like something that could be used in an actual real life masquerade ball .
Despite the questionable title , RUN de Boo ! is actually a fun fast paced no. & there's none of the childish tone that can be found in this song .
Likewise , the same thing goes for Dream Master & B.A.B.Y. . Dream Master has traces of autotune while yet again B.A.B.Y. is like RUN de Boo ! where both songs are quite mature sounding even though I wished B.A.B.Y. could have been a bit longer .
Kimi Attraction is Hey ! Say ! JUMP's 15th single & it's the sole single song included in DEAR. .
This was used as the CM song for Kose Cosme Port's Softymo & it's described as a pop tune with a sense of speed about an intense love . As such , Kimi Attraction describes the rollercoaster ride that is of romance .
Special Love is track #7 & I find this song quite alright , it's frankly nothing special as there're other album tracks which're more stronger .
Sharing the same title as the album except it having lower caps is Dear. which's the 1st of 3 album ballads . After a series of fast paced songs , it's good to slow things down considerably .
Eternal is the 2nd album ballad & this was used in the ads of Kose's Cosmeport Clear Turn face mask .
I like Eternal a lot & it's surprising that the group did not perform this song during their current ongoing Hey ! Say ! JUMP LIVE TOUR 2016 DEAR. . Why I don't know but they should have done so as it's a sweet no. .
From 2 ballads back to back , the pace is picked up again in the form of SUPERMAN which's 1 of my favourite album tracks in DEAR. .
If Masquerade didn't had a video made , SUPERMAN should have stepped in to fill things up as this's 1 mean aggressive song & I feel that it has traces of Magic Power's Beat Line in it somewhat . Not that it's a bad thing as I still consider Beat Line to be 1 of the group's best B-sides which should have outright replaced Magic Power as the A-side instead .
order is another pretty good song with the introduction having a trumpet sound before its melody changed into something edgy & rough .
As for Tasty U , it's a rather interesting if not weird song as it almost borderlines in sounding like a Bollywood inspired track but it's not like NEWS's Chumu Chumu where the Bollywood music influence can be felt strongly .
For a song that's titled Slow Motion , I was 1/2 expecting it to be a ballad but turns out it's not the case . Instead , it starts off with auto tune & it's an upbeat song although it gets quite repetitive along the way .
The next song Ai no Syubidova was used in the ads of Bourbon's caramel popcorn .
Aside from Kimi Attraction , Ai no Syubidova is a rather childish sounding song but given the title it's not surprising . However the difference is that I don't cringe when I heard it as it's quite a cute song .
KISS Diary is the album's 3rd ballad & it's another favourite song of mine . Just like Eternal , it's not performed during Hey ! Say ! JUMP LIVE TOUR 2016 DEAR. either which's a real pity as the group should have done so .
Brand New World is the last track in DEAR. (in the 2 CDs & CD + DVD editions) . Oddly , I have vibes of the group's debut single Ultra Music Power when I 1st heard it . I don't know if that's a good or bad thing but I only find this song ok for my liking .
From. is only available in the CD only edition of the album . I prefer this over Brand New World as this piano driven no. left a better impression on me .
The 2nd disc in the 2 CDs edition of DEAR. contains 4 songs which're done by duo/trio pairings within Hey ! Say ! JUMP . This was decided during a game of rock paper scissors of their JUMQ segment (which the footages are included in the CD + DVD of MajiSUNSHINE) .
Konya Anata wo Kudokimasu is handled by Inoo & Hikaru . Surprisingly , this's almost a full blown up Rock sounding song . I would have preferred it much more if they omitted out the girls' backing voices as along the way it was quite grating on me .
Mr.Flawless is handled by Nakajima , Takaki & Yabu . In the JUMQ segment , the 4 duo/trio pairings had to fight with each other in order to win a chance to get a video was made for their unit song & in this case , it was Mr. Flawless that won the competition .
The Mr.Flawless video is not included in the DVD of DEAR. . Instead both the video & making of clips were included in a lucky draw DVD where 10,000 copies were made . Only by purchasing the CD only edition of DEAR. it would allow you to have a shot in winning the DVD .
Do I feel Mr.Flawless deserve to get a video ? To a certain extent yes as I like the song before seeing the video . And I think Nakajima , Takaki & Yabu harmonise together quite well .
Boku to Kei to is sung by Chinen & Okamoto . Out of the 4 songs in the 2nd CD , this's my least favourite as compared to the other 3 duo/trio pairings songs , this's the only track that has rather strong cheesy childish vibes & in a way I'm glad this song didn't get a video if not I would probably cringe a lot more .
The last song My Girl is sung by Yamada & Daiki . Honestly if Mr.Flawless didn't had a video made , I feel My Girl should have 1 made instead as this's my favourite out of the 4 duo/trio pairing songs .
What I like about My Girl is that it has a grown up feel & the melody's really catchy . Bonus points for Daiki in rapping in between the song . The only downside is that My Girl is rather short as it ends quite abruptly .
Hey! Say! JUMP breaks from their previous style in their 5th album DEAR . Known for their fresh youthful image , the Johnny's group evokes a more grown-up atmosphere this time in the album's new songs .
To say that I heave a huge sigh of relief upon listening to DEAR. is a big understatement seeing that it's a better album than JUMPing CAR in so many levels with the biggest 1 being the quality + maturity of the new material found in the new album .
Compared to JUMPing CAR , DEAR. showcases a lot more music styles & dynamics . For JUMPing CAR , I frankly only like 2 album tracks (Boys Don't Stop & Dangerous) while the rest is just plain awful/cheesy sounding . I don't get that same feeling when I listen to DEAR. . Even the new songs that might sound childish still has that grown up tone to a certain extent .
In addition , DEAR. only has 1 single so this means that the album tracks have to be on par if not be more superior than Kimi Attraction which I'm glad to say that more or less exceeded my expectations .
I have a lot of fun listening to DEAR. as I enjoy the variety of different styles made available in the album . I don't think DEAR. is my favourite Hey ! Say ! JUMP album but it's now my 2nd favourite 1 after their 3rd album smart .
Not everything in DEAR. is perfect but to me it's definitely a big improvement over JUMPing CAR & let alone , the guys in the group are not kids anymore so they really should ditch releasing childish songs & release material that fits their age now .
If they were able to release great grown up single songs like Your Seed , Mayonaka no Shadow Boy , Hitomi no Screen back when they were still kids , I don't see why not as it's not a good thing that some of their recent singles have the opposite effect where they sound inappropriate for their current age .
That said , 2017 will be Hey ! Say ! JUMP's 10th anniversary & hopefully they will do something special to commemorate it . For now , DEAR. is an album worth checking out & I can safely say it's 1 of my favourite albums of 2016 .