CD Review :: BENI - Shiki Uta summer

Cover for both CD & CD + DVD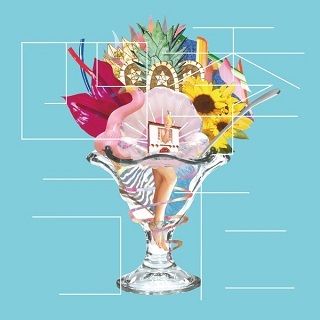 1) Summer Lovers
2) Natsu no Omoide
3) Forever
4) Eien marriage ver.
5) Baby Blue
6) Hanabi
7) Summer・Night・Fever
8) OUR SKY
9) Zenryoku Shounen
10) Natsu ga Owaru Koro
Shiki Uta summer is a concept album by BENI & it was released last month on 29th June .
BENI's previous release was last Nov's Undress / her 6th album .
Shiki Uta summer has a theme of seasons & love and is the 1st album in BENI's 'Shiki Uta (Four Seasons Songs)' series .
The concept album's tracklist consists of 5 new songs , 1 re-recorded no. , 1 new cover & 3 tracks which already been released previously .
BENI serves as the producer while Dohzi-T supervised the production of Shiki Uta summer .
The 3 songs which were included in BENI's past releases include her 16th single OUR SKY , 18th single Forever & Zenryoku Shounen which's an English cover of Sukima Switch's 2005 single .
BENI's English cover of Zenryoku Shounen was 1st included as track #5 in her 3rd English covers album COVERS 3 .
New material are indicated in bold in the above tracklist .
Summer Lovers was picked to be used in the ads of LAZONA BARGAIN which BENI was appointed as a special supporter .
Prior to the physical release of Shiki Uta summer , Summer Lovers was 1st released digitally on 22nd June .
Summer Lovers is a fun cheery upbeat Summer inspired song that sets the tone of what to expect in the subsequent songs found in Shiki Uta summer . BENI wrote the song & she co-composed it .
Natsu no Omoide is the 2nd new song & this's an English cover of Ketsumeishi's 2003 single .
This song was 1st released digitally last month on 15th June . A video was made but it's not included in the DVD of Shiki Uta summer .
BENI is bilingual in both Japanese + English so you don't get any weird Engrish pronunciation from her & her English cover of Natsu no Omoide is quite ok but the video is what made it even better as it has an amusing plot accompanying the song .
Eien marriage ver. is track #4 & this's a re-recorded version of BENI's 14th single .
This track was 1st released digitally on 25th May . A lyrics video was made but it's not included in the DVD of the concept album .
I always have liked Eien so I have no problems with the new version and Eien marriage ver. emphasised the sweet wedding vibes a lot more than the original take of the song . Also the lyrics video is heartwarming to say the least .
Baby Blue & Hanabi are both the slower new material which BENI wrote the lyrics to the former . Baby Blue is a cool chilled out no. while Hanabi is a really nice ballad .
Hanabi was co-written by BENI & Dohzi-T and BENI had a hand in co-composing the melody as well .
Summer・Night・Fever is the next new song & once again BENI wrote the lyrics while she co-composed the melody with UTA .
For a song that's titled Summer・Night・Fever , it's surprisingly quite subdued compared to Summer Lovers . Nonetheless , it's still quite a good no. .
Natsu ga Owaru Koro is the last new song/track in Shiki Uta summer . Credits wise , BENI & Dohzi-T cowrote the song together while BENI co-composed the melody .
I think Natsu ga Owaru Koro is a fitting no. in concluding the concept album although some might feel it's a bit of a weak link but I personally like it so I don't have problems with it .
BENI makes a Summer comeback with Shika Uta summer which's her 1st release of 2016 .
Shiki Uta summer is an interesting BENI release as this's the 1st time for her to do an album that centres on 1 of the 4 seasons which's Summer .
As such , the structure of Shiki Uta summer is unique & cannot be compared with her past releases (be it studio albums and/or English cover albums) .
The new material in Shiki Uta summer is generally solid & have strong Summer vibes which's what the concept album is gear towards . Also it's great that BENI has a considerable amount of personal input that went into creating the new songs which's something worth commending .
For me I don't mind that BENI's past singles OUR SKY & Forever are included in Shiki Uta summer as I like them & to me OUR SKY is still BENI's best Summer single song to date .
Since it's mentioned that Shiki Uta summer will be the 1st of such concept album from BENI , I will not be surprised if she will do another concept album based on Autumn and/or Winter next .
In addition , if this quality of BENI's concept albums is just as good as Shiki Uta summer , then I don't see why she should not/will not do another 1 .
But for now , Shiki Uta summer is something worth checking out during the fun Summer season .