Kobukuro - Mirai Spring Package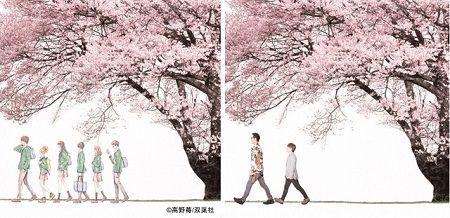 1) Mirai
2) Sakura
3) Ima to Mirai wo Tsunagumono
4) Mirai (Acoustic ver.)
5) Mirai (LIVE ver. from Keio University 57th Mita Festival)
Mirai Spring Package is a special re-release edition of Kobukuro's 27th single Mirai that was released last month on 23rd March .
Mirai was originally released last Dec & it was used as the theme song for the movie orange that starred Tsuchiya Tao & Yamazaki Kento .
Kobukuro's 12th single Sakura is included in the tracklist . The cover for Mirai Spring Package was drawn by manga artist Takano Ichigo , the original author of orange .
Also , only 30,000 copies of Mirai Spring Package were made .
In the Mirai Spring Package there're 5 B-sides , inclusive of Sakura , a new B-side song and 2 different renditions of Mirai .
For Kobukuro to include Sakura , it feels as though they come full circle since the cover for Mirai was inspired by Sakura's single cover .
Sakura is 1 of the duo's signature singles & it's surreal knowing that it was released in 2005 but it's still a timeless song .
As for Ima to Mirai wo Tsunagumono , it's nice stripped down laidback no. that's quite nice .
There're 2 different renditions of Mirai in the re-release of the single & 1 of them is an acoustic take while the other was recorded from their performance at Keio University 57th Mita Festival .
I enjoy the original take of Mirai but the acoustic version just amplified its status to a higher level which makes you appreciate the song in its raw state .
Kobukuro certainly has an affinity with both Sakura and Mirai seeing that both singles were re-released in special Spring editions and let alone both singles share similar artwork with regards to their covers .
Mirai on its own was good & Mirai Spring Package is an extension of the single seeing that last Dec when it was released , it was only the A-side & no other songs accompanied it until now .
On that note , the duo's 9th album TIMELESS WORLD will be released on 15th June and Mirai will be included in their upcoming new album .