CD Review :: Aoyama Thelma - GRAY SMOKE EP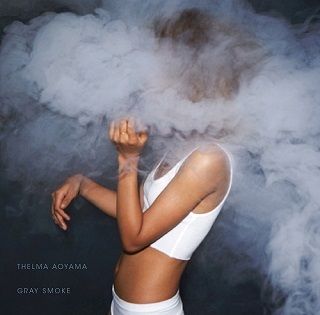 1) stay Feat Shota Shimizu
2) Heart Breaker Feat SWAY
3) ON & ON
4) how about us
5) Ichiban Aishita Hito
6) GOD'S CHILDREN Feat ANARCHY
GRAY SMOKE EP is Aoyama Thelma's 1st mini album & it was released on 16th Sept .
Aoyama's last release was her 4th album Lonely Angel which was released last Aug . In GRAY SMOKE EP , 6 songs are included in the tracklist & no singles are found in the mini album .
GRAY SMOKE EP has a male theme & aims to depict 'a man who lives in the gray zone' . To accomplish this , Aoyama enlisted an all male cast of collaborators that includes ANARCHY , Shota Shimizu , DOBERMAN INFINITY's SWAY & Dragon Ash's Furuya Kenji .
Kicking things off in GRAY SMOKE EP is stay & this song serves as the lead track in promoting the mini album .
stay is the 1st of 3 collaboration songs found in GRAY SMOKE EP & the opening no. in the tracklist features Shota Shimizu .
Prior to the physical release of GRAY SMOKE EP , stay was 1st released digitally on 2nd Sept . In addition , a video was made for the song as well .
stay is described as a ballad no. with sex appeal oozing out of the lyrics & the singers' voices , Aoyama stated , "Because I collaborate with Shota , I wanted to make it a song that would reverberate our voices . I think stay is a song that unites everything , including our peculiar voices & simple yet dramatic sounds ."
Meanwhile Shota commented , "We created this song aiming for it to be a top ballad . Aoyama is also good at singing the low keys , so I was able to produce this song no different from my own songs ."
Heart Breaker is the 2nd collaboration found in GRAY SMOKE EP and this features SWAY . This smooth mid tempo no. has a chilled vibe and both of their vocals compliment each other well .
The next 3 songs are solely handled by Aoyama . ON & ON was produced by Dragon Ash's Furuya Kenji while how about us has a slightly poppy edge .
Ichiban Aishita Hito is a class of its own with it being a good ballad which Aoyama sang effortlessly .
GOD'S CHILDREN is the last song in GRAY SMOKE EP & it's also the last collaboration found in the mini album . In this case , GOD'S CHILDREN features ANARCHY .
I feel that GOD'S CHILDREN is a rather fitting no. in concluding GRAY SMOKE EP . This Gospel inspired no. is something I enjoyed on 1st listen . I'm not that keen on ANARCHY's vocals slightly but this track couldn't be more fitting to conclude the mini album .
Over a year after her last release , Aoyama Thelma returns with a new EP in the form of GRAY SMOKE ! Serving as producer + designer , the R&B singer/songwriter shows off her innovative musicality in this release , which features appearances by Shota Shimizu , SWAY & ANARCHY .
As the saying goes , good things come in small packages which I think it describes Aoyama's 1st mini album offering rather well . I like the concept she has undertake for GRAY SMOKE EP & in addition , all the songs in the CD are pretty good .
Out of the 3 collaborations found in GRAY SMOKE EP , it's not a surprise I enjoyed stay the most since I listen/support Shota Shimizu . I had some doubts on whether will both of their vocals clash but after hearing the song , my fears were left out of the door + hopefully this will not be the 1st & last time both artistes collaborate with each other .
To me , although Aoyama has long ago passed her music peak , I still think it's heartening that she still continues to release music despite the odds & it's a pity that once again GRAY SMOKE EP has been overlook by the general public as there's so much more to her than just Soba ni Iru ne .
And for the record , Soba ni Iru ne is actually 1 of my least favourite single songs of Aoyama . Perhaps it's because it's very over rated as Aoyama has many other great singles in her discography but that's just me .
On that note , I hope I wouldn't need to wait this long for Aoyama to release something new . GRAY SMOKE EP is a sleeper release & despite it being marketed as a mini album , it definitely had the potential to be a full length album release .