CD Review :: BREAKERZ - 0-ZERO-

CD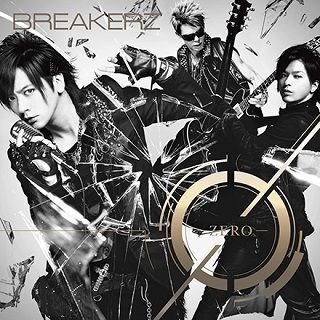 CD + DVD A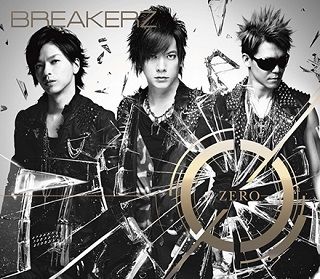 CD + DVD B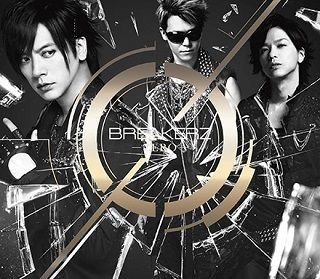 1) 0-ZERO-
2) WE GO (0-ZERO- Version)
3) Daydreamer
4) RUN AND RUN
5) fate
6) My Sweet Rose
7) Dark Night
8) Cry and Alive
9) OUTRAGE
10) WE ARE

0-ZERO- is BREAKERZ's 6th album & it was released last month on 29th July .
The guys' last album release was 2011's GO . 0-ZERO- includes a total of 10 songs & their 14th single RUSTY HEARTS is not included in the album .
The album's title refers to "restart = starting from 0" & BREAKERZ went back to their roots by creating "sounds that we (BREAKERZ) think are cool" .
The covers of 0-ZERO- portrays 2 meanings , "to restart = starting from 0" & "BREAK = to create something new by breaking" , which is the meaning incorporated into the band's name .
Kicking things off in the album is 0-ZERO- (the song) . Written/composed by vocalist DAIGO , 0-ZERO- (the song) is a mean aggressive in your face song with DAIGO placing a lot of emphasis on the number 0 in the background . Hence it sets the tone on what to expect in the later part of the album .
WE GO is BREAKERZ's 15th single & it was their 1st release as a trio after they reunited together from pursuing solo careers since Spring 2013 . Likewise for 0-ZERO- (the song) , DAIGO also wrote & composed WE GO .
Promo wise , WE GO was used as the 40th opening theme for the Detective Conan anime & in the Super Summer Sale ads of travel agency H.I.S . In the album , WE GO is tagged as WE GO (0-ZERO- Version) .
In the August 2015 issue of CD & DL Data magazine , the guys said the only difference between the single & album versions of WE GO is that the album version doesn't have the heartbeat sound effect in the beginning of the song .
Daydreamer is the album's 2nd track . Written by DAIGO & composed by guitarist AKIHIDE , lyrically the song sees DAIGO singing about certain Disney princesses which ironically does not justify the song title .
The next song RUN AND RUN was written/composed by DAIGO . For this track , DAIGO based/drawn inspiration from the fact that he was selected/picked to be the charity marathon runner for this year's 24 Hour TV programme .
RUN AND RUN definitely has a sports motivation feel and oddly enough before I found out the inspiration behind the song , I sort of sensed that the song was based from DAIGO's own experience & turns out I was right .
The next 2 songs fate & My Sweet Rose were written by DAIGO & composed by AKIHIDE .
fate is the only ballad in the album & it's no doubt the standout track in 0-ZERO- as it has a gorgeous breath taking melody which bears resemblances to some of the past ballads AKIHIDE previously composed .
As for My Sweet Rose , it has a smooth groovy Jazz feeling which reminded me of FIGHTERZ's SECRET GIRL to a certain extent .
Dark Night is the only song in the album that AKIHIDE wrote & composed . It's a bit on the weak side as it's not catchy on 1st listen . This reminded me of BIG BANG!'s Sentimental Scrap though .
Cry and Alive is track #8 in 0-ZERO- . The strange thing is that when I 1st heard this song , I got vibes of DAIGO's Mugen∞REBIRTH especially the way the opening of the track started .
The 2nd last song , OUTRAGE is the 1st song that guitarist SHINPEI contributed lyrics to in the group's discography , aside from him composing the song as well .
OUTRAGE on 1st listen was a bit amusing because it's the 1st time I heard DAIGO swearing in a song . And it seems that OUTRAGE is the new DESTROY CRASHER (2012) & Destruction as this track is something that I can imagine it will sound so much better in a concert which's accompanied by plenty of head banging .
WE ARE is the final song to conclude the album . This was written by DAIGO before the guys embarked on their solo careers . Lyrically , this touching no. sees DAIGO sings in that they will be back together musically stronger & then some after they went solo .
BREAKERZ enters a new stage with their 1st album in nearly 4 years with the release of their comeback album , 0-ZERO- . 0-ZERO- represents the band starting again at zero which also presents a new beginning to the group .
I've been a long time fan of the guys & it's quite surreal knowing that this's their 1st new album release in almost 4 years .
On 1st look , 0-ZERO- looks & sounds short especially since their comeback album has the least number of songs , in addition to only having 1 single preceding the album .
For me , I feel that 0-ZERO- is a combination of their older works together with what they learnt when they went solo . 0-ZERO- might not be as musically diverse as GO and/or FIGHTERZ but I still enjoy what 0-ZERO- had to offer .
I'm not sure why the guys chose to not include RUSTY HEARTS as if they do , at least the tracklist for the album will not look/sound stingy . But for them to release an album with only 1 single , it's risky but it's quality over quantity .
I'm sure the guys could have included the B-sides from RUSTY HEARTS if not WE GO but they have never done this for their past album releases so it should stayed in this manner .
Could 0-ZERO- sound/be so much better ? Probably but I'm just glad that the guys are back together in putting out a brand new album . I don't know what're their future plans after they finished touring next month especially since I heard they plan to resume going solo next year but I hope they will stick around for long as possible .
For now , I will still continue to support them as they're 1 of the few artistes that I've been supporting from their debut until now and I will wait in anticipation on what they have up in store next , musically .