CD Review :: AKi - ARISE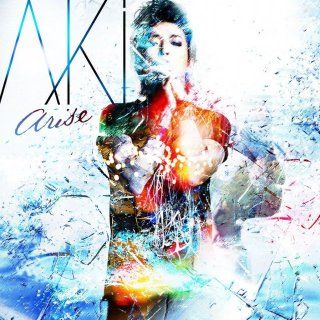 1) Day 1
2) Be Free
3) LOOP
4) FREAK SHOW
5) Brave New World
6) pray
7) Path of Light
8) Midnight/Kyousou/DARLING:
9) Life is ...
10) Jiu
11) tonight.
ARISE is the 1st solo album released by SID's bassist Aki & in this case , the album was released under the name AKi .
Released last month on 28th Jan with no inclusion of singles , AKi is in charge of the lyrics , the composition , bass & vocals for all songs in ARISE . In addition to Japanese lyrics , he also challenged himself to writing English lyrics .
As guest musicians , GLAY's support drummer Toshi Nagai , THE MAD CAPSULE MARKETS's Miyagami Motokatsu , usagi's Kato Takayuki & MUCC's miya participated in the recording of ARISE .
Day 1 & Be Free are the 1st 2 songs in ARISE which're sung in full English by AKi . The melodies for both songs are something but lyrically wise , it's best to read the lyrics as I have some problems trying to understand AKi's English dictation .
LOOP is the 1st album track that's a mid tempo no. which's a nice change & it's quite soothing for that matter .
The lead promo track in ARISE is FREAK SHOW which's an edgy rock tune that AKi released as a free download last year in Dec & it's the only song in the album to get a video .
FREAK SHOW is also sung in full English but unlike the 1st 2 songs in ARISE , FREAK SHOW stands out because of its strong aggressive driven melody which I can understand why AKi decided to make a video of the song as it's catchy/memorable .
Brave New World follows after FREAK SHOW . This song is neither good or bad as I feel there're better songs in ARISE to look out for but not this .
pray is track #6 & it's an understated song with just AKi singing alongside an acoustic guitar which's simplicity at its best .
Likewise , the same thing goes for the next track Path of Light which's 1 of my fave songs in ARISE with it being a cheery sounding upbeat no. .
Midnight/Kyousou/DARLING: is the shortest song in ARISE clocking in at 2:13 mins . This track's a bit random sounding but it still managed to pack some serious attitude .
Life is... is an empowering track . It's upbeat sounding just like Path of Light but in this case , Life is... managed to stand out on its own .
The 2nd last track in ARISE , Jiu is a moody sounding track & it's 1 of the more darker no.s in the album which's something worth checking out .
tonight. is the final track to conclude things in ARISE . A mid tempo ballad , this song couldn't be more fitting to wrap things up nicely .
SID's flamboyant member Aki makes his solo debut presence felt with the release of his 1st album ARISE & when this news was announced , I was surprised as I thought SID's lead singer Mao might be the 1 to do something like this .
Considering that Aki is responsible for composing some of SID's most prominent songs , in a way I wasn't surprised on why Aki decided to embark on this solo musical release .
ARISE overall is very different & should not be compared to SID's material . For once , Aki's singing voice is unlike Mao's & let alone , Aki has a lot more personal input in ARISE where in SID he was mainly in charge of composing .
Aki's debut solo offering is quite a nice surprise as he actually can sing pretty well & upon listening to ARISE , it's quite evident Aki is very talented + it's proof on the personal touches that went into making ARISE .
That said , ARISE is not without flaws with the main 1 regarding the songs that Aki sings in English . While I respect him for challenging himself to write/sing in English , somehow his English dictation is not that good & I had to look at the lyrics to see what Aki is singing .
But other than that , ARISE is a pretty solid release for a debut album & for longtime SID fans , this's definitely a treat . As for non SID fans , people will be in for a surprise or 2 upon listening to it .