CD Review :: Kis-My-Ft2 - Kis-My-Journey

CD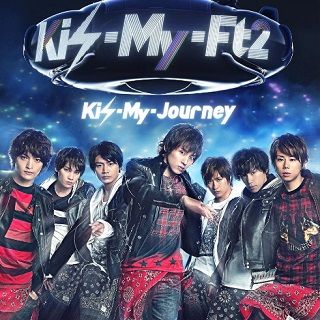 CD + DVD A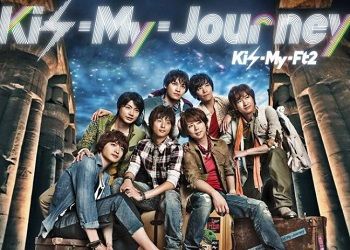 CD + DVD B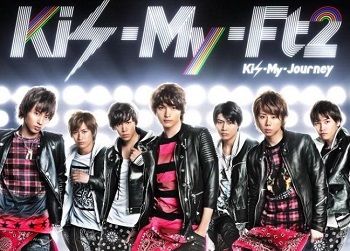 1) "3rd" Overture
2) Seven Journey
3) 3.6.5
4) Striker
5) Daisuki Desu
6) FORM (Kitayama Hiromitsu)
7) LU4E ~Last Song~ (Fujigaya Taisuke)
8) Only One... (Tamamori Yuta)
9) FIRE!!! (Kitayama Hiromitsu . Fujigaya Taisuke)
10) Tana Kara Botamochi (Busaiku)
11) Tsubasa
12) Hikari no Signal
13) Bokura no Yakusoku
14) Agetekuze ! (CD Only Track)
Kis-My-Journey is Kis-My-Ft2's 3rd album & it was released on 2nd July .
The group's last album release was last March's Good Ikuze ! & in Kis-My-Journey , just 1 single Hikari no Signal is included .
Kis-My-Ft2's singles Ki・Su・U・Ma・I ~KISS YOUR MIND~ / S.O.S (Smile On Smile) , Kimi to no Kiseki & SNOW DOME no Yakusoku / Luv Sick are not included in Kis-My-Journey but these 3 singles are included in the group's 1st best album HIT! HIT! HIT! .
In addition in Kis-My-Journey , 2 album tracks received music videos .
After the album's opening track "3rd" Overture , the 1st 2 new album tracks back to back are the 2 new songs that received music videos in the form of Seven Journey & 3.6.5 .
Seven Journey serves as the lead album promo track & the song was written by Kimaguren while for 3.6.5 , it was used in the ads of DHC's 'Yakuyou Acne Control Series' with it being described as a cool comical number .
Honestly I can understand why both songs have music videos because each of them are pretty good although between the 2 , I prefer Seven Journey a lot more . Not that there's nothing bad going on for 3.6.5 though & the video accompanying the song is quite amusing .
Striker is the 3rd album track & this's quite an edgy number . It's not as aggressive sounding as the group's previous album tracks but this's still worth a listen .
On the other hand , the next song Daisuki Desu was picked to be used in the ads of Glico's 'Watering Kissmint Gum' & funny enough , I got Winter vibes upon hearing it as Daisuki Desu sounds like something from where SNOW DOME no Yakusoku left behind .
Not that it's a bad thing though but Daisuki Desu is a very nice mid tempo track & it's definitely 1 of my fave songs in the album .
The next 3 songs in the album are all mid tempo ballad driven numbers that're sung in solo mode by the 3 main personnel of the group .
FORM is sung by the group's leader Kitayama Hiromitsu while LU4E ~Last Song~ is sung by the group's rapper Fujigaya Taisuke . And after that , Only One... is sung by Tamamori Yuta .
In general , I feel that everyone in Kis-My-Ft2 can sing & the 3 back to back solos surprise me because I didn't expect them to be mid tempo songs but out of the 3 , Fujigaya's LU4E ~Last Song~ is a full on ballad .
But that said , the 3 solos are solid in each of their own right & even Tamamori's solo is not bad even though vocal wise , he's not the strongest in the group but I enjoy Only One... & likewise for Kitayama's FORM .
FIRE!!! is sung by Kitamaya & Fujigaya . I personally feel that this duet is 1 highlight in Kis-My-Journey as it's just an edgy memorable track . When I 1st heard the song , I immediately knew straightaway this was something that I was going to like a great deal .
With Fujigaya being the rapper of the group , it makes sense for him to showcase his rapping skills in FIRE!! which I think he does it well & that compliments Kitamaya's singing too .
Tanakara Botamochi is sung by Busaiku which's a special unit which comprises of members Yokoo Wataru , Miyata Toshiya , Nikaido Takashi & Senga Kento .
For this song , Tanakara Botamochi is Busaiku's debut single which was produced by SMAP's leader Nakai Masahiro .
Tsubasa is the 5th group album track & I like this song as it's a really uplifting empowering no. . As such , it's 1 of my fave songs in Kis-My-Journey as it's uptempo without going overboard .
Hikari no Signal is Kis-My-Ft2's 10th single & it's the only single included in Kis-My-Journey .
For this , Hikari no Signal was chosen to be used as the theme song for the anime film Doraemon: Shin Nobita no Daimakyou ~Peko to 5-nin no Tankentai~ .
Doraemon: Shin Nobita no Daimakyou ~Peko to 5-nin no Tankentai~ is a remake version of Nobita no Daimakyou which was released back in 1982 . It tells a story of Doraemon , Nobita & his friends' great adventure to an unexplored region together with a dog named Peko .
Hikari no Signal is described as an up-tempo pop number with the themes of the "importance of friendship" & "the intention to keep going forward with friends" that match with the world view of the film .
Kis-My-Ft2 expressed their great joy to be able to sing for the film & said that they would like Doraemon to appear at their tour .
Member Tamamori Yuta commented that , "Doraemon is a popular anime that has been around since way before we were born & I personally love it , so I am really honoured ." He also commented on Hikari no Signal , "It is a fast-beat song about being optimistic and moving forward . I hope everyone from children to adults can enjoy it !" .
Bokura no Yakusoku is the last song in the album (for both CD + DVD's editions) & the 2nd last track in the CD only edition of Kis-My-Journey .
With a title like Bokura no Yakusoku , it's quite evident that it's a ballad in which I feel it's a nice way of wrapping things up .
Agetekuze ! is included as a bonus track in the CD only edition of the album . With regards to this song , I think it's quite weak & not exactly a good memorable track as there're other better songs in Kis-My-Journey for me to enjoy . Hence , Agetekuze ! is something I might skip if I don't wish to listen to it .
For the 1st time this Summer , Kis-My-Ft2 will be touring Japan's 5 major domes ! In commencing this momentous rite of passage , the group released their latest/3rd album Kis-My-Journey to mark this occasion .
I was honestly surprised when it was announced Kis-My-Ft2 will release a new studio album especially since they released their 1st best album HIT! HIT! HIT! this year in March . As such I thought they might not release a new album due to this .
Let alone for Kis-My-Journey to only include 1 single , I was skeptical whether or not will the album sound good . And surprisingly overall the album's quite solid & in addition , the 1st week sales of Kis-My-Journey suppressed their previous album Good Izuke ! which's a rarity to happen at this day/age .
Another thing that surprised me was that the album's quite ballad driven and ironically the upbeat songs felt a bit overshadowed to a certain extent as compared to their previous 2 albums , it wasn't the case .
But all in all to have only 1 single in Kis-My-Journey , it's not easy but at the end of the day the guys managed to pull everything together quite well & with the release of this album , they actually prove that they are able to tackle pretty much any type of music styles with ease , especially on ballads .
On that note , Busaiku will release their 2nd single Tii Tii Tii Terette Tereti Ti Ti ~Dare no Ketsu~ on July 27th while Kis-My-Ft2's 11th single Another Future will be released next month on 13th Aug .