CD Review :: KAT-TUN - come Here

CD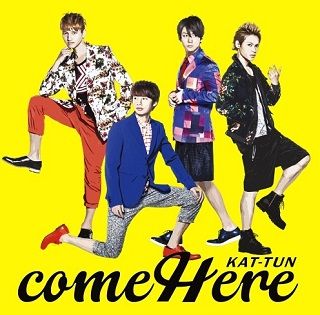 CD + DVD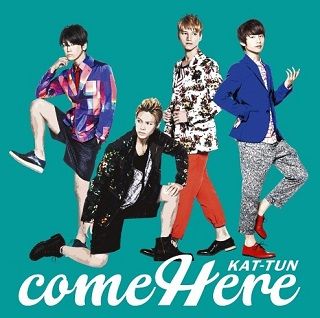 1) COME HERE
2) TRIANGLE
3) EXPOSE
4) ART OF LIFE (Ueda Tatsuya's Solo)
5) Fumetsu no Scrum
6) Crescent (Nakamaru Yuichi's Solo)
7) Fake
8) BREAK UR CAGE
9) Emerald (Kamenashi Kazuya's Solo)
10) STAR
11) WHENEVER I KISS YOU (Taguchi Junnosuke's Solo)
12) SUMMER EMOTION
13) TO THE LIMIT
14) HIDE and SEEK
15) FACE to Face
16) MY EVERY TIME
17) SUNRISE (CD Only Track)
18) Yasashii Ame (CD Only Track)
come Here is KAT-TUN's 7th album & it was released last month on 25th June .
KAT-TUN's last full length album release was 2012's CHAIN . come Here is KAT-TUN's 1st full length album release as a quartet after the departure of member/rapper Tanaka Koki .
come Here includes 4 singles , 4 solos & 10 album tracks (2 of them are found as bonus tracks in the CD only edition of the album) . Their 22nd single In Fact is not included in their latest album release .
Sharing the same title as the album is the 1st song , COME HERE & it's also the only new song that gets a music video .
Despite debuting in the scene since 2006 , it's surprisingly to know that KAT-TUN has never put out a Summer inspired song in their discography up to now , so that's where COME HERE is brought into the picture .
COME HERE is quite an interesting song to start things off which's quite different from the group's past album opening album songs . I don't get the whole Summer feeling when I 1st heard it but the video accompanying the song is quite comical & managed to lift things up in making the whole experience fun + entertaining .
TRIANGLE is the 2nd album track & this song is more or less the typical rock stuff that KAT-TUN is known best for doing .
EXPOSE is KAT-TUN's 20th single . Promo wise , it was used as the TV CM tie up song for Suzuki Solio Bandit + it also served as last Feb's theme song for music show On Air .
This's still 1 of my fave singles from KAT-TUN as it's just in your face & a bit different from what they're normally known for doing but in this case , the music style they undertook paid off well for them .
ART OF LIFE is the 1st solo song in the album & for this , it's sung by Ueda Tatsuya .
Ueda's solos have always been a hit or miss for me . In this case , ART OF LIFE is somewhere in the middle as I didn't like it at 1st but gradually , I'm now used to this fast paced highly charged up rock song .
I still feel that Ueda's best solos are when he does ballads but I give him credit for trying out new different music styles .
Fumetsu no Scrum is KAT-TUN's 19th single . The song served as the main theme no. in the TV drama series Dragon Seinendan starring Kanjani∞'s Shota Yasuda & it has the inclusion of rap lyrics written by ex-member Tanaka Koki under his pen name JOKER .
Dragon Seinendan centres on a group of teenagers band together to save the world from the threat of dragons . With lyrics like 'Chase your dreams with your buddies !' , Fumetsu no Scrum is a positive affirmation driven song that describes the bond that exists among friends .
Crescent is the 2nd solo song in the album & for this , it's sung by Nakamaru Yuichi with lyrics written by Nakamaru himself .
Nakamaru's solos always has been consistently good as I feel he generally can sing well but for Crescent , it's an unexpectedly good solo which's very catchy .
Out of the solos included in come Here , Nakamaru's is my 2nd fave & there's no deny the layerings of synth + beat that goes into Crescent , making this song a very infectious no. that I can't stop humming to & kudos to him for penning the lyrics to the song as well .
Fake & BREAK UR CAGE are the next 2 album tracks . Fake is a mid-tempo sounding no. while BREAK UR CAGE has a cool jazz/pop sound which's something the guys never tried before but it's not bad .
Emerald is the 3rd solo song in the album & for this , it's sung by Kamenashi Kazuya & the lyrics of the song was written by Kame with the song composed/arranged by DAISHI DANCE .
Kame's solos , just like Ueda have been a hit or miss for me but this time round in come Here , Emerald is my fave solo after Nakamaru's Crescent .
To be frank , I was not really that impressed with Kame's previous solo Zutto that was found in CHAIN but for Emerald , to say that it's almost a flawless track is an understatement . I was really blown away by the song on 1st listen as this's Kame's best solo in recent times .
The opening for Emerald sounds like a ballad but in actual fact , it's a fast paced dance no. & it's very infectious . To me , I still feel 1582 is Kame's best solo but Emerald is enough to stack up against 1582 if not being on par with it so great job Kame !
And when you have DAISHI DANCE onboard , things will not go wrong at all .
STAR is the 5th album track & for this it's the 1st album ballad . From the beginning since I started supporting them , I always feel that KAT-TUN is able to sing well for both aggressive rock songs + ballads & this's evident for STAR .
WHENEVER I KISS YOU is the final solo song in the album & for this , it's sung by Taguchi Junnosuke .
Taguchi's solos have always been consistently pretty good & even though vocally wise he's not the strongest in the group , Taguchi is able to pick songs that utilise and/or hide his vocals's strengths & weaknesses .
For WHENEVER I KISS YOU , it's a smooth sounding mid tempo track . While it's nowhere just as good as FLASH , WHENEVER I KISS YOU is still something worth checking out .
SUMMER EMOTION is the 6th album track & as the song title suggests , it's a Summer inspired no. .
Unlike COME HERE , I do get the whole Summer inspired vibes when I 1st heard SUMMER EMOTION which's a fun rock driven no. . I can imagine myself listening to this song if I'm driving down the expressway .
TO THE LIMIT is KAT-TUN's 18th single . The song includes the passionate message , "Don't be complacent & satisfied with your present state , grab your future & dreams while bravely facing difficulties ."
HIDE and SEEK follows after TO THE LIMIT . In this case , HIDE and SEEK is a mysterious if not intriguing no. . The song doesn't grab me initially but I'm ok with it now .
FACE to Face is KAT-TUN's 21st single . The last single included in come Here , FACE to FACE was used as the main theme song in the movie Ore Ore starring Kamenashi Kazuya & this's the 1st time for the group to provide the theme song for a movie .
This single is also the final single release that includes ex-member Tanaka Koki's vocals as well .
MY EVERY TIME is the final song included in the CD + DVD of the album . Just like STAR , MY EVERY TIME is a heartwarming ballad that will definitely a chord with fans .
SUNRISE & Yasashii Ame are the 2 bonus tracks available in the CD only edition of come Here . SUNRISE is a carefree Summer inspired no. while for Yasashii Ame it's another ballad .
Before starting their nationwide tour , KAT-TUN beckons fans with their 7th album come Here , which appropriately has a Summer theme .
I have to admit after KAT-TUN released their 1st mini album Kusabi -kusabi- , I was skeptical on whether or not are they able to release a full length album as frankly it's not easy especially after they've lost 2 key members .
But after listening to come Here , my doubts were cast aside as this album's generally quite solid and frankly , the solos included are some of the best if not strongest sounding I've come across from the guys in recent times .
That's not to say come Here does not have any flaws . 1 of the problems I have with this album is the duration as it's quite lengthy if not daunting as everything (inclusive of the 2 bonus tracks) is almost at 1 hour 20 mins long .
Other than this , it's a commending effort for KAT-TUN to put out come Here . They could have chose to disband and/or not to continue releasing new material after what has happened to them but I salute them for continuing on & for that , they deserve my upmost respect .