CD Review :: Hey ! Say ! JUMP - smart

CD Only (same cover with 1st press CD only + bonus disc)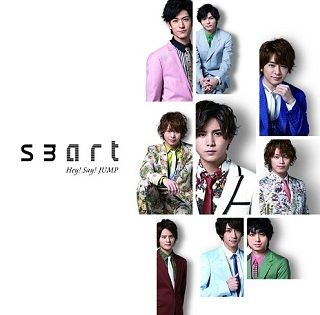 CD + DVD A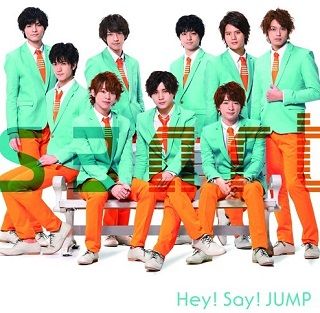 CD + DVD B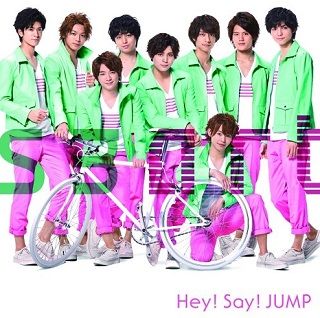 Disc 1 ::
1) ~Prelude of smart~
2) FOREVER
3) Ready Go
4) Come On A My House
5) Setsunasa , Hikikae ni
6) Candle
7) Pastel
8) Yuto Tataite Mita.
9) Compass Rose
10) Ride With Me
11) Come Back ...?
12) RELOAD
13) Hajimari no Melody
14) AinoArika
Disc 2 ::
1) My World
2) Tomodachida yo
3) Yes ! / Kaitou y-ELLOW-voice (Yamada・Takaki・Hikaru)
4) Super Super Night / Night Style People (Chinen・Nakajima・Yabu)
5) Oh ! Idol ! / Ai Tsui I-tai (Okamoto・Daiki・Inoo)
smart is Hey ! Say ! JUMP's 3rd album & it was released last month on 18th June .
The group's last album release was 2012's JUMP WORLD . In their latest album , smart includes 3 singles while 2 album tracks FOREVER & Setsunasa , Hikikae ni received music videos .
smart was released in 3 editions in which the CD only edition came with a 1st press bonus in the form of an extra disc . In this extra disc , there're a total of 5 songs in which 2 of them are sung together as a group while the other 3 are sung separately in a trio like setting . For that , the 3 songs will not be reviewed .
The album kicked things off with ~Prelude of smart~ which is an introduction opening , something that the group's 1st 2 albums didn't had . After in which it dives straight into the 1st album track FOREVER .
1 of 2 album tracks that received a music video , FOREVER truly deserves to have 1 as it's a great grown up sounding in your face no. which flows very well after ~Prelude of smart~ . I can see why it was chosen to have a video as FOREVER essentially has the whole package that showcases a more mature side of Hey ! Say ! JUMP .
Ready Go is the 2nd album track & this's a fast paced catchy no. . Slightly less mature sounding than FOREVER but still Ready Go is real memorable if not fun to listen to .
Come On A My House is Hey ! Say ! JUMP' 10th single & it was used in the ads of House Foods's Vermont Curry in which the ads were shot in Thailand .
Filled with outbursts of cheer & energy , Come On A My House is a uptempo dance song that fits perfectly with the group's young & bright image .
Setsunasa , Hikikae ni is the 2nd album track that received a video alongside with FOREVER . In this case , Setsunasa , Hikikae ni is a mid tempo song that shows a different music of the group .
Candle is the 1st album ballad & the lyrics of the song was written by member Yamada Ryosuke . Aside from the nice personal input touch , Candle is fantastic as this song allows the group to shine a great deal , proving that they're equally adaptable when comes to doing upbeat songs and/or ballads .
Pastel is the 5th album track and this's 1 of my least fave songs in smart as I feel it's quite poppish for my liking . Let alone there're other better tracks in smart for me to enjoy aside from Pastel .
Yuto Tataite Mita. is the album's interlude track . After this little drummer boy inspired instrumental no. , it dives right into Compass Rose .
Compass Rose was written by member Hikaru Yaotome & just like Pastel , I do not really like Compass Rose that much as it sounds like a weak attempt for them to do rock music but I have to give credit to Hikaru for penning the lyrics to Compass Rose .
Ride With Me is Hey ! Say ! JUMP's 11th single . The song is described as a cutting edge dance tune which was composed & produced by ☆Taku Takahashi (block.fm , m-flo) , making this the 1st time for ☆Taku to be in charge of a Hey ! Say ! JUMP song .
Promo wise , Ride With Me was picked to be used as the theme song for NTV's special drama Kindaichi Shounen no Jikenbo Gokumon Juku Satsujin Jiken , starring members Yamada Ryosuke & Arioka Daiki .
Come Back ...? follows after Ride With Me & just like Compass Rose , Hikaru also had a hand in writing the lyrics but he went 1 step further + composed the song as well .
I must say I respect the personal input touches coming from Hikaru as for him to do either writing and/or composing , it's not easy but Come Back ...? is quite something in that the song's edgy sounding which I like .
On the other hand , RELOAD features lyrics written by member Arioka Daiki & for this case , the song's mid tempo guitar driven .
Hajimari no Melody is the last album track found in disc 1 & as the name suggests , it's a ballad , the 2nd one after Candle .
In this case , Hajimari no Melody allows the group's vocals to be more flashed out in which it showcases some great harmonisation of everyone's vocals that can be felt greatly in this song .
AinoArika is the 1st A-side of Hey ! Say ! JUMP's 12th single AinoArika / Aisureba Motto Happy Life in which the 2nd A-side Aisureba Motto Happy Life is not included in smart .
Described as a spectacular number that sounds like it would be used as the theme song for a sci-fi movie or a RPG , AinoArika was picked to be used as the theme song for the TBS drama Dark System : Koi no Ohza Ketteisen & the drama starred members Yaotome Hikaru & Inoo Kei .
In addition , the rap lyrics found in AinoArika were written by Hikaru .
Honestly I can't think of any other song other than AinoArika to conclude things in the 1st disc of smart as up to now , I'm still blown away just how different if not great the song's . In a way I'm glad that Aisureba Motto Happy Life is not included in the album as I still prefer AinoArika a lot more .
As such , I think the group's team did a great job in picking the right song/s to start & conclude the 1st disc of smart .
My World & Tomodachida yo are the 2 group songs found in the 2nd disc of smart . The 2nd disc comes as a 1st press bonus item .
Both songs are equally good but between both , I prefer My World as it's an upbeat mature sounding song while for Tomodachida yo , it sounds quite a lot like their older works which basically showcases the cutesy side of them . Once in a while , I don't mind such songs given that all of them are already young adults but I generally will skip them if I'm given a choice .
2 years after the release of their last album JUMP WORLD , Hey ! Say ! JUMP returns with their 3rd album , smart . It has been 7 years since the group's debut & the guys who are now all over the age of 20 , are eager to show fans how much they've grown .
Overall I enjoy listening to smart & compared with JUMP WORLD , there's a considerably amount of mature/growth that can be felt significantly in smart especially since the release time gap between both albums is 2 years .
JUMP WORLD did not had that much strong album tracks but thankfully that's not the case for smart . Aside from some album tracks that I did not like , the overall quality of the group's latest album is quite solid & also a special mention has to go to some of the members for giving their personal input touches to lift smart up a notch or 2 in which of course it is a smart move to do , pun intended .
Hey ! Say ! JUMP has been 1 group that I've followed/supported since their debut single Ultra Music Power & it's heartening to see them made the transition from awkward small boys to mature teens & now finally fine young gentlemen .