CD Review :: Shota Shimizu - ENCORE

Cover for both CD & CD + DVD editions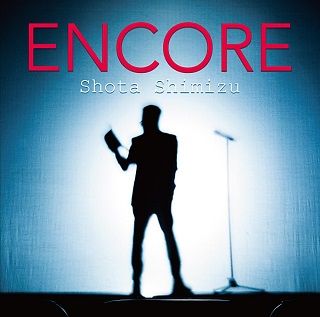 1) Impossible
2) DREAM
3) Kimi ga Mitsuketa Mono
4) Shower
5) Natsunoowari
6) Crazy Love
7) WOMAN DON'T CRY
8) You've Got A Friend
9) LOOKING FOR LOVE
10) Singer Songwriter no Uta
11) ENCORE
ENCORE is Shota Shimizu's 5th album & it was released on 12th March .
Shota's last original album release was 2012's Naturally & his latest album offering includes 11 songs inclusive of 2 singles .
Prior to the release of ENCORE , 2 album tracks Impossible & Shower were released digitally last month on 26th Feb in which it just so happens that Impossible happens to serve as the album's opening track as well .
I think Impossible is a great song to kick things off & it's probably by far Shota's best opening no. for an album .
What I like about Impossible is that it's an empowering song & it has a lot of positive messages which makes me think there's some truth in Shota singing that maybe in real life , 'nothing is impossible' after all .
DREAM is Shota's 15th single & it was picked to be used as the theme song for TV Tokyo's drama Nazo no Nazo no Tenkousei , which was produced & written by director Iwai Shunji .
Even up to now , DREAM is still a great single coming from Shota and I wasn't surprised that this's slotted after Impossible as both songs are encouragement theme no.s which I think it's great .
Kimi ga Mitsuketa Mono is the 2nd album track . This R&B uptempo song showcases Shota's ability to sing & rap at the same time rather seamlessly .
Shower is 1 of 2 album tracks that was released digitally last month on 26th Feb alongside with Impossible .
I definitely prefer Impossible over Shower . Not that it's a bad thing but I feel that Shower is quite a standard mid tempo R&B no. coming from Shota and there're other album tracks that have a more stronger identity/flair as compared to Shower .
Luckily the next song Natsunoowari is pretty good & enjoyable . Somehow or another , this gives me the feeling that Summer is about to come .
Crazy Love is an interesting song as Shota doesn't sound like himself in this track & this was probably done on purpose . Then again , it's 1 of the more unique no.s that's found in the album which's not necessary a bad thing .
WOMAN DON'T CRY is Shota's 14th single & it's the last single included in ENCORE .
This R&B piano driven no. is still a touching song & even up to now , I'm still not bored by it . There's something about WOMAN DON'T CRY that's quite charming for that matter .
You've Got A Friend is track #8 & this's a 1971 cover of originally sung/written by Carole King . It's also the only song in ENCORE that Shota sung completely in English as well .
Shota released his 1st cover album MELODY 2 years ago & You've Got A Friend could have been something that he recorded for it but perhaps it didn't made the cut so he probably chose to include this in ENCORE instead .
Luckily Shota's English dictation is quite good as I didn't get any weird/strange vibes when I listened to his cover of You've Got A Friend .
LOOKING FOR LOVE is track #9 & this's a nice soothing mid tempo song . It's almost in the same music vein as Shower but I personally prefer LOOKING FOR LOVE a bit more as it's more prominent sounding .
The 2nd last album track Singer Songwriter no Uta happens to be 1 of my fave album tracks simply because it's a very simple & acoustic guitar no. . Shota is more known for his R&B music style but he surprisingly sounds good doing something under-rated such as this which I really like .
Likewise the same thing goes for the last song that shares the same title as the album . Just like the opening no. Impossible , the closing no. ENCORE couldn't have been more fitting if not upbeat , making ENCORE (the song) the perfect track to wrap things up in a great way .
Shota Shimizu couldn't have picked a more suitable title by naming his 5th album ENCORE seeing that he didn't release an original album last year & with the release of ENCORE , it's proof on why he's 1 really talented & sought after male solo artistes out there at this point in time .
I did enjoyed Shota's last album offering Naturally but in this case for ENCORE , the album tracks are really something & the new material showcases a lot of maturity + growth .
I feel that ENCORE is musically on par with my personal fave album of Shota (which happens to his 3rd album COLOURS) & just like COLOURS , ENCORE has quite a lot of wide musical styles that Shota tackled which he more or less delivered them with plenty of gusto & enthusiasm .
ENCORE is a solid album that's recommended to listen & Shota together with Miliyah Kato will be releasing their 1st/last album THE BEST next month on 2nd April so both are definitely not to be missed out on .