CD Review :: DAIGO - DAIGOLD

CD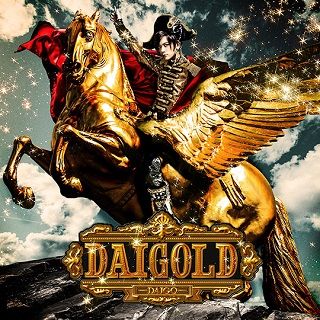 CD + DVD A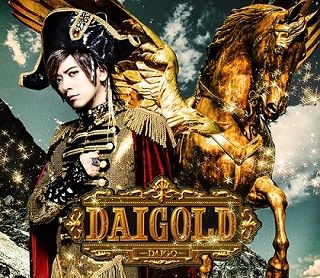 CD + DVD B
1) THEME OF DAIGOLD
2) STAY GOLD
3) BUTTERFLY
4) Mugen ∞REBIRTH
5) Realize
6) Ima Aitakute ...
7) Jerarumin
8) POP☆CORN
9) I Wish
10) REVOLUTION EVOLUTION
11) Itsumo Dakishimete
12) Sawatte
13) YELL
DAIGOLD is DAIGO's debut solo album & it was released on 5th March .
Prior to the release of DAIGOLD , 2 double A-side singles were released & all 4 songs are included in the album .
1 song titled ULTRA BRAVE is not included in DAIGOLD in which the song was picked to be used to promote TV Tokyo's New Ultraman Retsuden .
All songs in DAIGOLD were written & composed by DAIGO , inclusive of him in charge of producing the album too .
After the album introduction/opening THEME OF DAIGOLD which more or less fits the whole Napoleon Bonaparte concept/theme of DAIGOLD , the album wasted no time in diving into its 1st album track STAY GOLD .
Serving as the album lead promo track , STAY GOLD was picked to be used as the theme song for Hokkaido's 2014 STV ski jumping relay which the ad started airing from 3rd Jan 2014 onwards + the song also promoted NTV's FIS Jump World Cup Ladies 2014 Sapporo programme .
STAY GOLD sounds like nothing like what DAIGO has done before , be it when he was DAIGO☆STARDUST and/or in BREAKERZ . In this case , STAY GOLD is an 80s sounding no. which thankfully doesn't sound dated . DAIGO managed to keep this song quite modern sounding & the result gives this really fun catchy ditty onboard .
BUTTERFLY is the 1st A-side of DAIGO's 2nd single BUTTERFLY / Ima Aitakute ... .
Promo wise , BUTTERFLY received the following in the form of :
- TV Asahi nationwide broadcast 「Break Out」 December 2013 opening track (BUTTERFLY was used to promote Break Out from 5th Dec 2013 onwards)
- TVCM Cardfight!! Vanguard appearance tie-up song
Of all the single songs included in DAIGOLD , BUTTERFLY definitely stands out from the other 3 as just like STAY GOLD it's nothing like what DAIGO used to do & even up to now , everytime I hear this song I couldn't help but chuckled as it's not like DAIGO's character to dance in real life but despite having 2 left feet , at least he still doesn't mind releasing something as crazy as BUTTERFLY .
Mugen ∞REBIRTH is the 2nd A-side of DAIGO's debut single Itsumo Dakishimete / Mugen∞REBIRTH .
Promo wise , Mugen∞REBIRTH received the following in the form of :
- TV anime Cardfight!! Vanguard Link Joker Hen opening theme ; 1st premiered on 30th June 2013's episode of the anime
- Cardfight!! Vanguard DAIGO Special Set CM song
It's funny but when I 1st heard Mugen∞REBIRTH , I actually had quite a rather strong unusual dislike towards it . I'm not sure why but perhaps it's because I thought this song sounded way too similar to the other Cardfight!! Vanguard songs that BREAKERZ has done/provided for .
But in due time , Mugen∞REBIRTH has grown on me significantly .
Realize is the 2nd album track & this was originally found as track #6 in DAIGO☆STARDUST's DAIGO☆IMPACT DVD but this song was not given a studio version with regards to DAIGO☆STARDUST's discography .
BREAKERZ's guitarist AKIHIDE played the guitar riffs in Realize .
I was definitely surprised to see Realize in the album tracklist as I know this song's something that DAIGO sang before in his DAIGO☆IMPACT DVD but a studio version of it was never made until now .
For DAIGO to include/finally make a studio version of Realize , it definitely means a significant deal to him although I personally feel that other songs that he sang live before in DAIGO☆IMPACT DVD should have gotten the studio version as Realize is not really 1 of my fave DAIGO☆STARDUST songs .
That said , it's great that AKIHIDE had some personal input that went into Realize which makes things even more better .
Ima Aitakute ... is the 2nd A-side of DAIGO's 2nd single BUTTERFLY / Ima Aitakute ... .
Promo wise , Ima Aitakute ... received the following in the form of :
- Yomiuri TV ・ Nippon TV nationwide broadcast every Saturday night at 6pm Japan time 「Detective Conan」 anime ending theme (Ima Aitakute... was used to promote Detective Conan from 14th Dec 2013 onwards as the anime's 46th ending theme song)
- Opening theme song for MUSIC LAUNCHER for the month of Jan 2014
Ima Aitakute ... contrasts the really dancey driven BUTTERFLY extremely well & it's 1 of the saddest sounding songs in DAIGOLD which showcased an emotional vulnerable side of DAIGO that's not seen in him until now .
Jerarumin is the 3rd album track & in this song , BREAKERZ's guitarist SHINPEI had personal input in that he played the guitar riffs , did programming & arranged the song .
I think out of the many new DAIGOLD album tracks , Jerarumin is hands down my fave as it's just so in your face + aggressive sounding . It definitely helps that SHINPEI had a lot of input that went into Jerarumin & way before hearing the full version , I already enjoyed the preview a lot .
Hence , Jerarumin alone is more or less a very good reason if not excuse to buy DAIGOLD .
After a serious sounding track , in comes something rather comical in the form of the next album track POP☆CORN .
Way before hearing POP☆CORN , I already had a feeling it's going to be something that's amusing & sure enough , this sounds like something that's straight from playing a Tetris game .
DAIGO wrote POP☆CORN as he mentioned it's something that he really loves to eat & he would ordered it everytime he goes to the cinemas to catch a movie . And if DAIGO can write a song all about ice tea & now on popcorn , POP☆CORN is something not to be taken seriously upon hearing it .
The next track I Wish is a song that DAIGO wrote/composed a few years ago , which he wrote specially for PenPen the penguin whom he took care of during the variety show Tensai ! Shimura Dobusten .
SHINPEI played the guitar riffs & did programming in I Wish while DAIGO arranged the song .
Just like Realize , I Wish is considered an old song that never had a studio treatment until now & it's also another song that holds significance to DAIGO seeing that this's something that he wrote about his feelings + thoughts in caring for PenPen the penguin .
As such , I'm sure DAIGO feels really happy in putting out a studio version of I Wish in DAIGOLD which I think it's something that's in the making for a very long time . And the result is I Wish is a very touching song that DAIGO holds it really dearly to his heart .
REVOLUTION EVOLUTION is track #10 & another standout track in DAIGOLD , REVOLUTION EVOLUTION is an aggressive edgy sounding no. . I actually didn't cared that much for the preview but my perception towards REVOLUTION EVOLUTION definitely changed upon hearing the full version of the song .
Itsumo Dakishimete is the 1st A-side of DAIGO's debut single Itsumo Dakishimete / Mugen∞REBIRTH & it's also the last single included in DAIGOLD .
Even up to now , I still have a warm fuzzy feeling everytime I listen to Itsumo Dakishimete . The lyrics to this mid tempo ballad might sound as though DAIGO is singing about going on a date but in actual fact , it's inspired by his experience in taking care of Sakura the monkey during Tensai ! Shimura Dobusten .
Sawatte is the 2nd last album track . This song was arranged by DAIGO while the programming was done by SHINPEI .
There's just something about Sawatte that is really charming & in this month's episode of DAIGO's once a month webshow DAIGO P , a lot of fans commented that it's 1 of their fave songs in DAIGOLD , alongside with Jerarumin .
YELL is the final song in DAIGOLD & just like Sawatte , it's 1 of those songs that put you in a good mood upon listening to it , making this the perfect no. in wrapping things up in the album .
After being in the music business for almost 17 years , DAIGO has come of age in the release of his very 1st solo album DAIGOLD .
If you look past the somewhat ridiculous over the top album covers/concept , DAIGOLD in its main music core element is very solid & it showcases a wide variety of music styles that DAIGO has never tried before when he was DAIGO☆STARDUST and/or in BREAKERZ .
It's easy to dismiss DAIGO as a flash in the pan but for me being a fan of BREAKERZ for so long until now , to see DAIGO grow musically & then some , is something I don't take for granted at all .
Although BREAKERZ are currently on hiatus , it's heartening to know that AKIHIDE & SHINPEI had some personal input towards certain aspects in DAIGOLD & before listening to the album , I was wondering how things will go since DAIGO's the main vocalist of BREAKERZ .
At the end of the day , what I can say's that the music styles found in DAIGOLD are definitely traits I hopefully will not see them being spilled over to BREAKERZ's discography & for DAIGO to do everything from writing to composing , it's no easy feat as not everyone's able to do that so rather seamlessly .
In conclusion , DAIGOLD is a well versatile album that's really enjoyable from start til finish & DAIGO has definitely paid his dues to get to where he's at . He might have found success rather late but it's better to be late than never .