CD Review :: girl next door - Life of Sound

CD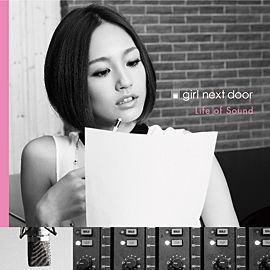 CD + Blu-ray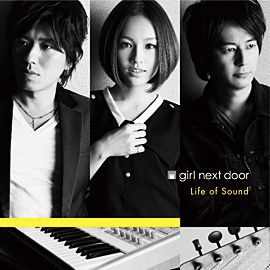 CD + 2 DVDs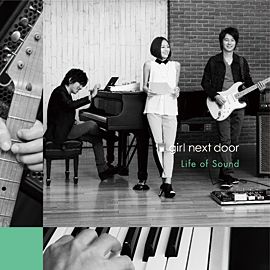 1) Egao no Kiseki (Smile's Miracle)
2) Koi no Yokan (Love's Premonition)
3) signal
4) Namida no Yuugure (Twilight's Tears)
5) my little wish
6) all my life
7) Hatsuyuki (First Snow)
8) kotodama (The Power Of Language)
9) standing for you
10) My pace
11) mother
Life of Sound is girl next door's 5th album & it was released on 13th March .
The trio's last album release was 2011's Agaruneku ! & in Life of Sound , their latest album includes 3 singles in which all of them were co-produced by ex Every Little Thing's Igarashi Mitsuru .
Aside from this , Igarashi Mitsuru co-arranged the whole album with the trio while all the album tracks were written by frontwoman/lead singer Chisa , unlike in the past where Chisa cowrote songs with Kenn Kato but not this time round .
Egao no Kiseki (Smile's Miracle) is the 1st album track & this's a rather nice peppy no. to start the ball rolling on what to expect in Life of Sound .
On the other hand , Koi no Yokan (Love's Premonition) is a bit more edgier sounding than Egao no Kiseki , although both songs still manage to maintain the classic electro pop sound that the band's known for .
signal is girl next door's 15th single & it has 3 promo tie in's in the form of :
*Nippon TV's Sukkiri May '12 theme song
*Nippon TV's Oto Ryūmon Tokusen Artist #015
*Nippon TV's Poshure Department Store Shin'ya Mise May '12 opening theme
I remembered when signal was 1st released , I was stuck by how laidback if not chill sounding it was . At that time , I thought Igarashi Mitsuru was the 1 that composed it but I was surprised it's not the case .
Still , signal is something that doesn't go wrong with me , even up to now . There's definitely no fault in this summery driven no. .
Namida no Yuugure (Twilight's Tears) is perhaps 1 of my fave album tracks . Not sure why so but I supposed it's the way the song goes & I do happen to like the melody a great deal .
With a title like my little wish , it's expected that this song would be a ballad & turned out it's .
my little wish is the 1st album track that's a ballad . In this case , it's a nice 1 that's piano driven & heartfelt sounding .
all my life is girl next door's 16th single & it has 2 promo tie in's in the form of :
*H.I.S.Overseas Wedding Honeymoon Campaign TV-CF Song
*Nippon TV's Happy Music POWER PLAY
all my life is described as a wedding ballad that conveys the happy feelings of a woman as she gets ready for her wedding day . With it being the trio's 1st wedding inspired no. , it's still something I really like even up to now .
Hatsuyuki (First Snow) is another fave album track of mine & once again just like Namida no Yuugure , Hatsuyuki's strong point is its melody & it does have quite a good presence in holding itself rather well in Life of Sound .
I also like the last part of Hatsuyuki that consists of a rather strong electric guitar backing sound .
kotodama (The Power Of Language) is another 1 of those songs that's classic girl next door . It's neither good or bad but it does took me quite a while to remember how this song sounds like .
standing for you is girl next door's 17th single & it has 2 promo tie in's in the form of :
*Nippon TV's Oto Ryūmon Feb '13 ending theme
*Nippon TV's Happy Music POWER PLAY
standing for you is the most recent single included in Life of Sound prior to the album's release & just like the previous singles , no issues/complaints on this song , with it being a cheery upbeat peppy sounding no. .
My pace is the 2nd last album track & it's quite weird that it has almost the same melody opening as kotodama .
I had to do a double take upon hearing My pace in making sure I wasn't listening to the wrong song but luckily it's only the introduction that's quite similar sounding but other than that , My pace is a subtle aggressive sounding track .
mother is the finale album track in Life of Sound . It's the 2nd album ballad after my little wish .
For this song , it's not a full 100% ballad but it's a lot more mid tempo & slower than the other album tracks . I think this's a rather decent song in wrapping up Life of Sound .
Formed in 2008 , avex pop group girl next door is a post-millennial variation of the 90's electronic pop style that once dominated the J-pop world . Now Igarashi Mitsuru , the former producer of Every Little Thing , one of the most popular groups of that period , lends his talent to girl next door as the arranger of their 5th album Life of Sound .
With regards to the trio's latest album offering , it's frankly not easy to listen but overall , I feel it's a much better effort than what their last album Agaruneku ! had to offer .
Singles wise , all the 3 included in Life of Sound are good . For the album tracks , I feel that not of them have a strong unique music indentity , which was something that their 3rd album Destination was able to accomplish extremely well .
As a result , in more than 1 occasion , I had to relisten to Life of Sound's album tracks quite a few times before I eventually remember how they sound like .
I don't know if it's because all this while they only relied on 1 person (which's the group's keyboardist/composer Daisuke Suzuki) to compose almost all their discography from start til end but in the near future , I would like to see the trio get external composers to work on their material , to keep things afresh & alive as it's dangerous to rely solely on 1 person's composing efforts to keep things going on .
Life of Sound is no Destination (I still consider this as my most fave if not their best album offering of the trio) but at least it's a musical step up or 2 from Agaruneku ! .