CD Review :: flumpool - experience CD
CD + DVD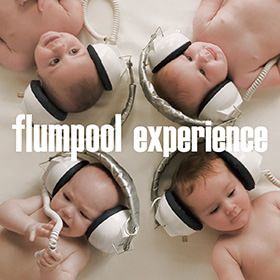 CD + DVD + 100 page photobook + B3 sized poster
1) Donna Mirai ni mo Ai wa Aru (Love Is In Any Future)
2) Answer
3) Ī Janai ? (Not Good ?)
4) Across the Times
5) Premium・ Girl
6) Sprechchor
7) Because ... I am
8) Akashi (Proof)
9) Natural Venus
10) Kasa no Shita de Kimi Wa ... (You Under The Umbrella ...)
11) Kakusei (Awakening) Identity
12) The great escape
13) Touch
14) 36C

experience is flumpool's 3rd album & it was released on 12th Dec .
The quartet's latest album release includes 4 singles & a B-side . And their 8th single Present is not included in experience .
experience got released almost close to 2 years since the release of flumpool's previous album Fantasia of Life Stripe .
Donna Mirai ni mo Ai wa Aru (Love Is In Any Future) is the 1st track in experience & it's also the 1st A-side of flumpool's 6th single Donna Mirai ni mo Ai wa Aru / Touch .
This song was used in the ads for mobile game site Mobage . Lead singer Ryuuta commented , "We are living in times where the future is unclear . I wrote this song hoping to bring a smile upon as many people as possible . I will be happy if the message of Donna Mirai ni mo Ai wa Aru will encourage those who are living positively ."
Answer is flumpool's 10th single & it was chosen to be used as the theme song for TBS's drama Resident ~5-nin no Kenshui starring actress Naka Riisa .
It has been about 2 years since flumpool was in charge of a theme song for a TV drama with their last being Zanzou which was used to promote Bloody Monday Season 2 back in January 2010 .
Resident ~5-nin no Kenshui began its broadcast in October . The story takes place at a critical care center of a university hospital & it portrays the growth of 5 young medical interns . Aside from Naka , the cast includes Hayashi Kento , NEWS's Masuda Takahisa , Omasa Aya & Ishibashi Anna .
Answer was flumpool's most recent single before the release of experience & it's still an extremely enjoyable song & definitely 1 of their most experimental offering single to date .
Ī Janai ? (Not Good ?) is the 1st album track this's such a catchy no. which's something unlike what they've done before but for a good reason as Ī Janai ? is highly entertaining & just fun fun fun .
The mood slows down considerably in the form of the 2nd album track titled Across the Times which's a ballad . After a few upbeat no.s , it's definitely good to slot in Across the Times .
Premium・ Girl is the 3rd album track & this's a nice song that I like with it being really peppy & positive sounding . The introduction of Premium・ Girl having loud trumpet sounds is most certainly welcoming .
Sprechchor follows after Premium・ Girl & for this song , it takes on a slightly more organic rock sound , something that flumpool's not known for but I must add that they did justice for Sprechchor as both album tracks back to back are solid & distinct sounding .
Because ... I am is flumpool's 9th single . Sharing the same title as the band's 5th nationwide tour , it was created after lead singer Ryuta sincerely confronted himself .
Described as a dynamic rock number with powerful lyrics , Because ... I am is an expressive song that conveys a lot about the four members of the band , which is why they named their tour after it .
In addition , Because ... I am was also selected to be used in the ads of au AQUOSPHONE CL IS17SH & NTV's morning news show Sukkiri ! .
Akashi (Proof) is flumpool's 7th single & it was chosen to be used as the insert song for the broadcast of NHK's Minna no Uta between August & September last year .
The ballad was also assigned to the junior high school division of the 78th NHK National School Music competition .
Natural Venus follows after Akashi & this is a back to basics rock song for the guys & oddly enough , I find Natural Venus very familiar , as though I've heard this song somewhere before .
Not sure why I had that initial feeling but I definitely enjoy what Natural Venus has to offer .
Kasa no Shita de Kimi Wa ... (You Under The Umbrella ...) follows next & this's an energetic no. that has quite a lot of synth thrown in for good measure . Kasa no Shita de Kimi Wa ... is 1 of the more experimental no.s included in experience that I like .
Kakusei (Awakening) Identity is the 1st B-side track included in flumpool's 7th single Akashi .
The song was used as the theme no. for the Rugby World Cup 2011 & this's the 1st B-side of flumpool that gets a music video as well .
When I saw Kakusei Identity being included in the tracklist of experience , I was really pleased as this's 1 B-side of the guys which I considered as 1 of their best in recent times with it being very different sounding from what they usually do & it definitely deserves to get a music video despite being only a B-side .
Also it helps that flumpool opened their 1st Singapore showcase with Kakusei Identity that I attended which brought back a lot of great memories for me .
The great escape is the 2nd last album track & this song opens with thumping drum beats which sets a really good tone on what The great escape has to offer & coupled with trumpet beats , this combination can't go wrong in this aspect .
Touch is the 2nd A-side of flumpool's 6th single Donna Mirai ni mo Ai wa Aru / Touch & the song was used in the ads of Sharp's au AQUOS PHONE IS11SH .
This song is also the last single in experience's tracklist & just like Donna Mirai ni mo Ai wa Aru , Touch is still a single that I can never get enough of even up to now .
36C is the final album track & last song in the tracklist but for this , it's the 1st song that lead singer Ryuuta composed as usually he leaves the composing aspect of songs to the other members in the group .
Maybe because 36C is the last song in the album , I do not find this heartwarming acoustic guitar driven no. as memorable as what I thought it might be although I must say composing is very different from writing lyrics & given that this's Ryuuta's 1st try in doing so , I have to give him credit for it .
2012 has been the biggest year in flumpool's career , with them lodging 2 top ten singles & a successful 52-show nationwide tour . Now , they completed 2012 with experience , their 3rd full-length album & fans be prepared to get ready for a flumpool experience with their latest album offering .
You have no idea just how extremely pleased I was after I have listened to experience , especially after I was downright disappointed just how bland/un-inspiring Fantasia of Life Stripe was but true to its name , flumpool's latest album provides a very wonderful if not entertaining experience for me .
Let alone , the album tracks are some of their best if not most experimental no.s they have come up to date which really impressed me as it shows that the guys are not afraid to come out of their comfort zone as what happened in the past which they didn't in their older works .
experience includes some of their strongest if not my most recent fave songs too & combining this aspect with really distinct strong memorable album tracks , experience is definitely a winner in the bag for flumpool .
I'm definitely looking forward to what they have in store in 2013 & all it took was a great follow up 3rd album in restoring my music faith towards them . And it's true that for their case , 3rd time's the charm .