CD Review :: ayumi hamasaki - M(A)DE IN JAPAN

CD
CD + DVD
CD + Blu-ray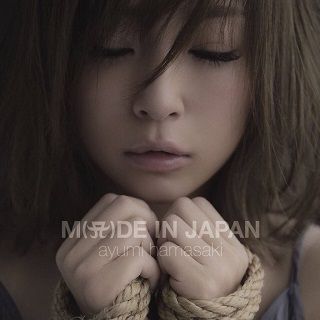 1) tasky
2) FLOWER
3) Mad World
4) Breakdown
5) Survivor
6) You are the only one
7) TODAY
8) Mr.Darling
9) Summer Love
10) Many Classic Moments (Bonus Track)
M(A)DE IN JAPAN is ayumi hamasaki's 17th album & it was released on 29th June .
While M(A)DE IN JAPAN was released physically 2 days ago , it was 1st digitally released on 11th May exclusively through the music streaming service AWA .
Launched a year ago & developed by Avex Trax and CyberAgent inc , AWA hopes to introduce music streaming to a much more broader audience in Japan and ayumi wants her fans to enjoy her new music in preparation for her nationwide tour ayumi hamasaki ARENA TOUR 2016 A ~MADE IN JAPAN~ that kicked off on 14th April at Nagoya's Nippon Gaishi Hall .
ayumi's last album release was last April's A ONE . No singles are included in M(A)DE IN JAPAN but 2 album tracks FLOWER & Mad World received videos .
The video of Winter diary is included in the DVD/Blu-ray but the song itself is excluded from the CD tracklist .
tasky kicks things off in the album & it definitely fits the album title as it's a great Oriental meets Enka instrumental piece .
FLOWER & Mad World are the 2 album tracks that received videos & it's easy to see (hear) why . FLOWER has some Oriental elements but it's still a Rock song at the end of the day .
Nonetheless , I do feel that FLOWER is good & that goes for Mad World as well .
Breakdown is a dark emotional song & surprisingly this's the only song that ayumi did not perform during her current ongoing tour . Maybe it's too emotional for her to sing it live ? That I'm not sure .
Survivor is the 4th album track & honestly this should have a video as it's something that I enjoy a lot . It reminds me of a cross between talkin' 2 myself & decision somewhat even though both songs weren't composed by the same person .
Things slow down considerably in the form of You are the only one . I think this's quite a sweet song although some does not like the way ayumi sings in here but I'm ok with it .
TODAY brings back some nostalgic memories for me as when I 1st heard it , I couldn't help but feel it sounds like Who... in some parts of the song .
Mr.Darling starts off with guitar riffs & its melody changed into a mid tempo melody . Out of the new material in the album , this's a bit of a weak link .
Summer Love is the last new album track & yet this's 1 of my favourite songs in the album as it's a really fun upbeat EDM track . And it's surprising to know that the composers for both TODAY & Summer Love have not worked on ayumi's material before so kudos to them for breathing in new life into M(A)DE IN JAPAN .
Many Classic Moments is the final song in the album & this's a cover of globe's 26th single .
ayumi's cover of Many Classic Moments was originally included in globe's tribute album #globe20th -SPECIAL COVER BEST- , which was released last Dec .
I enjoyed Many Classic Moments so I wasn't that bummed out to see this slotted into M(A)DE IN JAPAN as this's to make up for the lack of interludes .
ayumi hamasaki surprises everyone 2 months ago with the online digital release of her latest album M(A)DE IN JAPAN which features dark heavy songs that lay bare her emotions & present a deep view of the world .
Just like everyone else , I was definitely surprised when M(A)DE IN JAPAN was released digitally as ayumi has never released a full album online prior to its physical release .
Material wise , I feel M(A)DE IN JAPAN is 1 of her more stronger/put together releases to date as I haven't been impressed with a full album of hers for quite a long time now .
I think what made M(A)DE IN JAPAN stood out this time round for me was the quality of the songs and most importantly if not finally , ayumi enlisted help from composers she has not worked before which was much needed as she kept on using the same composers to work on her past music material until it became overkill .
That's not to say M(A)DE IN JAPAN doesn't have its flaws as for starters , the covers/photos don't match the album title as ayumi should have done for the Oriental Geisha/Kimono look and likewise , the videos for FLOWER + Mad World didn't do anything much to further elevate the songs which's a shame as the tracks themselves are already good .
Likewise , it's ayumi's 2nd time to include a cover song in her album as she 1st did that for A ONE . I hope she wouldn't do that again for her next album release . Not that I don't mind ayumi covering other artistes' works but hopefully this wouldn't beome a habit of hers .
But all in all , M(A)DE IN JAPAN is quite a solid release & it's 1 album that I've been listening quite regularly , something that I used to do with ayumi's past albums so for that it's definitely a good sign .