CD Review :: NEWS - QUARTETTO

CD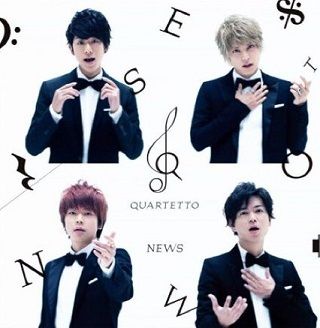 CD + DVD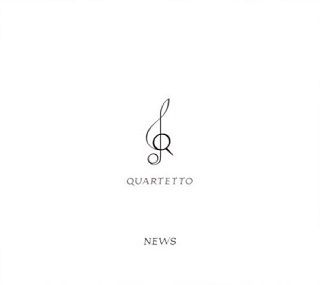 1) Theme of "QUARTETTO"
2) QUARTETTO
3) ANTHEM
4) Sirius
5) Touch
6) NEWSKOOL
7) Yonjuushi
8) Wonder
9) Life
10) Chumu Chumu
11) Departure
12) Hikari no Shizuku
QUARTETTO is NEWS's 7th album & it was released on 9th March .
The group's new album was released 1 year 1 month after their previous album White . 2 singles , 1 DVD single & 1 DVD single B-side are included in QUARTETTO .
The CD only edition of the album includes 4 solo tracks while the CD + DVD edition excludes them . This time round , the album theme centres on "four people playing an instrument" .
Opening number Theme of "QUARTETTO" kicked things off in the new album & unusually , a video was made for this track despite it being an introduction no. with little/no singing involved .
However , the video itself showcases perhaps 1 of the coolest innovative video I've seen Johnnys wise as NEWS utilised a variety of different sounds to create Theme of "QUARTETTO" and frankly , the CD version does no justice to the video version of the track .
Sharing almost the same title as the record , it's the 1st proper new album track QUARTETTO . This track has a slight tint of Classical vibes thrown in and I think it's not bad , although the downside is that it's under 3 mins long and I wished it could have been longer .
ANTHEM is found as the 1st B-side in NEWS's 1st DVD single Yonjuushi & promo wise , it was used as the official song for FIFA Club World Cup Japan 2015 .
At that time when I reviewed Yonjuushi , I enjoyed ANTHEM a great deal so seeing it making the cut in QUARTETTO , I have no issues with .
Sirius is the 2nd album track & this was used as the theme song to promote the Miss Slender underwear .
Despite the rather odd promo tie in , Sirius is hands down my favourite new song in QUARTETTO as it's a great uplifting no. . The 1st time I heard it , I already knew immediately this was something I was going to like .
Touch is the 2nd A-side of NEWS's 19th single Hikari no Shizuku / Touch .
Promo wise , this light Pop love song was used as a tie up no. for Nissen & NEWS themselves appeared in the ads .
NEWSKOOL is the 3rd group album track & this song showcases NEWS attempt to rap , both individually and/or group . It's a commendable effort as rapping is not their forte so it's actually quite fun for them to do something different .
Yonjuushi is NEWS's 1st DVD single & it was used as the opening theme song for the 2nd season of the anime Kindaichi Shounen no Jikenbo R .
Described as a Classical Pop song which sampled Sergei Rachmaninov's Rhapsody on a Theme of Paganini , Yonjuushi was arranged by female conductor Nishimoto Tomomi . Conducted by Nishimoto , IlluminArt Philharmonic Orchestra was in charge of the music .
Before QUARTETTO was materialised , I was wondering if Yonjuushi would be included but in the end , I'm glad to see it in the album tracklist as it rightfully deserves so .
Wonder & Life are the next 2 new group tracks . Oddly/hilariously , when I 1st heard Wonder , I thought I was listening to Golden Bomber as the style is a bit similar to what they do .
Whereas for Life , it frankly doesn't stand out to me despite the numerous times I listened to it .
Chumu Chumu is NEWS's 18th single . The Indian Bollywood inspired driven no. is described as an upbeat love song that everyone can sing & dance to . Chumu means kiss in Hindi , which is the official language of India
Departure is the last group new track available / 2nd last song in QUARTETTO (if you purchase the CD + DVD edition) & when I 1st heard it , it sounds like White's Weather NEWS slightly .
Hikari no Shizuku is the 1st A-side of NEWS's 19th single Hikari no Shizuku / Touch & it's the last song in the CD + DVD edition of QUARTETTO .
Promo wise , Hikari no Shizuku was picked to be used as the theme song for Fuji TV's drama Kasa wo Motanai Aritachi which was based on member Kato Shigeaki's short story of the same title . Shige himself stars in the drama & likewise for Kiryama Renn , Sakata Masanobu Adachi Rika , Watanabe Mai , Takeda Rena , Minamisawa Nao & Raita Ryu
Hikari no Shizuku is described as a support song for young people who are troubled or hesitant , a support song that gently shines a light on the troubles and doubts of young people .
NEWS welcomes fans to Quartetto world ! The Johnnys group's 7th album takes on the emphasis of the music & vocal harmonisation of the four members in the group .
1st of all , let me start with the positives of QUARTETTO . Concept wise , I definitely prefer it over White as I found their last album to be rather depressing & the covers didn't helped matters .
Next I applaud NEWS for choosing to make a video based on an album introduction track which has little/no vocals & I think utilising a variety of sounds to make a song is a lot more harder . They could have picked something else to make a video of but to do what they've done for Theme of "QUARTETTO" really opened my eyes in a different manner .
And lastly , the singles included in QUARTETTO are stellar as last year the singles that NEWS released were some of their most entertaining/musically diverse to date .
Despite the positives , QUARTETTO also has flaws too . While the singles found in the album are great , the album tracks suffered as they struggle to sound on par if not more superior than the single songs .
Except for QUARTETTO , Sirius & NEWSKOOL which I generally like , I feel that the other group album tracks had something lacking in them .
Ironically , I find the album material in White more stronger than QUARTETTO which's a real shame as I like the concept they've gone for in QUARTETTO but somehow unfortunately the group album tracks pushed the overall quality of NEWS's new album a few steps back .
I'm not sure why but I think when NEWS made their comeback as a quartet with their self titled / 5th album , it set a rather high music benchmark because subsequently , White & QUARTETTO weren't able to match up .
Perhaps what NEWS can do for their next album release is to release an album on its own , without any single songs preceding the record . I know it sounds risky but it's possible & it has happened to artistes before which I have reviewed previously on my blog but somehow I doubt it's possible for NEWS to do something like this .
If not , the next alternative is for NEWS to be more selective on their group album material .
That said , QUARTETTO isn't an outright bad album but if you ask me , just listen to the single songs and watch the Theme of "QUARTETTO" video , alongside with listening to QUARTETTO , Sirius & NEWSKOOL while just forget about the rest .