CD Review :: ARASHI - Japonism

2 CDs Regular Edition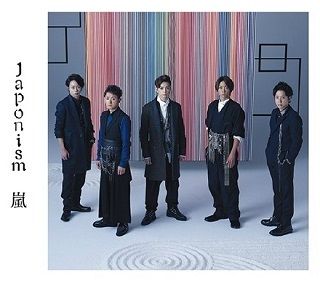 2 CDs Limited Edition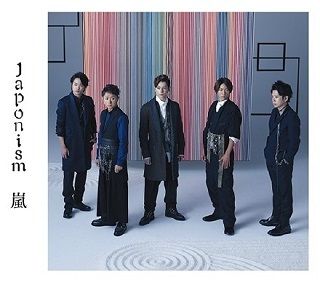 CD + DVD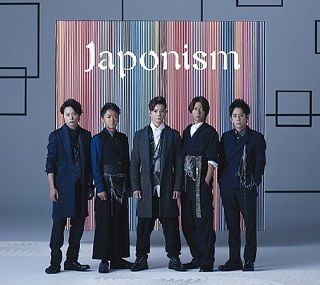 Tracklist for all 3 editions
1) Sakura
2) Kokoro no Sora
3) Kimi Hen Oomoi
4) Don't you love me? (Matsumoto Jun's Solo)
5) miyabi-night
6) Mikazuki
7) Bolero!
8) Mr. FUNK (Aiba Masaki's Solo)
9) Akatsuki (Ohno Satoshi's Solo)
10) Aozora no Shita, Kimi no Tonari
11) Rolling days (Sakurai Sho's Solo)
12) In・The・Room
13) Masquerade
14) MUSIC (Ninomiya Kazunari's Solo)
15) Tsutae Tai Koto
16) Japonesque
2 CDs Regular Edition's 2nd Disc
- Bokura ga Tsunaide Iku
- the Deep End
- Make a wish
- Furusato
2 CDs Limited Edition's 2nd Disc
- Nihon Yoitoko Maka Fushigi (Shounentai)
- Original talk track "Arajapo Talk"
Japonism is ARASHI's 14th album & it was released last month on 21st Oct .
The group's last album release was last Oct's THE DIGITALIAN & in Japonism , 2 singles are included in the album .
In the 1st disc , there's a total of 2 single songs , 9 group album tracks & 5 solos . While the 2nd disc has different material included , depending on whether the 2 CDs Regular and/or 2 CDs Limited Edition(s) gets purchased .
ARASHI's 47th single Ai wo Sakebe is excluded from Japonism & the last album that was released in a 2 CDs format was 2010's Boku no Miteiru Fuukei .
In their 16th year , ARASHI expressed their interpretation of the wonderfulness of Japan in their unique way through Japonism . The new record showcases the group's ambitious challenging spirit & continuous evolution .
In the 1st disc of Japonism , Sakura kicked things off in the tracklist & this was released as ARASHI's 45th single .
Promo wise , Sakura was picked to be used to promote TBS's drama Ouroboros that starred Oguri Shun & ARASHI's fellow colleague Ikuta Toma .
Sakura is described as an intense edgy dance song & it was ARASHI's 1st single that they provided for a drama that doesn't starred any of the members .
The next 2 songs are new album group tracks & both have the inclusion of Sakurap .
Kokoro no Sora is the only album track that gets a video & the song was written & composed by ex BOØWY / ex COMPLEX's Hotei Tomoyasu .
Based with 'Japan seen from the outside' as the theme , ARASHI expresses the 'wonderfulness of Japan' through song on top of a tense Hotei sound , where the battle of (ARASHI) x (Hotei) x (Japanese instruments) sounds takes place .
Out of the new group material in Japonism , it's easy to see (hear) why Kokoro no Sora is the only new track that gets a video which rightfully deserves so . And Hotei Tomoyasu definitely captured the essence of this great Oriental Rock sounding no. .
Kokoro no Sora is very different from the group's past album tracks that were given music videos (like THE DIGITALIAN's Zero-G & LOVE's P・A・R・A・D・O・X) but the song itself is brilliant & I enjoyed it tremendously .
As for Kimi Hen Oomoi , it's another group album track that I enjoy . In keeping with the Oriental theme just like Kokoro no Sora , Kimi Hen Oomoi is emphasised more on the melody with it having a rather strong Enka sound backing it up .
Don't you love me? is the 1st of 5 solos included in the 1st disc of Japonism & this's sung by Matsumoto Jun .
MatsuJun's solos in ARASHI's albums have always been in the very low priority list for me . For Don't you love me? , it's ok but not great .
Then again given MatsuJun's weak limited vocals , Don't you love me? is considered not bad already but it's not something I will go wow over .
miyabi-night & Mikazuki are the next 2 group album tracks that continue the Oriental concept . miyabi-night is actually really cool & upbeat while Mikazuki surprisingly is EDM driven which feels like a leftover track from THE DIGITALIAN .
Bolero! follows after Mikazuki & unlike the other group album tracks , Bolero! feels very sports inspired with all the whistling , chanting going in the background .
The next 2 songs are solo tracks with Mr. FUNK being sung by Aiba Masaki .
I enjoyed the previous 2 solos of Aiba that were included in LOVE & THE DIGITALIAN . But unfortunately this time round , I'm not liking his latest solo offering that much .
For a song that's titled Mr. FUNK , it's surprisingly rather mellow sounding which's a bit odd . The saving grace of it is hearing Aiba rap which's not something that he's in charge of in the group .
Akatsuki is sung by Ohno Satoshi & all the while Ohno's solos in the group's past albums have been rather consistently good .
In Japonism , Ohno's solo is my favourite . Akatsuki is not a typical sounding ballad as it has a really gorgeous Oriental sounding melody which elevates things to another level .
Aozora no Shita, Kimi no Tonari is ARASHI's 46th single & it's the last single included in Japonism . Promo wise , Aozora no Shita, Kimi no Tonari was picked to be used as the theme song for the drama Youkoso , Wagaya e starring member Aiba Masaki & actress Sawajiri Erika .
The song is described as an upbeat pop number . Combining lyrics that give a real sense of how precious the connection between people is & a dramatic melody overflowing with positive energy , its music gives optimism to people living in this cooped-up modern society .
Rolling days is the 2nd last solo in the album & this's sung by Sakurai Sho .
I was pleasantly surprised when I heard Rolling days as Sakurai's solos are either a hit or a miss . I enjoyed the last 2 solos of his in LOVE & THE DIGITALIAN though .
Rolling days is pretty good & the inclusion of Sakurap is always a good thing .
In・The・Room & Masquerade are new group album tracks . In・The・Room has the inclusion of Sakurap but end of the day , it's quite a typical standard Johnny song .
On the other hand , Masquerade is nice & catchy . Before hearing this in full , I actually liked the preview snippet that was uploaded on JStorm's website & glad the song didn't disappoint .
MUSIC is the last solo in Japonism & this's sung by Ninomiya Kazunari .
Unlike Nino's past solos , MUSIC takes on a more fun jovial approach as it sounds like something from a Tetris video game . After doing a series of back to back solos which're mainly ballads , it's good to see Nino embarking on another music direction with MUSIC .
Tsutae Tai Koto & Japonesque are the last 2 group album tracks in the 1st disc of Japonism & ironically , they're my least favourite songs .
ARASHI has some good Christmas / Winter inspired songs & Tsutae Tai Koto can probably be counted as 1 although it's rather on the un-inspiring side .
As for Japonesque , I was quite disappointed with it as I thought it would be an Oriental sounding no. to conclude things but instead it's an upbeat pop song .
Now I will be reviewing the material that's included in both the 2 CDs Regular and/or 2 CDs Limited Edition(s) of Japonism .
The 2nd disc of the 2 CDs regular edition have 4 songs with the 1st 1 titled Bokura ga Tsunaide Iku .
Bokura ga Tsunaide Iku is a pleasant sounding ballad but aside from that , I only think it's ok .
On the other hand , the Deep End is an edgy aggressive driven number which packs a lot of attitude . As for Make a wish , I feel it's neither good or bad , just that I will not consider it as a favourite track in Japonism .
Furusato is the last song included in the 2nd disc of the 2 CDs regular edition of Japonism & this was 1 song I was most excited to hear .
The song was written by Koyama Kundo & it expresses the nobility of hometown . Furusato was created for the special corner in 2010's Kohaku Uta Gassen .
ARASHI sang Furusato 3 times during Kohaku Uta Gassen , in 2010 , 2011 & 2012 . As such , for Furusato to get the studio CD treatment , it's extremely long overdue but the wait is definitely worthwhile .
The 2nd disc of the 2 CDs limited edition includes a cover of Shounentai's Nihon Yoitoko Maka Fushigi & a members' talk track Arajapo Talk .
This's the 1st time ARASHI has included a cover song in their albums & for them to cover something from their seniors , it's quite risky .
As for their rendition of Shounentai's Nihon Yoitoko Maka Fushigi , let's just say that it's not to be taken seriously as I find it rather amusing when I heard it . The somewhat good thing is that the song's rather short .
Celebrate Japan with ARASHI in Japonism ! After reaching their 15th anniversary milestone , the group takes a step forward in the spirit of renewal & helps listeners discover the many wonderful sides of Japan through music with their latest album release .
1st of all , let me start with the positives on Japonism . I like Sakura + Aozora no Shita, Kimi no Tonari that're included in the album & I can understand why Ai wo Sakebe is excluded because it will feel out of place in the record .
And I like the Oriental sounding group album tracks & Kokoro no Sora is a class of its own . Solos wise , I genuinely enjoyed them even though Aiba & MatsuJun's solos are on the borderline of ok only .
As for the downsides of Japonism , there're quite a few pointers which're not good starting with the duration of the album .
Length wise , Japonism is long & at almost 1 1/2 hours for 21 songs from all 3 editions , it's a struggle for me to be kept interested from the start until the end .
Also , the covers of the album are bad . ARASHI claims that they want to convey the spirit of their home country but based on the covers alone , for that I'm not buying it .
Lastly perhaps the biggest disappointment is the new album material . The 1st 1/2 of Japonism has very strong Oriental sounds which I like . After that from Bolero! onwards , the 2nd 1/2 of the record has very random sounding songs which felt like they're included for the sake of filling in the missing gaps .
Likewise for the solos which Ohno's is the only 1 that is Oriental sounding . I personally feel all the solos should be as so to a certain extent as it felt a bit unfair that only Ohno's solo is as so .
THE DIGITALIAN had a lot of group album tracks that tend to sound almost the same as each other but at least they kept the EDM concept throughout the album , unlike what happened in Japonism .
Overall , my impressions on Japonism is that it's not as good as THE DIGITALIAN & LOVE which I surprisingly liked both but something about Japonism is just missing the mark for me & the covers probably contributed to that to a certain extent .
And it's a big shame since Kokoro no Sora is hands down the main star in Japonism but somehow the other album tracks felt extremely overshadowed by it .
Let alone , if all the new album tracks in Japonism have a strong Oriental sound that would have been better but in this case , my expectations for their latest album is probably a lot higher than I expected .
For ARASHI's next album , I hope they will scale down on the songs because having 2 CDs in an album is frankly not a good thing & maybe for starters , they should ditch the solos as for every tour they embark on a yearly basis to promote their album/s , they will only perform the solos once during the tour & that's that .
And hopefully in their next album release , they will streamline a more clearer approach to the sound consistency of the new album material .