ayaka - Kotonoha

CD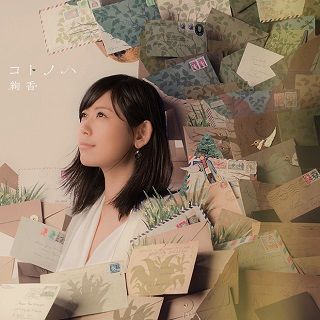 CD + DVD
1) Kotonoha
2) Sentimental
3) Kotonoha (Instrumental)
4) Sentimental (Instrumental)
Kotonoha is ayaka's 14th single & it was released on 10th May .
This's ayaka's 1st single release of 2017 & her last physical single release was 2014's Nijiiro .
Both the A-side & B-side were released digitally last week on 2nd May .
Kotonoha was used to promote NHK drama 10's Tsubaki Bunguten ~Kamakura Daishoya Monogatari~ that started airing on 14th April .
A-side is described as a medium tempo number with the theme letter that reflects hearts that are linked together through words .
Sentimental serves as the B-side in Kotonoha . Unlike the A-side , Sentimental is a lot more emotional driven & it's just ayaka singing alongside with a piano which couldn't get more simplistic than this .
Having successfully completed her 10th anniversary celebrations , ayaka makes a fresh start with her new single Kotonoha . As the theme song for Tsubaki Bunguten ~Kamakura Daishoya Monogatari~ , the warm medium-tempo number carries a message about the importance and power of words that sprout from the heart .
Frankly I'm not sure why it took ayaka so long to release a new physical single because she wasn't exactly on hiatus as she released her 4th album Rainbow Road 2 years ago followed by last July's THIS IS ME ~ayaka 10th anniversary BEST~ .
This could be due to the fact that ayaka's music releases now are put out differently after she left her previous record label .
That said , Kotonoha on whole is a heartwarming single release and it would have been nice if Sentimental wasn't a ballad but I guess I shouldn't complain as I thought the song's not bad on whole .
Hopefully ayaka wouldn't take another 3 years to release another physical release .