L'Arc~en~Ciel - Don't be Afraid

CD
CD + Blu-ray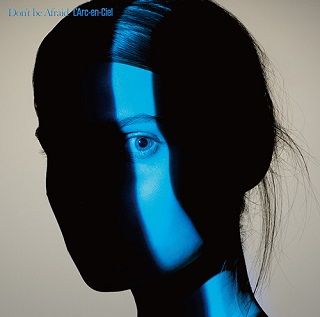 CD + Blu-ray BIOHAZARD × L'Arc-en-Ciel version
1) Don't be Afraid
2) Cradle -L'Acoustic version-
3) Don't be Afraid (hydeless version)
4) Cradle -L'Acoustic version- (hydeless version)
5) Don't be Afraid -English version-
Don't be Afraid is L'Arc~en~Ciel's 42nd single & it was released on 21st Dec .
L'Arc~en~Ciel's last single release was last Christmas's Wings Flap .
Don't be Afraid was used as the theme song for the Japanese dubbed version of Resident Evil : The Final Chapter that opened in Japan theatres on 23rd Dec .
Cradle -L'Acoustic version- serves as the B-side in the single . The original take of the song was found as track #4 in L'Arc~en~Ciel's 1999 release album ark while the CD tracklist in the CD + Blu-ray BIOHAZARD × L'Arc-en-Ciel version of Don't be Afraid includes Member's Voice from -Biohazard × L'Arc-en-Ciel on PlayStation VR- done by each member .
Prior to the physical CD release , Don't be Afraid -English version- was released digitally on 25th Nov . This was used in Sony's campaign for its high resolution audio with the concept "There's no turning back . High resolution wireless ."
Don't be Afraid was written by vocalist hyde & composed by bassist tetsuya . The members who have been a fan of the Resident Evil series , expressed their joy on the collaboration .
hyde stated , "I wrote the lyrics while imagining one mustering up their courage and overcoming fears ." tetsuya commented , "While drawing the image of the movie in my head , I interpreted it in my own way . Rather than a choppy intense guitar , I thought it would be better to use a clean arpeggio with a feeling of sadness ."
In mid-November , L'Arc~en~Ciel released a music video called Don't be Afraid -Biohazard × L'Arc-en-Ciel on PlayStation VR- , which is a collaboration project with the 'Resident Evil' PlayStation VR game .
To mark the 20th anniversary of L'Arc~en~Ciel & the 25th anniversary of Resident Evil/Biohazard , a special collaboration project was born ! The band performs the movie Resident Evil : The Final Chapter's Japanese version theme song Don't be Afraid , for which a fully-digitised PlayStation VR 360-degree music video was created . The rock single is also a CM song for Sony's HD Wireless campaign .
Frankly I expected a bit more from Don't be Afraid with it being used to promote Resident Evil . I find it odd that it's unusually mellow given the theme/concept of the video game .
Perhaps I thought Don't be Afraid might sound like 2008's DRINK IT DOWN (which's still a great song) but considering in recent years L'Arc~en~Ciel has not been as active as before , it would have been better for them to include more new material as waiting for a year for them to finally come back with something new , in this case the wait doesn't feel worth it .
On the other hand , there's no doubt L'Arc~en~Ciel's staying power is still going on strong as their 2 Tokyo Dome concert dates 25th L'Anniversary LIVE will take place in April 2017 . Maybe during 25th L'Anniversary LIVE , they will debut a new song in marking this momentum occasion ?