Hey ! Say ! JUMP - Give Me Love

CD Regular
CD Limited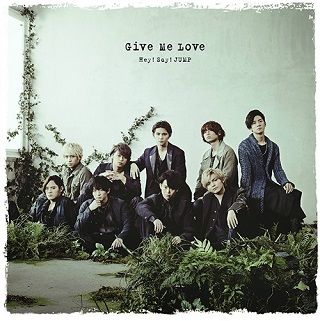 CD + DVD
Give Me Love is Hey ! Say ! JUMP's 18th single & it was released on 14th Dec .
The group's latest single was released 2 months + since their previous single Fantastic Time .
Give Me Love was used to promote the Fuji TV's Getsu-9 drama Cain To Abel starring member Yamada Ryosuke . It's described as a mellow R&B track that sings about life's troubles & love. This was Yamada's 1st Getsu-9 drama & likewise , this is the group's 1st time in providing a song for a Getsu-9 drama .
There're a total of 5 B-sides scattered/available in all 3 editions of Give Me Love . The 1st 2 songs are exclusively found in the CD Regular pressing .
Glorious features the members singing their burning passion for the fans in their 10th year as a group in a cool way while the festive inspired sounding track Ashita Hallelujah is described as everyone's fight song that warms the heart .
The next 2 songs are only available in the CD Limited edition of Give Me Love . TOY is an electro swing song while Baby I Love You is dubbed as this year's greeting song which the group conveys this message with their fans . "Thank you for this year . We're counting on your support next year and beyond" .
Traffic Jam is the only B-side found in the CD + DVD edition of Give Me Love & this grown up sounding song plays a good contrast against the emotional A-side .
Hey ! Say ! JUMP wraps up 2016 with the release of their latest single Give Me Love which deals with a sad yet strong true love .
To say that this year has been a great music year for Hey ! Say ! JUMP is an understatement as they released some of their best if not most mature sounding works to date which's a huge difference seeing that last year , their releases were extremely cheesy & age inappropriate sounding .
And unlike last year , I enjoy most of what they released this year . Even certain songs that have a cutesy vibe , they still have that grown up edge attached to it .
I feel with the release of Give Me Love (which's their 1st ballad released as a single) , they finally shed & left behind their days as boys & embraced themselves as grown up men . Even their 5th album DEAR. was a big improvement over last year's JUMPing CAR too .
Knowing that 2017 is their 10th anniversary since they released their debut single Ultra Music Power in Nov 2007 is insane as it felt as though they're still kids . It's said that they will release a 10th anniversary album in March . Nothing is confirmed yet but it will be a great release in looking back from their early days until now .