Shota Shimizu - My Boo

Cover for both CD & CD + DVD editions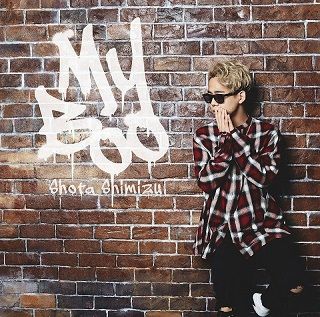 1) My Boo
2) milk tea
3) Damage -KSUKE Remix-
4) My Boo -Instrumental-
My Boo is Shota Shimizu's 21st single & it was released on 5th Oct .
Shota released his 6th album PROUD was released in March .
The A-side is described as a message song to loved ones & for that important person in life .
2 B-sides are included in My Boo . The 1st 1 is something titled milk tea which has a soothing calming approach that contrasts the A-side quite well .
Damage -KSUKE Remix- is the 2nd B-side in the single & this's a remix of Shota's previous single .
I kind of like Damage but in this case I'm not feeling the remix that much even though it's a lot more upbeat & dance driven . But given a choice , I will stick to the original take of the song .
Overall , I think My Boo is not bad although at this point in time , I wish Shota would consider to cut down on the usage of auto tune in his music as he went overboard with it in PROUD & also for his recent single songs (except for Hanataba no Kawari ni Melody wo) .
Some of Shota's best single songs does not contain auto tune & while I like it myself , times like this I hope he can consider to scale it down as sometimes too much of a good thing gives way to something not positive .