NEWS - Koi wo Shiranai Kimi he

CD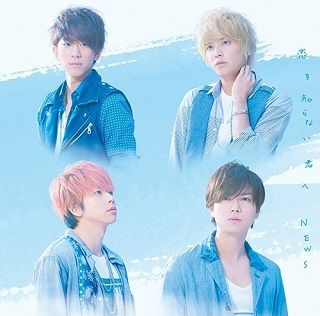 CD + DVD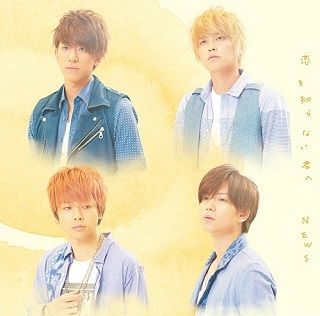 2 CDs + 2 DVDs special box
Koi wo Shiranai Kimi he is NEWS's 20th single & it was released last month on 13th July .
NEWS released their 7th album QUARTETTO in March .
Koi wo Shiranai Kimi he was used as the ending theme for member Kato Shigeaki's live action drama adaptation of the novel and popular animated film Toki wo Kakeru Shoujo .
Shige described Koi wo Shiranai Kimi he as "a ballad about the sadness of summer ending" on the official NTV website for the drama .
There're a total of 3 B-sides in the single . Smile is available in all 3 editions while Samaraba & Distance are only available in the CD only edition of Koi wo Shiranai Kimi he .
Out of the 3 B-sides , Samaraba is the only 1 that's upbeat sounding while the other 2 are mid tempo but not as depressing sounding as the A-side .
NEWS offers the ultimate sad Summer love song with their latest single Koi wo Shiranai Kimi he .
It's ideal not to listen to Koi wo Shiranai Kimi he if you feel depressed/emotional because this song conveys a lot of sad emotions which's very different from NEWS's past Summer single , SUMMER TIME which was cheery & jovial .
For this single , I'm not liking it as much as I was hoping for . I guess after they released Hikari no Shizuku / Touch , I was hoping for an upbeat Summer single but apparently that's not the case .
Likewise I only find the B-side songs ok & for the 1st time , I felt disconnected when I listened to them .
I do hope that NEWS can release something upbeat in their next single although I'm not saying they shouldn't release ballads as they had some good ones but for now I go back to listen to Touch instead .