SPYAIR - THIS IS HOW WE ROCK

CD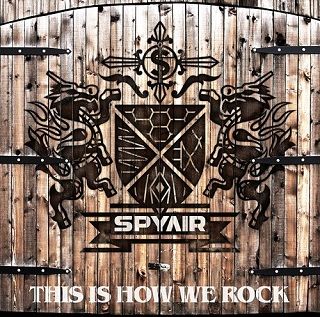 CD + DVD
1) THIS IS HOW WE ROCK
2) JUST ONE LIFE (Live at NHK Hall 2016.3.10)
3) U & I (Live at NHK Hall 2016.3.10)
4) THIS IS HOW WE ROCK (inst.)
THIS IS HOW WE ROCK is SPYAIR's 18th single & it was released last week on 13th July .
The group's 1st single release of 2016 , the A-side will be used as the theme song for the group's JUST LIKE THIS 2016 outdoor concert that will take place next Sat / 30th July .
The B-sides in the single were both recorded from the last date of SPYAIR TOUR 2016「4 -for -」 which took place on 10th March at Tokyo's NHK Hall .
JUST ONE LIFE is SPYAIR's 13th single while U & I was found as track #10 in their 2nd album Just Do It .
This is how SPYAIR rocks ! Before their JUST LIKE THIS 2016 concert commences , the band returns with their 1st single of the year , THIS IS HOW WE ROCK .
SPYAIR made a bold statement with the release of THIS IS HOW WE ROCK & with a song title like that , they made no apologises on how empowering this track is which has plenty of attitude & sass .
THIS IS HOW WE ROCK definitely resonates with fans with it becoming another Top 10 single for SPYAIR who deserves it as this's a classic feel good Rock song .
Also this's the 2nd time for guitarist UZ to rap in the verses of their single , the 1st being their 16th single Fire Starter .
The only drawback on the single is the lack of new B-sides seeing that in absence of that , live renditions of already existed songs are included to fill in the gap .
But aside from that , THIS IS HOW WE ROCK is yet another solid single added to SPYAIR's discography . Here's hoping to more great material from them in due course .