DAIGO - K S K

CD
CD + DVD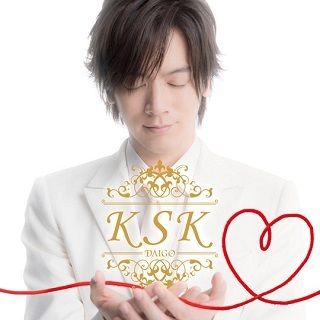 1) K S K
2) K S K ~Piano Version~ (CD Only Track)
3) K S K ~Karaoke~
K S K is DAIGO's 4th single & it was released last week on 15th June .
DAIGO's last solo single release was 2014's CHANGE !! / Shinpaishou na Kanojo .
And unlike DAIGO's past solo & past BREAKERZ single releases , K S K includes instrumental tracks to make up for no B-side songs .
The A-side was written & composed by DAIGO . K S K which stands for Kekkon Shite Kudasai is a song that DAIGO performed for the 1st time during his & Kitagawa Keiko's wedding ceremony/reception on 29th April .
DAIGO wrote/composed K S K for Kitagawa as a second proposal with hopes she would also respond in "DAIGO language" . Kitagawa did so by using HI (Hai ; Yes) .
The CD only cover of K S K is the same 1 used as the CD that was given to the 500 guests that attended the couple's wedding ceremony/reception .
During the occasion , DAIGO received numerous offers from music show producers to perform K S K on TV & many people commented on his blog saying that they would love to hear the song & use it in their own wedding ceremonies . Many people also contacted ZAIN RECORDS asking if the song would be released .
Fans also requested for its release after DAIGO asked on his blog , "Should I release it ? What do you think ?" . These were the determining factors in ZAIN RECORDS's decision to release K S K .
K S K ~W Version~ was released digitally on Recochoku from 20th May - 14th June . This version is not the same as the version that's included in the physical CD release of K S K .
I think this version is the 1 that was released in the CD that DAIGO & Kitagawa Keiko gifted to their guests .
K S K ~Piano Version~ is only available in the CD only edition of the single & this track does not have no vocals , it's simply just an instrumental piano no. .
During his wedding reception on 29th April 2016 , DAIGO surprised his wife , actress Kitagawa Keiko , with the proposal song K S K which , in DAIGO lingo, is short for "Kekkon Shite Kudasai" (marry me) and also carries the meaning of "kiseki" (miracle) . Due to popular request , this meaningful song is now being publicly released as DAIGO's 4th single .
K S K is without a doubt 1 if not the most personal song that DAIGO wrote/composed to date seeing that K S K was written/composed specially for his own wedding ceremony/reception .
As such , it comes straight from DAIGO's heart & the amount of emotions that's poured into the song can be felt significantly/evidently .
In a way K S K felt like a rushed last minute release given the circumstances but this's something the public wants from ZAIN RECORDS so hence the unusual structure of the single's release .
Lyrically , K S K is really touching so it's no surprises on why many people would love to use this song during their own weddings as well & for DAIGO to share a part of such a joyous occasion , it doesn't get any better than this .
And on a personal level , I myself never imagine DAIGO would 1 day settle down and get married as he's frankly the last person in my mind to do so but as a fan to see him begin this new chapter with Kitagawa Keiko , I'm happy for both of them & here's wishing them many more wonderful years of them together ahead of life as husband & wife !