ARASHI - I seek / Daylight

CD
CD + DVD A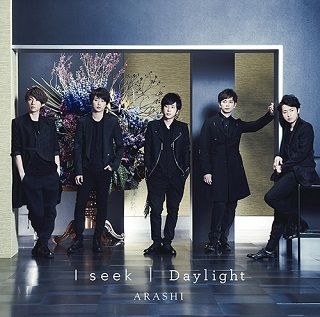 CD + DVD B
I seek / Daylight is ARASHI's 49th single & it was released on 18th May .
Released 3 months + since their previous single Fukkatsu LOVE , the group's last double A-side single release was 2013's Calling / Breathless .
The 1st A-side I seek was used to promote leader Ohno Satoshi's Sekai Ichi Muzukashii Koi drama . Described as a love song , I seek centres on the dilemma + sadness of a clumsy man in love & it's sung in a bright positive way that's accompanied with groovy feelings .
The 2nd A-side Daylight was used to promote member Matsumoto Jun's 99.9 ~Keiji Senmon Bengoshi~ drama . MatsuJun personally requested fellow member Sakurai Sho to provide rap verses in the song .
2012's Face Down was the last single song that Sakurai last rapped in . Linked to the world of drama , both strength + kindness are wrapped inside the warm melody found in Daylight .
With regards to the rap lyrics included in Daylight , Sakurai said MatsuJun went to talk to him in the dressing room & let him read the script of the 1st 2 episodes in order to give Sakurai a glimpse of the plot in 99.9 ~Keiji Senmon Bengoshi~ before he proceeded to write the Sakurap in the song .
2 B-sides are available in I seek / Daylight . Both tracks are exclusively found in the CD only edition of the single .
The 1st B-side is titled Tadaima & this serves as the theme song for ARASHI's current ongoing ARASHI "Japonism Show" in ARENA .
According to Sakurai , the lyrics of Tadaima are a message to their fans . ARASHI wanted to do small-scale concerts this time to go back to where they started as the last time they did an Arena tour was 9 years ago . Before they got to perform at huge venues like Tokyo Dome and National Stadium , Arenas used to be ARASHI's playground with their fans .
Tadaima is their way of saying , "We never forget our starting line & our fans from back then ."
As for the 2nd B-side supersonic , it's an upbeat song with lots of edgy beats & it's quite memorable sounding .
ARASHI brings their 49th single in the form of the double A-side I seek / Daylight . The theme song of Ohno Satoshi's drama Sekai Ichi Muzukashii Koi , I seek is a bright groovy positive number about the dilemmas of a man who is clumsy in matters of love while Daylight is the warm theme song of Matsumoto Jun's drama 99.9 ~Keiji Senmon Bengoshi~ .
The group's last double A-side single Calling / Breathless was quite a stellar release & luckily I seek / Daylight was able to live up to expectations .
Although I must admit I did not like I seek that much (the video didn't helped matters) but the performances they did on various TV shows (including their own ones) subsequently changed my opinion on the song .
It's different for Daylight as I actually liked it when I 1st heard it and anything with the inclusion of Sakurap is always good although it's quite crazy knowing that it has been 4 years since Sakurai last rapped in Face Down (which was & still is a great single song) .
Both I seek & Daylight are very different music styles wise which's a good thing because there's no point to release 2 songs as A-sides if they follow the same music pattern although there're exceptions .
B-sides wise , it's unusual for them to use a song as a opening number for their tour but then again it makes sense given the context of Tadaima . Luckily (for better or worst) , there're only 2 B-sides this time round which I don't mind as I rather ARASHI focus on quality rather than quantity .
Overall , I enjoy I seek / Daylight and I guess their next music release should be a new album ? Since ARASHI "Japonism Show" in ARENA has not concluded yet , I will not be surprised if they chose to do another Dome tour at the end of the year & if so , that will signify another new album seeing that they've been releasing 1 on a yearly basis since 2010's Boku no Miteiru Fuukei .
If so , hopefully their next album will be better as Japonism was unfortunately a mess to me .