KAT-TUN - UNLOCK

CD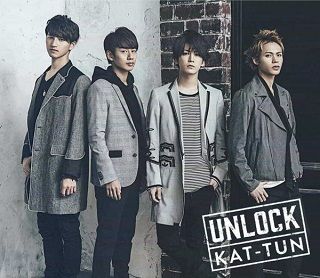 CD + DVD A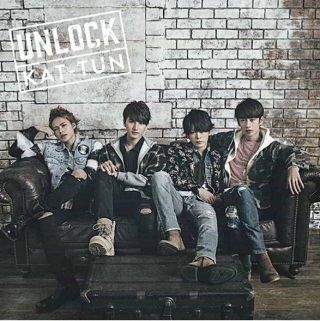 CD + DVD B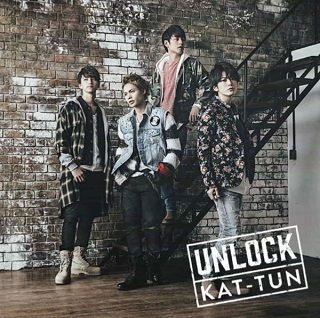 UNLOCK is KAT-TUN's 26th single & it was released last week on 2nd March .
This single was released back to back with TRAGEDY which was released last month . In addition , UNLOCK is the last single to feature member Taguchi Junnosuke who will be leaving both the group & talent agency end of this month .
UNLOCK was chosen to be used as the theme song used in NTV drama Kaito Yamaneko which member Kamenashi Kazuya stars in . Kaito Yamaneko is based on Kaminaga Manabu's mystery novel series Kaito Tantei Yamaneko & in the drama , Kamenashi plays a genius phantom thief Yamaneko & his co-stars include Narimiya Hiroki and Hirose Suzu .
The A-side is described as a powerful Rock song which Kamenashi commented as "A very KAT-TUN-ish song which only KAT-TUN could sing is ready . It's an aggressive song that would match your image of us ."
There're 4 B-sides included in UNLOCK . The 1st B-side GREATEST JOURNEY was chosen to be used as the opening no. for TBS's variety show KAT-TUN no Sekaiichi Tame ni Naru Tabi! .
Also just like TRAGEDY's Atsukunare , a video was made for GREATEST JOURNEY .
Compared to UNLOCK which has a more serious uptight feel , GREATEST JOURNEY contrasts the A-side as it's an extremely goofy song that's meant not to be taken seriously & the video is humorous as it showcases a more jovial side to the group with them performing intentionally bad cheesy robot like dance moves alongside with vacation inspired like footages .
HONESTY & JET are only available in the CD only edition of the single . HONESTY is mid tempo driven while JET has a pretty cool mysterious feel to it .
Ame ni Saku , Yoru ni Naku Ai is exclusively found in the CD + DVD A of UNLOCK . I thought it might be a ballad but it surprised me with it being an upbeat song that has a rather strong guitar backing .
Celebrating their 10th anniversary this year , KAT-TUN keeps the releases coming with the group's 2nd single of the year . UNLOCK is an explosive Rock-style track that serves as the theme song for Kamenashi Kazuya's drama Kaito Yamaneko .
I enjoy what both TRAGEDY & UNLOCK offer back to back but I wouldn't deny that it's a bittersweet feeling that I have , as both releases overshadowed considerably surrounding Taguchi who announced last year live on TV that he was planning to leave the entertainment business which left pretty much everyone was caught offguard including myself as nobody expect this to happen .
I've been supporting KAT-TUN since 2008 and to see the original 6 members lineup eventually now going to be a trio from next month onwards , it's a really sad situation especially since back in 2001 when they were originally put together as a 1 off group , they were extremely popular until it was decided KAT-TUN would become a permanent unit & they had to wait 5 years before they were finally allowed to make their official debut in 2006 .
I will continue to support the reminding 3 members as they have said they will not disband despite Taguchi's impending departure but it reminds to be seen on how they will gel together musically because for now it's hard for me to visualise .
To me KAT-TUN stood out from the other Johnnys as they had members that know how to beat box & rap which they utilised both unique distinctive traits in their music extensively , that's until 2013 when rapper/ex member Tanaka Koki left unexpectedly .
For now , their 1st best album KAT-TUN 10TH ANNIVERSARY BEST "10Ks!" will be released 2 weeks later on 22nd March , on the same day when their debut single Real Face , debut album Best of KAT-TUN & Real Face Film DVD were released 10 years ago & this release is a fitting 1 in bidding Taguchi a proper farewell which he will be sorely missed by many fans .