ARASHI - FukkatsuLOVE

CD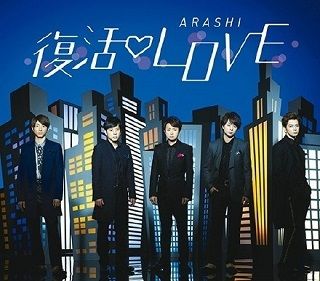 CD + DVD
FukkatsuLOVE is ARASHI's 48th single & it was released last month on 24th Feb .
The group's 1st single release of 2016 , this single was used to promote the ads of NTT docomo's d Hits .
FukkatsuLOVE is described as a love song . Credits wise , it was composed & arranged by Yamashita Tatsuro , with lyrics written by Yamashita's wife Takeuchi Mariya .
A catchy guitar melody has been added to Yamashita Tatsuro's unmistakable chorus & rhythm . ARASHI heartrendingly & melodiously sings the universal story of love between a man and a woman that could be taking place in any era .
As such lyrically , FukkatsuLOVE is a dramatic love song that's moulded into like a novel .
ARASHI requested the couple to create a song for them when both of them attended their concert in 2013 . Member Sakurai Sho described this as a seasonal project & they're real pleased to release FukkatsuLOVE .
In addition , fellow Johnnys colleague Ikuta Toma appears in the FukkatsuLOVE video . Ikuta recounted that ARASHI provided Sakura for his drama Ouroboros last year & this time he appears in their music video .
Ikuta commented , "Being able to work on something with comrades I've known since way back makes me really happy . Also , as a fan of them , I couldn't be happier to have been able to do so . "
There're a total of 4 B-sides available in the single . The 1st 1 Ai no Collection is an upbeat pop song that has a rather mature dreamy sounding feel .
As for the next B-side Bang Bang , I can imagine this song to be used in some police theme drama or movie as that was the feeling I had when I 1st listened to it .
Are you ready now ? didn't leave me with much impression initially but after a few listens , it does leave an impression on me .
affection is only available in the CD + DVD of FukkatsuLOVE . Let alone it's the only B-side that's a ballad and this's done really well and it's my favourite B-side out of the lot .
ARASHI got off to a solid start in 2016 with the release of their latest single offering FukkatsuLOVE .
When I 1st heard FukkatsuLOVE , it struck me as something that I can see KinKi Kids do because of the music style the track has . FukkatsuLOVE sounds like a good 90s throwback tune which's not a typical straightforward love song .
Credits has to go to Yamashita Tatsuro & Takeuchi Mariya for doing a really good job in creating FukkatsuLOVE and it's hard to believe this song has been 3 years in the making but it's well worth the wait .
Likewise , it's really cool that Ikuta Toma is featured in the video as frankly that's the only saving grace seeing that the video leaves things much desired but for Ikuta to appear in it , I guess it's to 'repay' ARASHI the favour for providing Sakura to be used in Ouroboros last year .
Also , the B-sides in FukkatsuLOVE are able to stack up against the A-side rather well . A while ago , ARASHI's B-sides tend to be rather forgettable but in recent times , they have improved slightly as I like the B-sides from their previous single Ai wo Sakebe & likewise in FukkatsuLOVE .
Hopefully their next music release will be a double A-side single as it's about time for them to do another 1 again but at the meantime , for some feel good nostalgic vibes , FukkatsuLOVE is worth something to check out .