Shota Shimizu - Damage

Cover for both CD & CD + DVD editions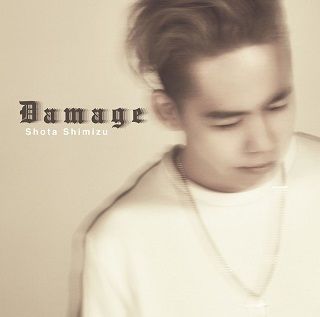 1) Damage
2) sonomama
3) Hanataba no Kawari ni Melody wo ~Piano Version~
4) Damage -Instrumental-
Damage is Shota Shimizu's 20th single & it was released last week on 17th Feb .
This's Shota's 1st single release of 2016 & the A-side is described as a mid-tempo ballad that expresses painful emotions .
I was expecting another single song that sounds like BYExBYE but turns out it's not the case as Damage is surprisingly auto tune driven .
To me what actually stood out from Damage is the video that accompanied the song as it features artistes such as Miliyah Kato , Aoyama Thelma , Dohzi-T & many others making their presence felt and even Shota's dog Emma made an appearance too .
There're 2 B-sides available in the single . The 1st B-side sonomama sounds like an extension from Damage as it's also another auto tune driven song .
Hanataba no Kawari ni Melody wo was released as Shota's previous single & in Damage , it has been given a piano version which's really nice as the original take was already good .
The Hanataba no Kawari ni Melody wo ~Piano Version~ is just Shota singing alongside with a piano which's simplicity at its best .
Shota Shimizu's 1st single of 2016 , Damage is a touching mid-tempo ballad that focuses on the pain of loss .
And finally after 2 years , Shota is set to release his 6th album PROUD next month on 30th March and Damage is included as track #3 . I'm definitely looking forward to it as it's about time for Shota to release a new album after 2014's ENCORE so hopefully PROUD will be worth the wait .