Short review on Anna Tsuchiya's NAKE'd ~Soul Issue~ EP

CD
CD + DVD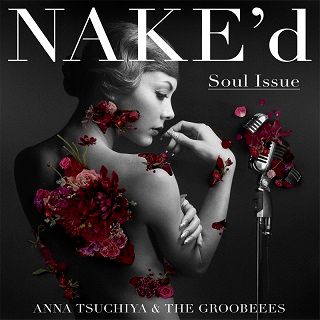 1) STAY WITH ME (Sam Smith)
2) I WANT IT THAT WAY (Backstreet Boys)
3) SUNDAY MORNING (Maroon 5)
4) Killing Me Softly With His Song (Lori Lieberman)
5) I Want You Back (The Jackson 5)
6) Rehab (Amy Winehouse)
7) Lady Marmalade (Labelle)

NAKE'd ~Soul Issue~ EP is Anna Tsuchiya's 1st covers mini album & it was released on 9th Dec .
Anna's last release was last Oct's LUCIFER EP .
In NAKE'd ~Soul Issue~ EP , all tracks in the mini album have studio live videos made to accompany the songs . Working with a live band THE GROOBEEES , Anna offers her own dynamic interpretations of songs .
Unlike other studio and/or mini albums I've reviewed over the years , this will be reviewed in a different manner as I've never really reviewed an English covers (mini) album and the songs that're bolded are the ones I'm most familiar with before I switched to listening to Japanese music .
Listening to Anna's own renditions of certain English songs she chose to cover is really nostalgic and the ones that she covered which I'm most familiar , most of them are done really well by her which have been given a really cool soulful sound .
I especially like Anna's take on Backstreet Boys's I Want It That Way and Maroon 5's Sunday Morning . I Want It That Way is still an evergreen BSB classic although the only downside for this is that I wished Anna's rendition was a bit longer .
As for Maroon 5's Sunday Morning , I'm glad Anna chose to cover it as it's 1 of Maroon 5's most under rated songs . I supposed Anna could have covered This Love and/or She Will Be Loved but I always have liked Sunday Morning so this do nicely .
For the other 2 songs that Anna covered , I feel that her cover of the late Amy Winehouse's Rehab was alright as it didn't blow me away that much .
While Anna's cover on Labelle's Lady Marmalade , it's good but not great as I still feel the rendition that Christina Aguilera , Lil' Kim , Mya , Pink covered/did together is still tops even up to now .
NAKE'd ~Soul Issue~ EP is a cool release that Anna Tsuchiya chose to put out although I think this release is not going to win her any new fans , especially since all the songs found in the EP are English songs .
Let alone , I wished Anna would have included more English covers as last Wed when she performed THINK ! FEEL ! and LIVE ! which took place at Tokyo's Shinagawa Church , Anna also covered Bon Jovi's Livin' On A Prayer & The Beatles's Let It Be too .
On a side note , 2015 is Anna's 10th anniversary and it's quite strange that celebrations on a milestone moment for her has been really muted . It would have been great if she release new original material as in recent times , Anna's releases have become really rare and sporadic since her last full length studio album was 2010's RULE .
I don't know what're Anna's music plans for 2016 but as long as she released something original/new , I don't mind at all as it will be a waste for her not to do that .