Kobukuro - Mirai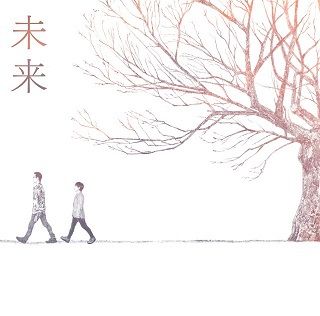 1) Mirai
2) Mirai (Instrumental)
Mirai is Kobukuro's 27th single & it was released 2 days ago on 16th Dec .
The duo's new single was released about 9 months+ since their previous single Kiseki .
Mirai was released on the same day as KOBUKURO LIVE TOUR 2015 "Kiseki" FINAL at Nippon Gaishi Hall DVD + Blu-ray . Prior to the physical release of the single , the A-side was released digitally last month on 28th Nov & no B-sides are included in the single .
The song was chosen to be used in the movie orange starring Tsuchiya Tao and Yamazaki Kento . orange opened in Japanese theatres last Saturday on 12th Dec & it's a love story based on a popular manga by Takano Ichigo . Its story revolves around a high school girl who receives a letter from herself of the future .
Mirai is one of the keywords of the story . Kobukuro who wrote the ballad number after reading the original manga commented , "No matter how difficult it is now , we want to reach a point in our future when we will reflect on today and laugh about it . With this thought in mind , we came up with the lyrics & melody ."
The movie's storyline focuses on a high school girl who receives a letter from herself 10 years into the future . As such , the CD cover for Mirai was designed with the duo's single Sakura (which was released 10 years ago) , as the concept .
Sakura was 1 of the 1st few Kobukuro songs I heard before I started supporting them and for them to draw inspiration from the single cover of Sakura and utilising that basis for Mirai , I think it's great and it feels as though everything comes back in 1 full circle .
2016 will be Kobukuro's 15th anniversary since they made their major label debut . Before 2015 wraps up , they released their latest single offering , the heartfelt no. Mirai .
I do hope that the duo will have something special planned for 2016 especially since they show no signs of slowing down . It will be nice for them to re-record some of their older material that I'm not familiar with or maybe they should collaborate with another artiste since they did it really well with ayaka a few years back .
Either way , I hope 2016 will shape up to be a rewarding year for Kobukuro .