ayumi hamasaki - Winter diary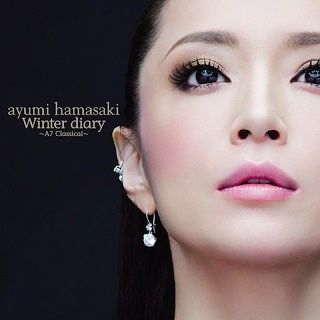 Winter diary is a new song that's included in ayumi hamasaki's new classical remix album Winter diary ~A7 Classical~ .
Winter diary ~A7 Classical~ was released last week on 23rd Dec & in ayumi's latest classical remix album release , she hand picked 10 songs from her 16th album A ONE & 5th mini album sixxxxxx EP and gave them a classical arrangement . Among the 10 songs , 3 of them which're WARNING , NO FUTURE & The Show Must Go On features violinist Okabe Machi .
Winter diary was composed by Tetsuya Komuro . This song is described as a sequel to the singer's 2015 summer tune Summer diary that's found as track #2 in sixxxxx EP .
When I 1st heard Winter diary , I was like oh no not another Winter inspired song because the beginning of the track made me cringe somewhat .
Aside from that , for me personally I think Winter diary is something strictly to be enjoyed during the holidays season as I don't find myself listening to it aside from Winter . In addition , compared with ayumi's past Winter songs , Winter diary felt quite overshadowed and paled in comparison .
Also on a sidenote , I really like the fresh classical reinterpretation of songs that ayumi chosen to get 'remixed' in Winter diary ~A7 Classical~ . Her previous classical remix album LOVE CLASSICS was quite weak and un-inspiring but not this time round .
Among the songs that I enjoyed being given the classical treatment are WARNING & Last minute which stood out a lot as I already like the original versions of both songs .
Even the songs in sixxxxxx like Step by step , Summer diary & Sky high which I didn't quite liked in the mini album , they sound really good & different in Winter diary ~A7 Classical~ .
I only wished that ayumi would have given Story a classical spin as I think it's a very under-rated song in A ONE . Likewise , some of the songs chosen to be included in Winter diary ~A7 Classical~ such as NO FUTURE , Out of control & The Show Must Go On , they're ok & not that great .
Lastly , ayumi's vocals were quite 'drowned' out by some of the gorgeous orchestra classical melodies in Winter diary ~A7 Classical~ as for some songs , I find myself listening to the melodies a lot more than her vocals .
2015 certainly has been a very productive year for ayumi as for her to release 1 studio album , 1 mini album and now Winter diary ~A7 Classical~ (excluding 2 tours & her annual countdown live concerts) , it has been quite a ride for her .
I'm curious to see what she has up in store in 2016 & likewise for Winter diary since she only went to Taipei to film the video at such short notice as it's quite obvious that marketing wise , it's almost like A SUMMER BEST where you have to buy it if you want to get hold of You & Me (that was before she released LOVE again) .
But that said , I'm sure ayumi will not stop herself from releasing new material in 2016 & I look forward to see what she plans to do .
On that note , this's my last review that I've written for 2015 & happy new year to everyone . Bring on 2016 now !