ayumi hamasaki - Terminal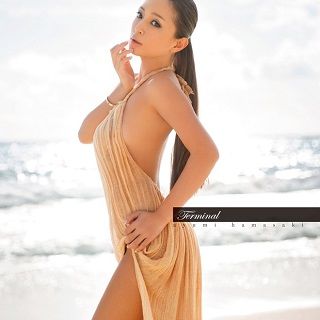 1) Terminal
2) Terminal (Dub mix)
3) Terminal (HACKJACK remix)
Terminal is ayumi hamasaki's 52nd single & it was released on 1st Oct .
Originally supposed to be released on 17th Sept , Terminal was 1st included as track #6 in ayumi's 15th album Colours that was released on 2nd July .
ayumi's last recut single release was 2002's Daybreak . The thumping trance number Terminal was produced by popular Dutch trance producer Armin van Buuren who's also known as one of the top DJ's in the world .
There're 2 remixes included in the single in which the Dub mix was 1st released digitally last month on 17th Sept prior to the physical CD single release . The Dub mix was also produced by Armin van Buuren .
I was really surprised when it was announced that Terminal was going to be released as a recut single . It's 1 of my fave songs from Colours but in retrospect , it's a very pointless release as I feel this release was put out for the sake of doing so .
In addition , the 2 remixes found in the single somehow cheapens everything as both remixes don't really have ayumi's vocals present while the Dub mix is essentially like a vocal less version of the original take of Terminal even though I do enjoy the HACKJACK remix to a certain extent .
That said , at the end of the day this's still a pointless release for ayumi to release . Terminal should have been released prior to Colours , if not both releases wouldn't be doing so poorly .
As a long time fan of ayumi , it does saddens me to see her music career reach this state as I never thought the day would come . Somehow or another , I hope she will be able to bounce back & it will be great if that happens in line with her impending 20th anniversary . If not , the future of her music career will be something very bleak that I'm not looking forward to see it happen if not visualise .