KAT-TUN - EXPOSE

CD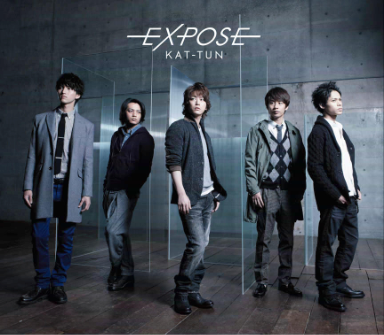 CD + DVD A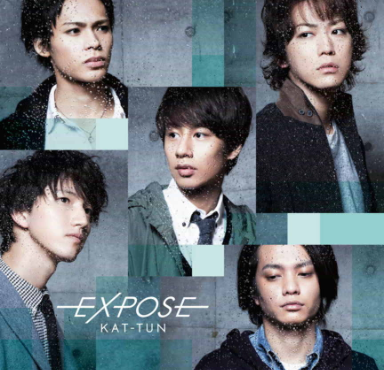 CD + DVD B
EXPOSE is KAT-TUN's 20th single & it was released last week on 6th Feb .
The group's 1st single release for 2013 , the A-side was used as the TV CM tie up song for Suzuki Solio Bandit + it also served as this month's theme song for music show On Air .
EXPOSE hits me on 1st listen & in a good way as KAT-TUN is known for their punchy in your face harder sounding songs & this's no exception .
Their previous single Fumetsu no Scrum saw them stepping outside of their music comfort zone but for EXPOSE , they went back to what they do best & I personally think it's a great all rounder track .
There're a total of 5 different B-sides scattered in all 3 editions of EXPOSE .
Found only in the CD only pressing of the single , it's something that's titled Haruka Higashi no Sora e (Far To The Eastern Sky) & for this song , it's a nice acoustic guitar no. .
Not something that KAT-TUN would typically do but I must admit , something about Haruka Higashi no Sora e is calming & soothing , a song that's perfect in kicking back during a lazy day .
STEPS TO LOVE & BRAND NEW DAY are only found in the CD + DVD A edition of the single & coincidentally or not , both songs served as TV-CM songs for Suzuki Solio .
For both tracks , I've seen/heard the preview snippets in the Suzuki Solio ads before hearing the full versions of each song . For STEPS TO LOVE , it's something that's very Winter inspired , quite slow sounding but it does remind me of the group's 8th single White X'mas to a certain extent .
As for BRAND NEW DAY , it's such a peppy cheery sounding no. which I really like on 1st listen . When I 1st heard the preview snippet of this track in the Suzuki Solio ad , I somehow had the feeling I was going to like the full track & true enough , I was right .
Best of all , BRAND NEW DAY is very catchy & easy to remember too .
The last 2 B-sides are found in the CD + DVD B edition of EXPOSE .
Just like EXPOSE , STEPS TO LOVE & BRAND NEW DAY , Connect & Go was also used in the ads to promote Suzuki Solio Black & White II .
Unlike STEPS TO LOVE & BRAND NEW DAY , Connect & Go gets a music video with this song being the guys's 3rd B-side to receive 1 , after their 11th single Love yourself ~Kimi ga Kirai na Kimi ga Suki~'s THE D-MOTION & their 17th single BIRTH's STAR RIDER .
Even though there're a total of 4 group B-sides in EXPOSE , I can understand why Connect & Go is the only B-side that gets a music video as it sounds like nothing KAT-TUN has done before .
BRAND NEW DAY is a close call if not the 2nd B-side I feel that should get a music video but I suppose why Connect & Go come out tops is that it's unexpectedly catchy & something about the melody just take things to a whole new level .
Snowflake is the final B-side track & for this song , it's a solo no. sung by Nakamaru Yuichi .
After Tanaka Koki released/input/included his solo track BLACK & WHITE in Fumetsu no Scrum , in EXPOSE , it's Nakamaru's turn to shine in the solo spotlight & not surprisingly , Snowflake is really good .
In general , Nakamaru's solos are something I always look forward to as I personally feel he can sing in the group & I enjoy what he brings to the table , especially for his latest solo offering Snowflake which's a mid tempo meets dub step no. .
Also , in the music video for Snowflake , Nakamaru can be seen beatboxing for almost 1 min before the song starts & both his beatboxing & singing skills in the group are a duo combination worthly of saluting him big time .
KAT-TUN kicked off their 2013 with this really solid if not very music versatile sounding single in the form of their 20th single EXPOSE .
Reaching the 20th single landmark release is no joke & in impending of their 7th year since debuting in the business with 2006's Real Face , KAT-TUN keeps soldiering on like a trooper & I think they outdid themselves with EXPOSE as I personally think it's a solid single from start til finish .
Definitely a single worth checking out & I really cannot wait to see what will be their next music move , perhaps a new album ?