BREAKERZ - RUSTY HEARTS

CD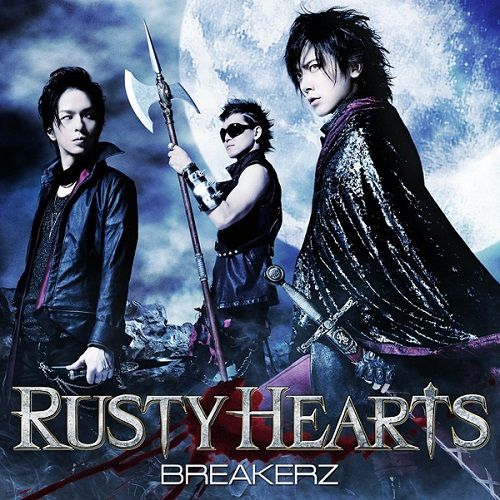 CD + DVD A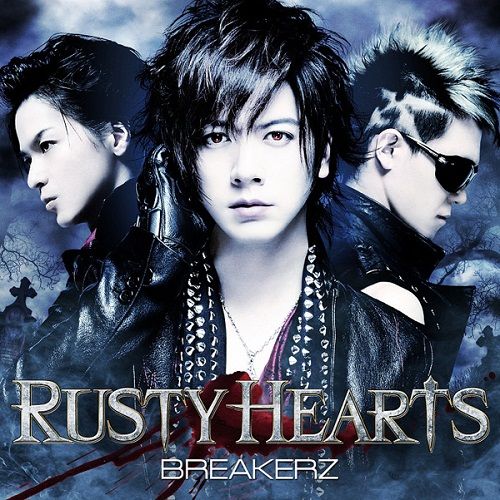 CD + DVD B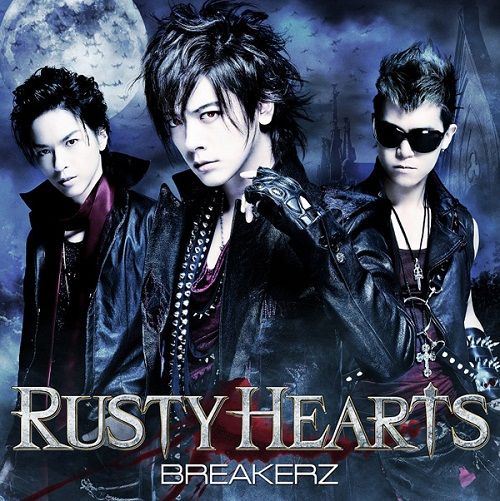 1) RUSTY HEARTS
2) CHALLENGERZ
3) Kimi no Koe ga Kikoeru (You Hear The Voices Of) ~Acoustic Version~
RUSTY HEARTS is BREAKERZ's 14th single & it was released on 16th Jan .
The guys's 1st single release for 2013 , the A-side has 3 promotion tie in's , in the form of being selected to be used as the opening theme song for the SEGA online game RUSTY HEARTS + the opening theme no.s for Chiba TV's MUSIC LAUNCHER & TV Asahi's Break Out for this month .
Written & composed by frontman DAIGO , RUSTY HEARTS is described as a solid rock no. that was written as the theme song for Sega's online game of the same name .
The visuals for this single represents the game's worldview as it features objects such as a full moon & bats in the darkness . With it featuring the theme of vampires , BREAKERZ went for the same direction with their new look .
It's easy to draw comparison with RUSTY HEARTS against another dark no. of the guys which's the 1st A-side of their 11th single LAST † PRAY / Zettai ! I LOVE YOU ie. LAST † PRAY since both this song & RUSTY HEARTS fall in the same music direction .
But other than that , I must admit that RUSTY HEARTS was not catchy on 1st listen & also both songs were composed by different people as LAST † PRAY was composed by guitarist AKIHIDE .
RUSTY HEARTS is definitely a grower as the song sounds much more stronger as each listen goes by . I really like it when DAIGO write & compose together which's evident for what he did in RUSTY HEARTS . Let alone , I adore the melody with it staying faithful to the musical roots on what the song's based on .
There're 2 B-sides in the single , the 1st B-side is something that's titled CHALLENGERZ .
CHALLENGERZ has 2 promotion tie in's , in that it was selected to be used as the official image song for Cardfight!! Vanguard + in the ads of Bushimo Presents WRESTLE KINGDOM 7 ~EVOLUTION~ in Tokyo Dome .
Written by DAIGO & composed by guitarist SHINPEI , CHALLENGERZ is the 3rd song of the guys to be featured in the Cardfight!! Vanguard ads , after CLIMBER x CLIMBER & GO .
I have to say that I really adore CHALLENGERZ on 1st listen . Unlike RUSTY HEARTS that took me quite sometime to remember/get used to , CHALLENGERZ was a sure home run no brainer immediately when I heard it .
When I 1st heard CHALLENGERZ , I couldn't help but feel that it has a strong Americanised flair , just like FIGHTERZ's SUPER-HI-TENSION !! but with that said , CHALLENGERZ is extremely catchy & very addictive .
The fact that SHINPEI composed CHALLENGERZ speaks volume & usually most of the time , his compositions are spot on & that goes for CHALLENGERZ too .
Kimi no Koe ga Kikoeru (You Hear The Voices Of) ~Acoustic Version~ serves as the 2nd B-side & the original take of the song was 1st found as track #5 in the guys's 1st mini album Ao no Mirai EP .
Both the original & acoustic versions of Kimi no Koe ga Kikoeru were written & composed by DAIGO .
Kimi no Koe ga Kikoeru is 1 of my all time fave songs that DAIGO both wrote/composed in the band's discography . The acoustic of it is just simply stunning & stuck a chord with me as lyrically , the song is a love ballad .
I remembered when I 1st heard Kimi no Koe ga Kikoeru way back 5 years ago in Ao no Mirai EP , I really liked it as it's those feel good type of songs & when I found out they were going to make an acoustic of the tune , I was thrilled to bits .
Needless to say , Kimi no Koe ga Kikoeru ~Acoustic Version~ did justice to what the original had to offer & I personally adore it very much .
BREAKERZ kicked off 2013 with this solid & musically diversed single in the form of their 14th single RUSTY HEARTS .
To be honest , I was a bit skeptical on what RUSTY HEARTS had to offer as their previous single A-side single ie. Miss Mystery was quite a letdown for me , even though I adored Miss Mystery A-side wise but the 2 B-sides in the single are some of their weakest sounding ones to date .
But thankfully , that's not the case for RUSTY HEARTS with each song having an identity of its own & I feel that each of them compliment if not contrast each other very well/nicely .
It remains to be seen on what the guys's next music move will be because they are going on a group hiatus in Spring to pursue solo projects . I'm not sure what they have up in store next but no matter what the future holds , I will support the guys no matter what .
For now , RUSTY HEARTS is a great solid single to kick off 2013 & possibly (for now) their last group release to offer fans before their impending hiatus .