KAT-TUN - RUN FOR YOU

CD Regular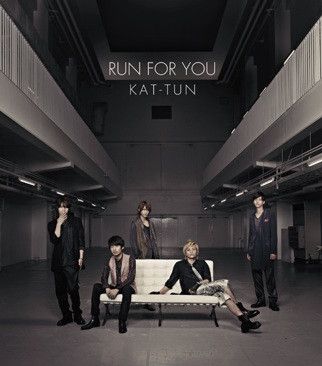 CD Limited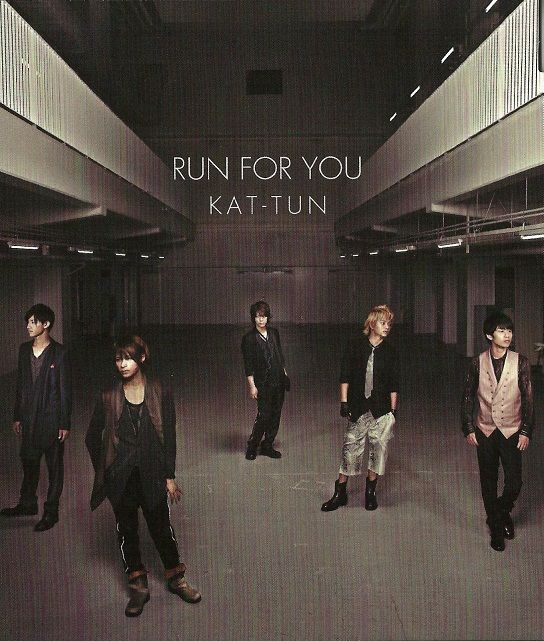 CD + DVD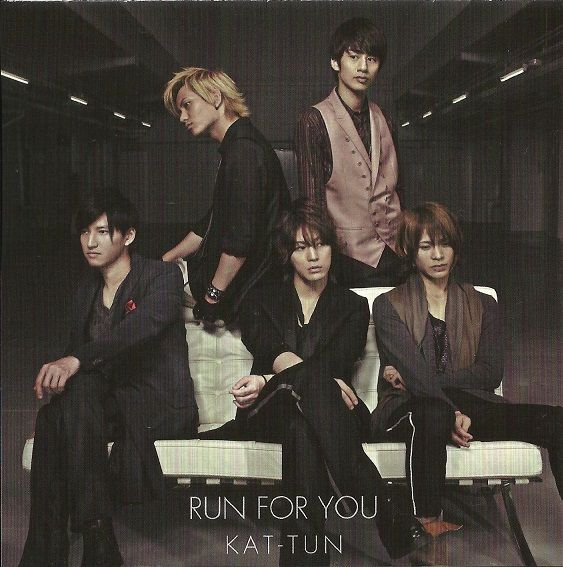 RUN FOR YOU is KAT-TUN's 16th single & it was released a few days ago on 3rd Aug .
The group's latest release comes in about 3 months + since the release of their previous single WHITE .
The A-side RUN FOR YOU is currently used to promote in the ads of SUZUKI's SOLIO , which's the same thing like what their 14th single ULTIMATE WHEELS did as so .
A song about chasing a person's dreams & moving forward , RUN FOR YOU is an inspirational gift from the boys to their devoted fans .
Way before RUN FOR YOU received an official release , I already have heard the preview of how the song sounds like in the SUZUKI's SOLIO ads which sounded promising & needless to say when RUN FOR YOU was announced to be released as a single , I was thrilled .
And I was not disappointed with what RUN FOR YOU had to offer & it's very catchy & memorable on 1st listen . Unlike WHITE , RUN FOR YOU takes on a music route that's quite similiar to the group's previous autotune driven no.s such as THE D-MOTION & RIGHT NOW but thankfully , RUN FOR YOU is a class of its own which's great .
There're 4 B-sides found in RUN FOR YOU , with the 1st 2 found in both the CD regular & limited pressings of the single .
The 1st B-side is something called COSMIC CHILD . It's currently used in the ads for Wing's (Wacoal's lingerie brand) new products Zurui Bra & Zurui Pants and the inclusion of JOKER can be heard here .
I wasn't sure what to expect for COSMIC CHILD but it's such an unique no. & I find it hard to compare this with other songs found in the group's discography & just like the A-side , it's another solid catchy track .
What intrigued me about COSMIC CHILD was the melody which's hard to describe it in words as it's a mixture of a lot of music genres put together as 1 .
The 2nd B-side DIAMOND was used as the theme no. for NTV's broadcasted Yomiuri GIANTS baseball games .
Before RUN FOR YOU was officially released as a single , DIAMOND is actually the 1st song I heard before it was included in RUN FOR YOU but I did not had a good impression of the song , maybe because what I heard is the radio rip of the no. .
However , my perceptions towards DIAMOND changed after I heard a much higher quality version of the song & I have no problems with it now & this goes to show that sometimes , a radio rip of a song doesn't do justice to the higher quality of a no. .
Only found in the CD regular pressing of the single , it's a song titled SWEET CHAIN & the inclusion of JOKER rap lyrics is found in here .
SWEET CHAIN is an unusual no. to say the least . It's a mid tempo ballad but it's not a typical sounding one . For once & probably the 1st time , this's quite falsetto driven which surprised me at 1st but once I get over this , I actually do enjoy SWEET CHAIN a significant deal .
Found only in the CD limited pressing of RUN FOR YOU , it's the last B-side no. titled & FOREVER .
Out of al the 4 B-sides in the single , & FOREVER is probably my least fave but it does not mean I dislike the song completely . It's just that I feel after listening to 3 distinctive B-sides , there's something about & FOREVER which sounded quite plain for my liking & it's frankly a typically sounding Johnny's happy go lucky tune .
But with that said , & FOREVER is still worth checking out for .
KAT-TUN has been on a music roll for 2011 & RUN FOR YOU is the group's 3rd single release & once again , they delivered another solid release which I enjoy listening to from the start to the end .
Since the release of CHANGE UR WORLD , they have proven time & time again that despite the departure of their former co lead vocalist Akanishi Jin , the reminding 5 members are still able to soldier on & deliver great material & it's evident in CHANGE UR WORLD , ULTIMATE WHEELS , WHITE & then now RUN FOR YOU .
I'm proud of how far KAT-TUN has come by so far & I really hope a new album will surface soon but until then , I'm going to be plugging in RUN FOR YOU on repeat mode .