kanon x kanon - Koi no Dotei (Love's Journey)

CD Regular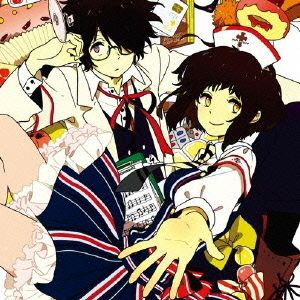 CD Limited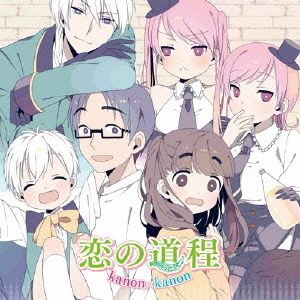 1) Koi no Dotei (Love's Journey)
2) Ren'ai no Susume (Love Memory Device)
3) Koi no Doutei TV SIZE (Limited Edition Bonus Track)
4) Koi no Doutei madmaid 17's DT Bassline remix
5) Koi no Doutei Instrumental


Koi no Dotei (Love's Journey) is kanon x kanon's 2nd single & it was released last week on 15th June .
The duo's 2nd single served as the opening theme no. for the anime 30-sai no Hoken Taiiku .
kanon x kanon's debut single Calendula Requiem was released last year on 17th Nov & the A-side was used as the 2nd opening theme song for the anime Shiki .
Honestly , I was very surprised when kanon x kanon decided to release another single because I frankly thought Calendula Requiem would be a 1 off thing .
With that said , I had quite a shock when I 1st listened to Koi no Dotei because it sounded like nothing the duo if not Kanon Wakeshima would do , simply because it's very if not extremely pop .
After I got that somewhat rude shock outta the way , I actually find Koi no Dotei pretty fun to listen to but it's definitely not something I expect Kanon Wakeshima to do in solo mode but at least I'm still able to detect a little bit of cello influences in Koi no Dotei , not much but it's better than none .
There're 2 B-sides found in the single , the 1st one is something called Ren'ai no Susume (Love Memory Device) .
Unlike Koi no Dotei , I really adore Ren'ai no Susume on 1st listen as there're traces of what the duo left their music mark on in Calendula Requiem .
Ren'ai no Susume is definitely something that's on familiar music grounds for kanon x kanon / Kanon Wakeshima & the cello prominence is much more stronger here which's great .
The madmaid 17's DT Bassline remix of Koi no Dotei is the 2nd B-side & this's quite a strange remix which sounds nothing like the original .
This remix gets pretty random at times & I can barely hear any lyrics going on in Koi no Doutei madmaid 17's DT Bassline remix . I don't know if this's a good or bad thing but I suppose given the somewhat uniqueness music influences that kanon x kanon brings , it should be a good thing ?
kanon x kanon brought an unique/refreshing music concept when this dynamic duo made their music presence felt last year with Calendula Requiem & now this year , they more or less managed to repeat the same thing with regards to Koi no Dotei .
I'm interested to see if they will release another single if not an album , especially since I'm a fan of what Kanon Wakeshima does in her solo discography but regardless of which , I look forward to see what else kanon x kanon will have in store .
If not , I wouldn't mind something new from Kanon Wakeshima , especially since it has been close to a year since she released her 2nd album Shoujo Jikake no Libretto ~LOLITAWORK LIBRETTO~ .