ON/OFF - Hajimaru no Wa , Sayonara (Beginning Of Goodbye)

CD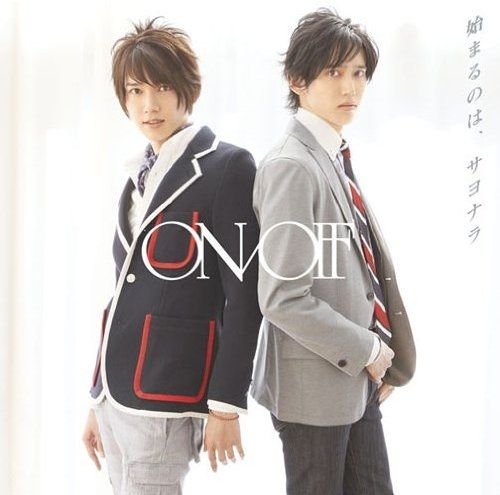 CD + DVD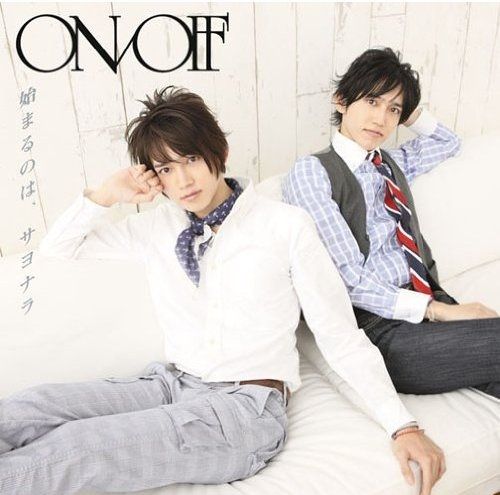 1) Hajimaru no Wa , Sayonara (Beginning Of Goodbye)
2) Kimi ga Inakerya (If You're Not Here)
3) Hajimaru no Wa , Sayonara (TV Size Ver.) (CD Only Track)
4) Hajimaru no Wa , Sayonara (Instrumental)
5) Kimi ga Inakerya (Instrumental)


Hajimaru no Wa , Sayonara (Beginning Of Goodbye) is ON/OFF's 6th single & it was released last week on 27th April .
The duo's brand new single serves as the opening theme no. for the anime Beezlebub .
Honestly , I was very surprised when I 1st heard Hajimaru no Wa , Sayonara because this's probably the brothers's 1st single that sounded unusually happy & cheery , as compared to their past works which were somewhat angsty driven if not moody .
It's not a bad thing for sure because in general I like what ON/OFF has released in their discography . Hajimaru no Wa , Sayonara took me quite a while to get used to but I wouldn't lie this's 1 song that's really catchy & it's 1 of those songs that can sends off positive happy feel good vibes .
The B-side Kimi ga Inakerya (If You're Not Here) is also another pretty impressive song & sticks to what ON/OFF does best , catchy pop tunes .
Unlike their previous single Butterfly , I did not like CONNECTION but for Kimi ga Inakerya , it's quite unusual sounding but it still sticks to the same pop route the brothers are known for & it pays a good contrast against Hajimaru no Wa , Sayonara too .
ON/OFF is 1 of the few artistes that people might or might not know about them but if you fall in the 1st category , there's just something about their music which I feel it's really good .
It's basically feel good comfort pop music at best & they once again demonstrate this analogy very well in their latest single release Hajimaru no Wa , Sayonara . It was quite a risk for them to take as it's so different from their usual works but I feel it paid off well .
I really hope they will release a new album soon but another new single will be fine for me . For now , I will plug onto Hajimaru no Wa , Sayonara on repeat mode for the time being .